5 Low Cost Video Marketing Strategies For Small Business in 2021
Updated: November 17, 2023
4 min read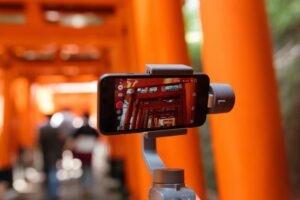 Everywhere you look, you see videos promoting services or branding a company as the go-to expert in an industry. If you aren't already using video marketing, 2021 is a great time to jump into the platform. If you are, you'll want to pay attention to these trending low-cost strategies and make some changes to what you're already doing.
Wyzowl's State of Video Marketing report shows about 86% of small businesses use video as a marketing tool. The trend shows more people watching online video than ever before, with no slowing down in sight.
Part of the reason is due to the pandemic and people spending more time at home. However, video is also much easier to absorb than some other forms of content. Here are some of the top low-cost video marketing strategies for small businesses to be aware of in 2021 and how you can use them to grow your brand.
#1. Live Video
Streaming isn't anything new. The ability to create live videos has been around for a while. However, services such as Twitch are making more people turn to this method. It isn't nearly as polished as filming and editing a video, but it allows for some off-the-cuff moments users love to watch.
This type of video is beneficial for sharing recipes or tips on how to use a product. You can show an expert in action. Let's say you sell pots and pans. Livestream one of your testers making dinner and have them explain why they prefer your brand over others.
There is something so immediate about a live video that people don't want to miss out on seeing what's going on. Just make sure you go online at a time when most of your followers are likely to catch your livestream.
#2. User-Generated Content (UGC)
If you haven't already tapped into user-generated videos, you're missing out on an opportunity to gain extremely valuable content because social proof really sells. Your top customers are a useful resource for UGC.
For example, you might hold a contest asking customers to come up with their most creative use of your products. Perhaps you have them wear a clothing item and capture a short video in an unusual but safe location.
If you are a new brand and don't have a large pool of customers yet, you can use platforms like Billo to receive authentic videos for your advertising campaigns at a low cost. One video ad from Billo platform costs only $59 dollars per video! However, if you're internet savvy then you can pay even less as there are various discount codes available.
#3. Webinars
More companies realize the value of sharing their knowledge with the world. It establishes you as an authority in your field and attracts customers via word-of-mouth. Webinars give you a chance to share some of your experience without giving away everything you know. You can use them to gather emails and build your mailing list.
You've likely noticed a lot more webinars at various sites you visit. How can you implement this into your business model? If you sell golf equipment, could you team up with a golf pro from your shop and offer a webinar to help clients improve their swing?
#4. Paid Social Media Video Ads
Do you advertise your videos? According to Postclick, 61% of marketers will increase their spending on video in 2021, including advertising budgets. You can create the most fabulous video in the industry's history, but it won't increase your sales if no one sees it.
Spending a little to push your video in front of users on a social media site or to the top of search engine results pages may be well worth the investment. Experiment with different platforms, audiences, formats and placements, and see what works best for you.
Facebook and Youtube are the two largest social media platforms, and no wonder they are the two most popular choices when it comes to PPC Video marketing. If your product is targeted towards younger generations, consider trying rapidly growing platforms like TikTok as this can be the next massive step in your marketing game.  You can read more on how to create effective video ads for various social media platforms in our last blog post. 
#5. 3D Animation
It's becoming increasingly popular for companies to use 3D animation to highlight their products. If you sell anything where you first create a prototype, you can generate some buzz before the actual item launches. It is much cheaper to film an animated video than a live-action clip, where you need a set with props and hire professional actors.
Practice Good Methods
No matter which low-cost video marketing strategies you embrace in 2021, keep in mind smart marketing trends. Pay attention to staying authentic and the value you can bring with your videos. The last thing you want to do is produce unoriginal content that everyone has already seen thousands of times.
Online video marketing doesn't have to be very expensive and professionally done, actually organically looking video content often works way better.  You can read more about the comparison between branded user-generated content in our previous blog post.  Put some thought and effort into how to best compete in the marketplace, and your videos can help you get there.
Update your marketing strategy with Billo's UGC and video ads
Similar posts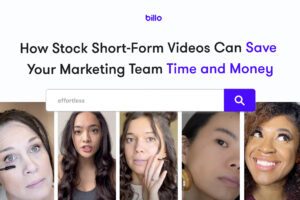 Marketing Strategies
How Stock UGC Saves Marketing Teams Time and Money
​​Short-form videos have taken the marketing world by storm, becoming […]...
Read full article
12 Jul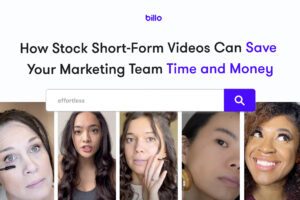 Marketing Strategies
How Stock UGC Saves Marketing Teams Time and Money
Short-form videos have taken the marketing world by storm, becoming […]...
Read full article
12 Jul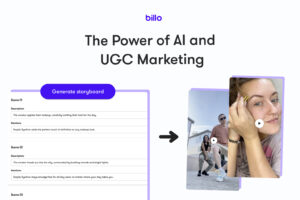 Marketing Strategies
The Power of AI and UGC Marketing: Unleashing Waves of Engagement
While AI has taken over the world and turned humans […]...
Read full article
3 Jul