YouTube is the second-most popular website in the world, closely following Google. It has more than 2 billion users every month, which is nearly half of all internet users!
Every single day, YouTube videos receive 5 billion views, and it's clear to see that the expansion of video marketing will not be slowing down anytime soon.
If you're looking to become a video content creator on YouTube, whether to help your business succeed or pursue a career as an influencer, you've come to the right place.
In this article, we're going to discuss how content creation works, and give you some tips on how you can do it successfully. Read on for more.
What Distinguishes Content Creators on YouTube
Regardless of the platform, no content creator is the same, and the same goes for YouTube. YouTube creators are all different, and here are some things that set them apart:
Size
Technically speaking, anybody that has a YouTube channel that they actively post to is a YouTube content creator, but take one look at the platform and you'll see that there's a lot of variation in the number of subscribers and viewers that different channels have.
Some channels have tens of millions of subscribers who watch their videos every day, while other content creators only have single-digit followings.
Niche
A content creator's niche is the category in which their content falls into. Determining the kind of videos you want to post and the content you want to create will help you set yourself apart from other creators.
Do you want to post mainly comedy skits? Product reviews? Or do you want to put your own spin on the latest trends? Try to make your own content uniquely yours, and you're guaranteed to stand out from the crowd.
Production
Take a look at a few different, popular YouTube channels, and you're going to see a wide variety of production styles.
Some videos on YouTube take on a more DIY approach, with creators preferring to film everything themselves with their own equipment.
On the other hand, some creators will shoot high-budget video content, hiring production companies, animators, editors, videographers, and more.
Just like with other platforms, there's really no wrong or right way to go about creating videos on YouTube – your success will depend on your target audience, your ideal niche, and your budget.
How YouTube Supports its Creators
In 2018, at YouTube's annual convention, the platform announced new monetization opportunities for qualified creators (who were generally some of the most popular YouTubers), introducing merchandising, memberships, and live recasts.
From that point on, certain creators were able to extend their offerings to fans while also generating more revenue in the process.
There is also YouTube Studio, which is the channel hub for YouTube creators. It allows for the management of content, settings, and analytics, and thanks to its recent update, YouTube Studio also offers creators more insight into their new subscribers and the people who visit their channels.
In addition to advanced features, YouTube also stepped away from the center stage to go behind the scenes, helping maintain and support a healthy ecosystem for its creators and each individual channel.
The platform also continues to refine its tools that help protect the YouTube community from copyright infringement.
Becoming a YouTube Creator
Like we've already mentioned before, becoming a successful YouTube creator is not going to happen overnight, but with these helpful tips, you could certainly speed up the process.
Upload Quality, Useful Video Content
'Useful' can be defined however you like. For instance, videos showcasing cooking tips are useful because they teach people how to cook, while comedy videos are useful because they make people laugh.
However, one thing that is non-negotiable is that your content must be high-quality. That doesn't mean that you have to have an extravagant production budget or the most advanced recording equipment in the world.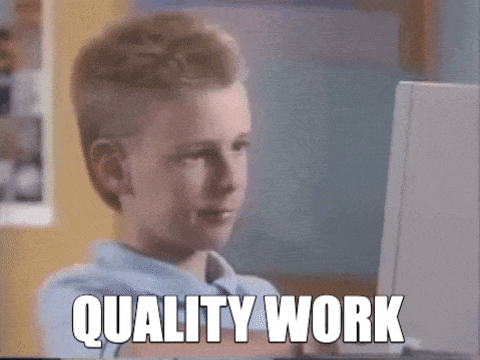 It does mean that you need to upload quality content that will inspire your fans and help them.
When it comes to creating content and uploading it, never choose quantity over quality. You'll find that some of the most popular creators with the most watchers only post a video once a week.
Curate Your Titles & Descriptions
If you look at the popular creators on YouTube, or just do a quick Google search about them, you'll see that the titles and descriptions of their videos have a certain format or formula that is consistent.
You are going to need titles that will make your audience want to engage with your channel and its videos. Descriptions should summarize the content of the video, and also provide links to your other social media, like Twitter, Instagram, and more.
If you are featuring products in your video, you can also list them in the description, linking to them so that your audience can purchase them as well.
Include a Call to Action in YouTube Videos
Let's say that you have a compelling description and title that make people want to click on your videos and view them.
This is a fantastic position to be in, but now you're going to want to make sure that your videos have a call to action in them that prompts YouTube users to do what you want them to.
For instance, if you make a video reviewing a set of oil paints, prompt your audience to 'buy now' and link to the retailer's website.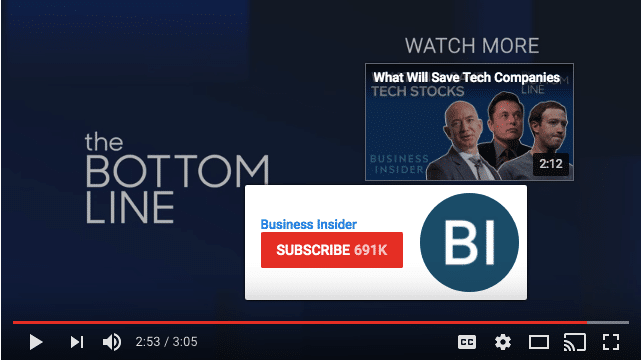 Customize Video Thumbnails
On a platform like YouTube, in addition to the title, the thumbnail is the first thing that someone sees when your video pops up on their feed.
An attention-grabbing thumbnail is going to make someone want to click on your video and see what it is about.
A great way to make an excellent thumbnail is to take a frame from your video and use one of the tools mentioned below to edit it, adding graphics and text.
Post Regularly
We mentioned earlier that it is always better to choose quality over quantity, and we can't stress that enough.
With that being said, you do have to post videos that are regularly scheduled to make sure that your subscribers are always interested in your channel.
Posting once or twice a week is ideal, but you have to ensure that the content you are posting is high-quality.
Don't Make Your Videos Too Short
Platforms like TikTok and Instagram are excellent for posting short videos, but when it comes to long-form videos, YouTube shines its best.
You should make sure that your videos are at least longer than 5 minutes, and that they are filled with information that will leave your watchers feeling satisfied and well-informed.
Useful Tools for Content Creators
Social media has never been an easy game, and in the age of new social platforms, the game has never been more difficult.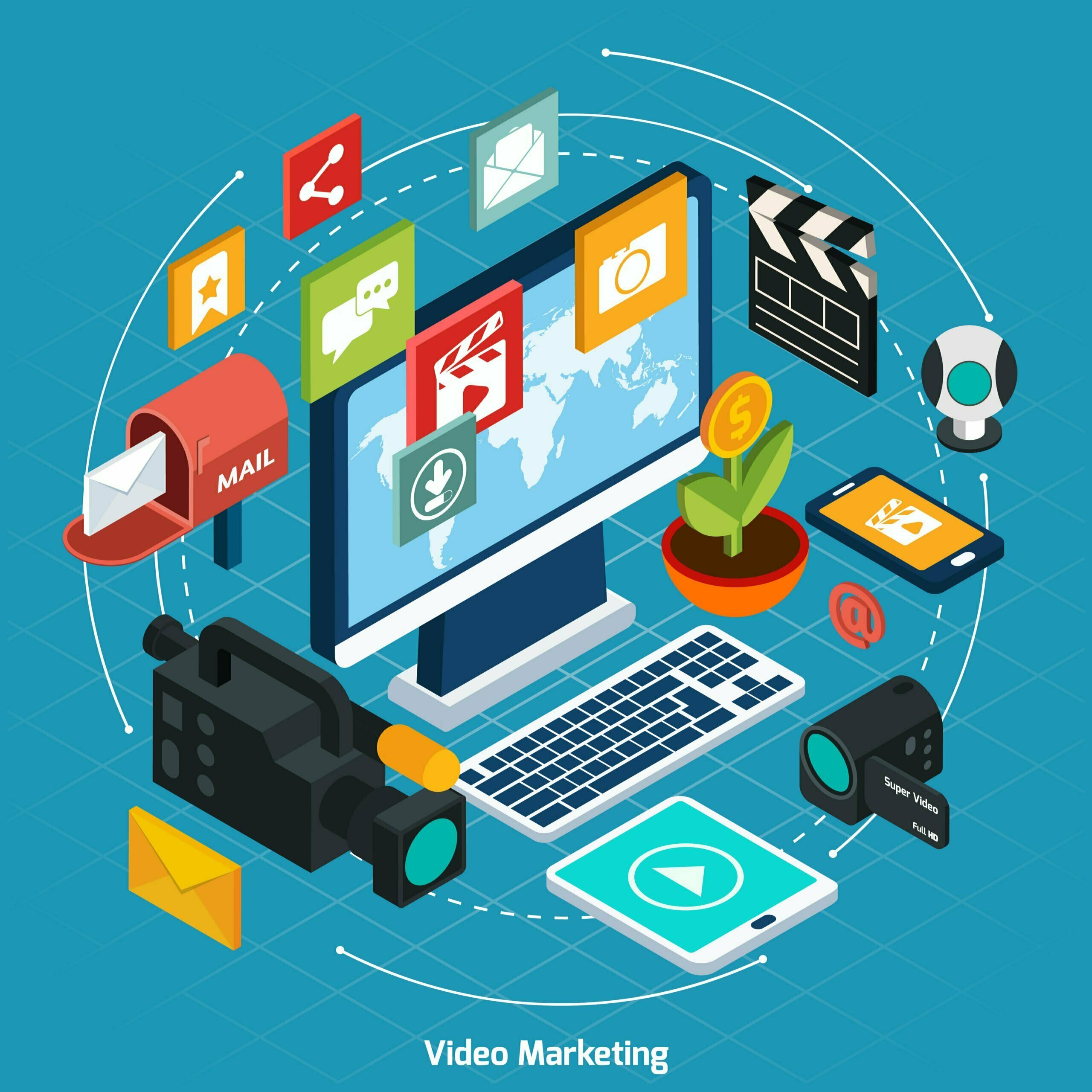 Whether you're a travel blogger, create branded content, or just enjoy posting comedy skits, being successful on YouTube takes some skill and the right tools.
Lets take a look at some of the most useful tools that are available for YouTube content creators, and how they can help you grow your audience and your channel.
Editing Software for YouTube Videos
Editing is one of the most important factors that contribute to the success of your YouTube channel.
You want to create videos that are enjoyable to watch and easy to pay attention to, and for that, you're going to need editing software.
Animoto
Animoto is an AI-based, automated video editing tool. It's a drag-and-drop kind of software that is super easy to use, while still having more than enough customizable features to make your videos unique.
You're able to pick from one of the available templates, or you can start from scratch by adding only your raw footage. You are then able to adjust fonts and colors, choose music, and even add sound effects.
It makes it very easy for a YouTube content creator to find an editing style that works for them.
Shotcut
If you have ever worked with Adobe Premiere, Sony Vegas, or Final Cut, Shotcut is going to feel very familiar. It is an open-source, free, cross-platform video editor for Windows, Mac, and Linux.
The Great thing about this program is that it supports many video formats and orientations, like horizontal and vertical videos, though you should really avoid the latter.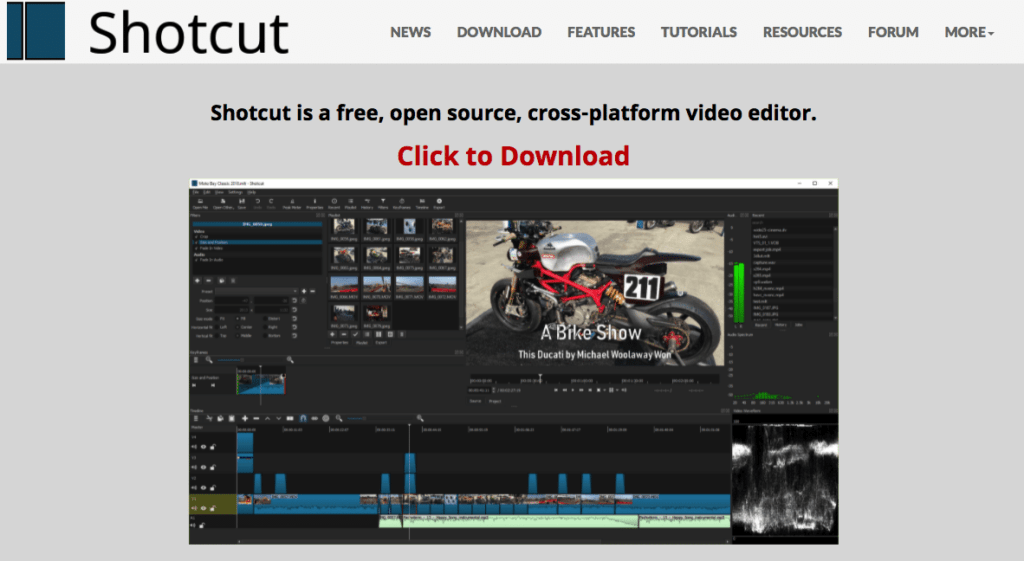 YouTube Channel & Video Analytics
As a YouTube creator, you want to be able to see how your YouTube videos are performing, and exactly what you need to do to improve their performance.
TubeBuddy
TubeBuddy is a free extension tool that not only has a great name but also helps you improve the performance of your content and optimize your channel.
It comes with a plethora of features, from search engine analytics to keyword tools and more, all of which can help you grow your audience, reach more viewers, and gain more subscribers.
One of the most powerful tools that TubeBuddy offers is its automatic suggestion feature. When you are uploading a new video, you will be provided with automatic suggestions that boost the effectiveness of your:
title
tags
thumbnails
video description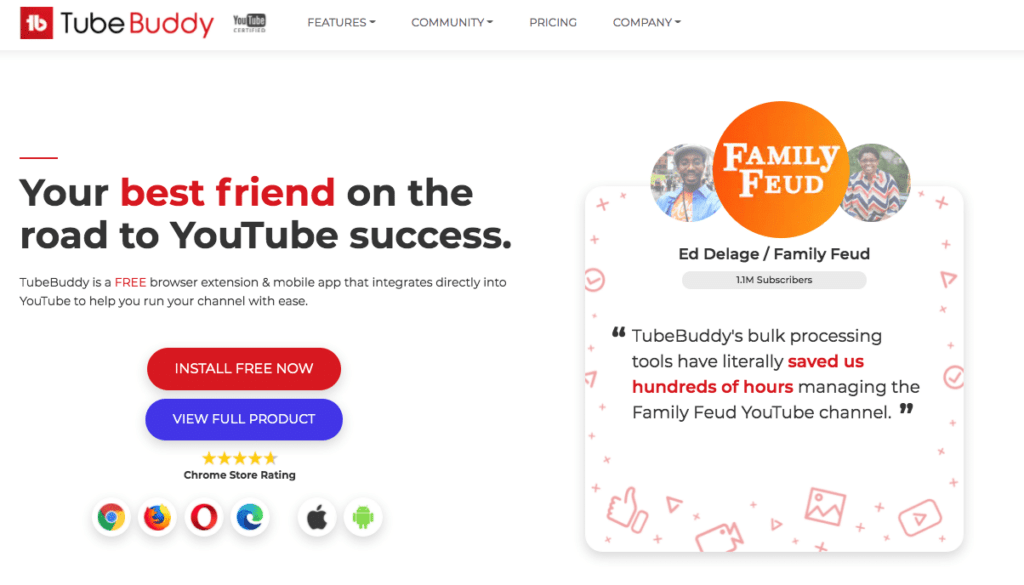 Screen Recording Software
If you are looking to make light-hearted gaming videos or want to create videos answering questions about certain computer programs, then you're going to need some kind of software that records your screen and converts it to video.
ScreenFlow
If you want to make video tutorials and post them to your social networks (not just YouTube), then ScreenFlow is the tool for you. It lets you record your screen and edit your video with an interface that is super easy to use.
It allows you to avoid juggling between different software – you'll be able to do all of your recording and editing in one place.
The pricing is based on a one-time fee, and if you don't mind forking up a little more money, you'll be given access to a stock media library, as well as customer support.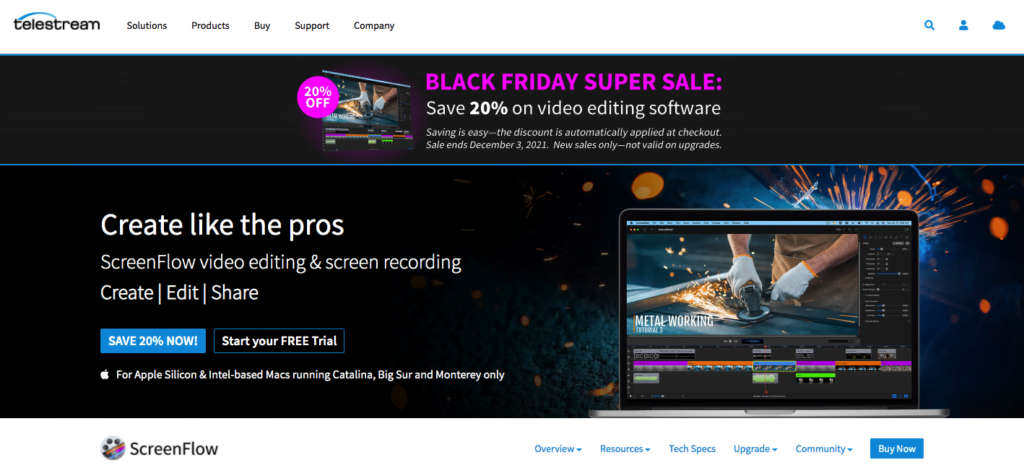 OBS Studio
If you are looking for a screen recording platform that won't cost you a cent, then consider OBS Studio.
It doesn't necessarily come with any video editing options, but it does work very well with most streaming platforms like YouTube, Facebook, Twitch, and more.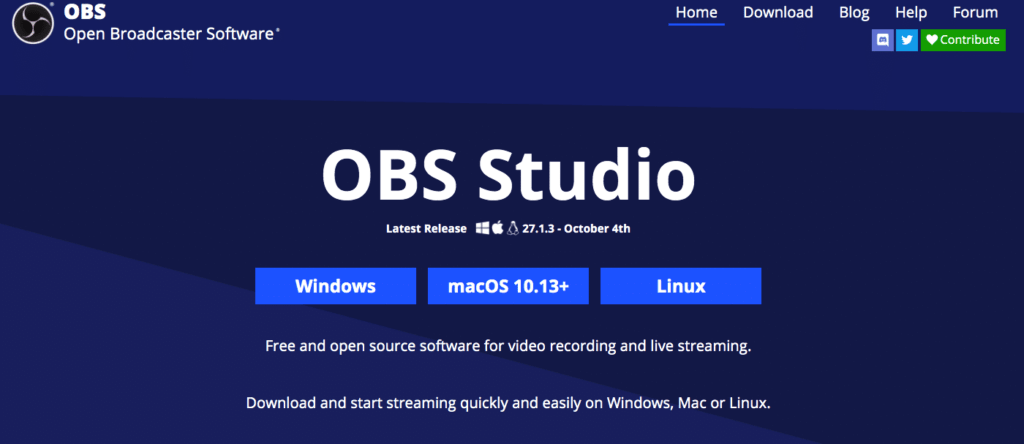 FAQ
How do you create content for YouTube?
Having a channel and being a creator on YouTube is like owning a business. You constantly have to attend to it, make sure it is performing well, and come up with new ideas to keep it running.
It's something that takes a lot of time, practice, and effort to get the hang of, and you're going to need some time to find your voice and niche.
Creating content for your YouTube channel can seem impossible sometimes, but it doesn't have to be. Consult the tips and tricks mentioned above, and we guarantee that you'll be successful.
Who is the best content creator on YouTube?
Interestingly, some of the world's most popular creators on YouTube are those who post mostly gaming videos. PewDiePie is by far the most successful creator, with more than 110 million subscribers to his name.
He posts new videos several times a week and is one of the most popular content producers on YouTube.
Other notable channels include MrBeast, Dude Perfect, and Fernanfloo, each of which has more than 40 million subscribers on their channels.
They each have a unique video style and have carved a niche for themselves in one of the world's most competitive social platforms.
Is YouTube free for content creators?
The short answer: yes. You do not have to pay to keep your content on YouTube or to have it included in YouTube Premium.
Your videos are automatically visible to viewers on ad-supported YouTube, and through a paid membership to YouTube Premium.
The paid membership fees provide a new avenue of income for creators, so if you're looking to use YouTube to make some extra cash, consider YouTube premium.
Similar posts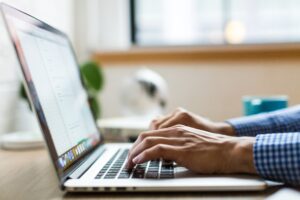 Video creators
Breaking Into The Creator Economy: Key Steps To Success
Almost 50% of influencers say they earn money from their accounts, […]...
Read full article
25 Jan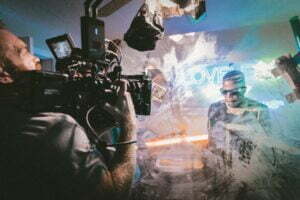 Video creators
How To Become TikTok Famous Overnight
Have you ever wished to become famous on any of […]...
Read full article
24 Jan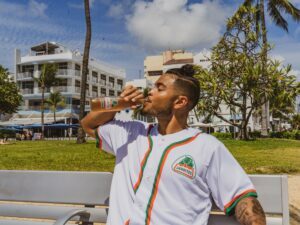 Video creators
How to Become a Brand Ambassador on Instagram
For better or for worse, social media has the unmatched […]...
Read full article
13 Jan