Back to Video Marketing
Video Marketing
Facebook Ads Policies 2021: How to create Video Ads That Won't Be Rejected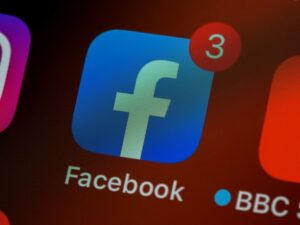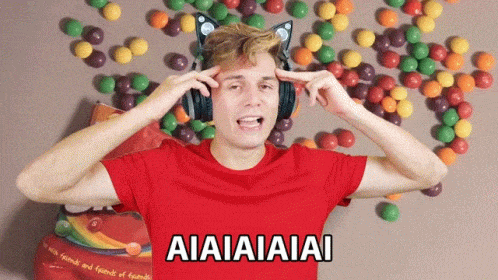 Before you go "all in" on Facebook ad creation, you'll want to brush up on their community standards and terms of service for marketers. You don't want to spend a lot of time sourcing or creating video content only to have it rejected right out of the gate. Or even worse – getting your ad account taken down because of Facebook policy violations.
Facebook takes compliance with its rules very seriously; in fact, Facebook leaders meet twice a month on a global call to review and update their community standards. You can always find the most updated rules on their community standards page. You will have to follow their community standards and meet the ad requirements to have your ads sail through the review process and quickly get approved.
Part of the reason is due to the pandemic and people spending more time at home. However, video is also much easier to absorb than some other forms of content. Here are some of the top low-cost video marketing strategies for small businesses to be aware of in 2021 and how you can use them to grow your brand.
How Facebook Reviews Ads
Compared to the number of ads that are submitted daily by over 2.5 million marketers, the Facebook ad staff is pretty small. While Facebook doesn't openly discuss how the ad review process works, it is largely believed that an automated system that uses machine learning (AI) handles the first round of approvals.
If your ad doesn't hit any red flags by the automated review, it will likely be approved within minutes. If it triggers a manual review (by a human), then it could take hours or even days around peak ad dates like holidays.
The automated process is most likely looking for the standard requirements like length, image or video quality, and aspect ratios. It is also scanning for prohibited or regulated material. The automated review can scan text, images, video, and audio. Some industries require more stringent reviews, such as dating sites, alcohol ads, and financial advice.
Top Facebook Community Standard Rules For Video Ads
Besides making sure your video quality is clear, and your text isn't too long, you'll also have to keep in mind all of Facebook's community standards. They are looking to protect the user experience and keep in line with all state and federal laws.
Facebook Ads Prohibited Content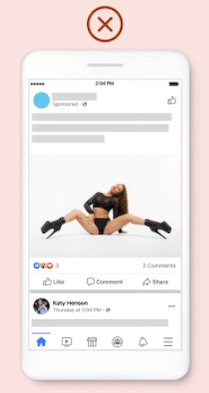 Most prohibited content is common sense, and you can see a full list here. In general, you cannot sell illegal goods or services, be discriminatory, be overtly sexual, and cannot be about tobacco products or weapons even though those things aren't technically illegal. There is also restricted content, meaning Facebook will take a closer look at ads that contain things like alcohol, gambling, over-the-counter drugs, etc.
Absolutes Are Not A Good Idea
Your ad can't make unsubstantiated absolute statements, including saying your product is "the best." You can also not induce before and after photos.
Don't Show Who You Are Targeting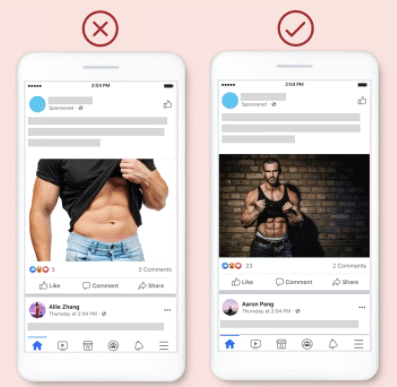 Marketers love Facebook ads because you can use targeting to find your specific audience. However, Facebook doesn't like to show this off to users. Your ad cannot indicate that the user is being targeted. For example, you can't say "manage your diabetes" because that implies you know the audience has diabetes. You can, however, say more general statements like "helps manage diabetes."
Videos Cannot Be "Distracting"
Videos cannot contain anything visually distracting that makes for a bad user experience, such as flashing lights. They cannot show sexually explicit imagery, drug or alcohol use, or any other adult content.
Your Landing Page Matters
Ad creative, title and description all have to be accurate and not violate any of Facebook's content rules. Your landing page that the ad will send people to is just as important. If your ad links to an irrelevant landing page or a sloppy one, the could be rejected.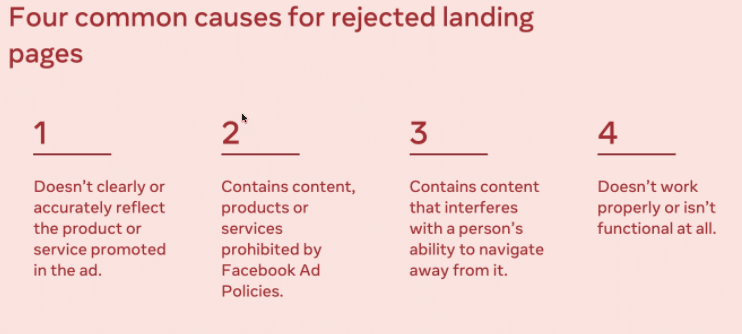 Basic Facebook Video Ad Best Practices For Approval
Video ads perform better and are more likely to get approved if they don't look like a commercial. They avoid close-ups of a person's face while talking, never show before and after images. Also, do not include any unofficial Facebook branding in your ads.
While you are allowed up to 31 seconds for an in-stream Facebook video ad, shorter ads around 15 seconds or less perform better. Facebook rewards ads it thinks will perform well with a quick review process.
Your video ad cannot contain popular music because it will get rejected. Do not include any copyrighted or trademarked video stock, sound, or images in your ad.
While not required for approval, some additional video ad best practices are:
Grab attention from the start
Include a call to action
Use user-generated video ad content like reviews, testimonials, unboxings, and how-to videos
Optimize for mobile and for sound-off viewing
Keep the video shorter than 15 seconds if possible
What To Do If Your Ad Is Rejected
If you can't figure out what's supposed to be wrong with your ad, and Facebook rejections are notoriously vague, then you can appeal the ruling. If your ad was rejected quickly, then it's possible a human being never looked at it, and the AI could get something wrong. Your rejection will have a notification with an option to "Request Review" or you can go to your Account Quality section in your Business Manager.
If you do see what's wrong, try editing your video to comply with the necessary guidelines and then resubmit. If you aren't completely sure, you can do A/B split testing and make more than one version of your ad and see which gets approved. In general, you will not get "dinged" for ad rejections unless you are intentionally trying to get prohibited content to pass.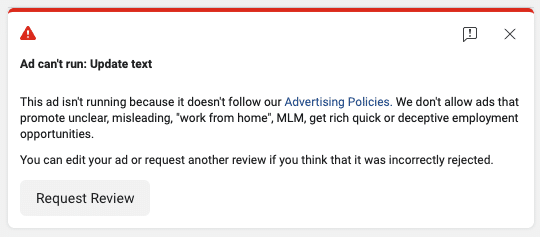 Make Some New Video Ads For Facebook In 2021
Focus on making high-quality video ads relevant to your target audience to get more approvals and fewer headaches. Most importantly, Facebook wants users to have a smooth experience and not feel like they are being advertised to. That's what makes user-generated video marketing so Facebook-friendly. It looks and feels similar to the content that's already in their feed. Try a UGC video in your next Facebook marketing campaign. 
Need User-Generated Videos For Your Ads?
Billo connects businesses and creative people, who love your product, to get authentic video ads that drive sales.
Similar posts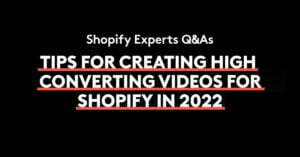 Video Marketing
Shopify Experts Q&As: Tips For Creating High Converting Videos For Shopify In 2022
We teamed up with VideoWise for an exciting Q&A session […]...
Read full article
2 Jun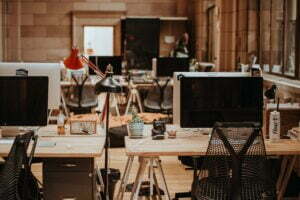 Video Marketing
14 Steps to Create Corporate Videos
By not using this great tool to increase their sales […]...
Read full article
25 Jan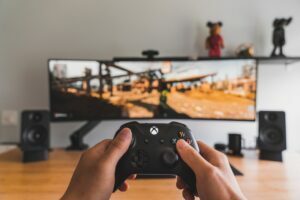 Video Marketing
Video Games Advertisement
If you're looking to reach all new heights for your […]...
Read full article
13 Jan