Back to Video Marketing
Video Marketing
Building A Top Performing Facebook Sales Funnel With Video Ads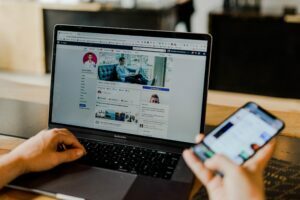 Don't believe the "Facebook is dead" hype, while it might not be shiny and new, Facebook is still the most widely used social media platform with 1.86 billion monthly users. While newer platforms like TikTok attract a younger crowd, Facebook is mostly used by people over 25 and that's more likely to be your buyer pool anyway.
You're about to learn how you can grab the attention of some of these Facebook users and turn them into buyers using video ads and a sales funnel for very little money.
Why Use Facebook Ads In The First Place?
In addition to a large number of users, Facebook is a great place to advertise because it has a very low cost per click. Google Adwords currently has an average cost per click of $2.32 but Facebook has an average cost per click of only $0.64. More reasons to use Facebook ads include the huge variety of demographics and interests you can base your ads off of, the ability to use lookalike audiences, and being able to retarget warm leads.
Does it sound too good to be true? Here's the catch, people don't go to Facebook to shop. They go to hang out with family and friends. You need to do a phenomenal job at catching their attention and then leading them through the buyer's cycle until they are ready to make a purchase.
The Buyer's Cycle And Facebook Sales Funnels
If you're already in marketing then this might be old news, but if you're out here winging it, here is some vital information. Buyers don't pull out their wallets right away. Most consumers will follow a fairly predictable buyer's cycle that looks like this:
Awareness (you appear on their radar)
Consideration (the more they see your ads or content, the better the deal sounds)
Conversion (they either buy or they move on)
It just so happens that Facebook ads have different objectives that you can match up to these buyer stages. This is called a sales funnel. You start with casting a wide net, and as people move through the funnel some may drop off but you are left with just the people who are truly interested in buying your product. 
Luckily, you can use Facebook ads and video content to help guide potential customers to your purchase page. When moving from top to the bottom of the sales funnel, the creatives should answer these questions: "Why?", "How?" and "What?". We will learn how to do this in the paragraphs below.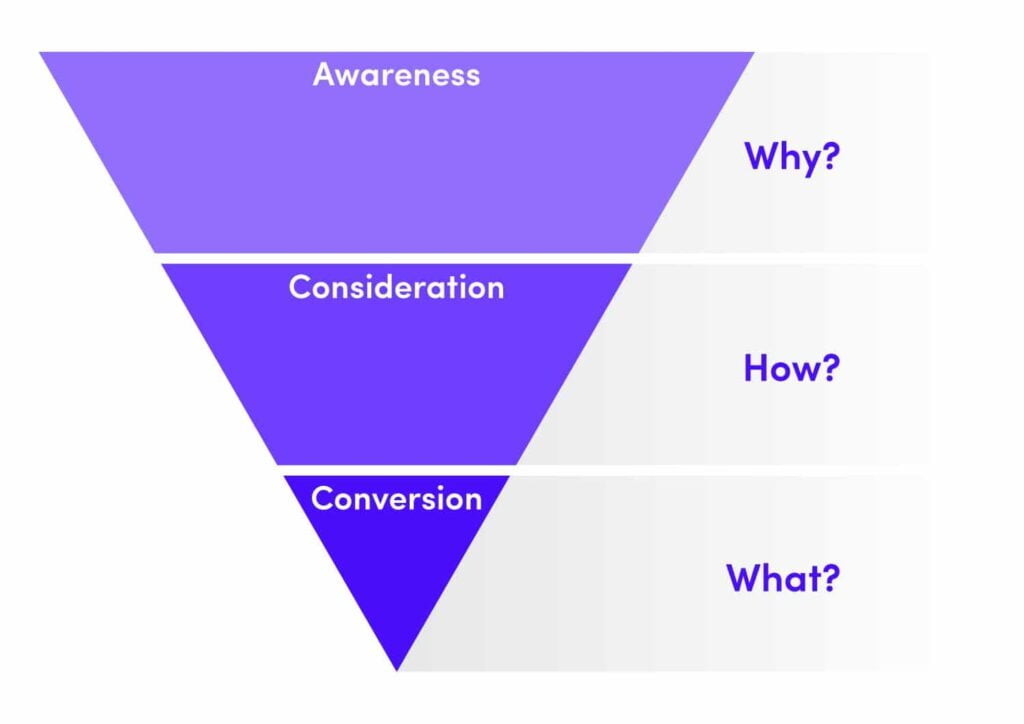 Hot Tip:
Before you do anything else, check the analytics on all the content and ads you already have out there. Do an evaluation to see what your warm leads are already interacting with. This will help you determine what ad content you need to make. For example, video ads typically convert better on Facebook so you should consider different types of branded videos to promote.
#1. How To Build Awareness With Facebook Video Ads
In the awareness stage, you're reaching a broad and cold audience, which is not aware of your product yet, you have to answer the question "Why do they need this?". Sometimes you have to alert people to the problems or potential problems they have so that you can be the solution. The hard part is getting them to stop scrolling and see your ad.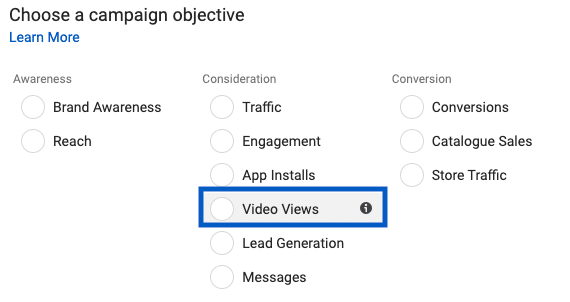 For this Facebook campaign, you might be tempted to use the "Awareness" objective, however, we recommend selecting "Video Views" – don't worry, you will soon realize why. At this stage, it's ok to target a large number of people. You can create an interest-based audience or a Lookalike audience if you have run FB ads before. For this campaign, you need to have attention-grabbing video content to get people's attention.
Video Creatives For Awareness Stage
Here is a brilliant example of someone that caught attention quickly with video ads. Manscaped – a leading brand in men grooming electronics has definitely caught everyone's attention by addressing casual problems in a humorous way. The awareness stage videos are punchy and have the effect of surprise. The videos are so funny that you find yourself liking and sharing the videos without even noticing that.
#2. The Consideration Phase Is About Lead Generation
Video ads are great for many reasons but especially for sifting the warmer leads out of your cold audience bucket. As you have already introduced yourself to a broad audience, you can now move on to the first level of retargeting. For this, you need to create a custom audience of people who have stopped and watched the whole or at least some part of your video ad. Make sure to exclude the people who have recently made a purchase as they are less likely to buy so soon again.
Our best recommendation at this stage is to select the "Traffic" campaign and direct your leads to a specially-designed landing page on your website. This will help the leads to learn more about your business or even make a purchase. It is also going to play a big role in the following stage of retargeting.
How To Create a Custom Audience
If you're not sure how to create a Custom Audience, then follow these 5 easy steps: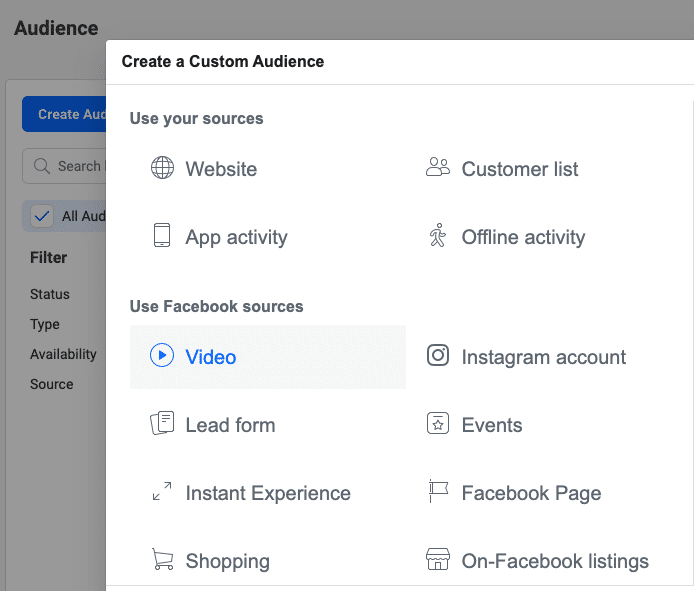 Click on "Business Tools" and then "Audiences" in your Facebook Ads or Facebook Business Manager.
You can now see a big blue button saying "Create Audience" – so click on it and then select "Custom Audience".
Select "Video" as your audience source.
At this point, you create the actual audience by choosing the engagement type, particular video or videos and the period of engagement.
Name your audience so you could recognize it later, click "Create Audience" and Facebook will calculate it in a few minutes.
Video Creatives For Consideration Stage
So your buyers are already aware that they might need your product but they are still not completely convinced if it's a good choice for them. They are in a consideration stage. At this stage, your creatives should be more informative and answer the question "How?". The potential buyers want to learn how does your product or service works and how is it better than other products and services in the market. They also want to hear from other people, like themselves, who've purchased from you in the past.
This is your time to shine with user-generated video content. Testimonials and DIY videos featuring real people rather than an overly edited and produced commercial really resonate with consumers right now. Check out this article that talks about how unboxing videos can help your Facebook ad ROI.
#3. Decision Time – Retargeting Consumers To Buy It Now
Retargeting using the Facebook Pixel can hammer home the benefits of your product to an audience that is already aware of you and has been considering a purchase. You can retarget people who have visited your website, opted into an offer, or simply engaged with you on social media.
If you were taking your traffic to your e-shop in the consideration stage, then that is the audience that you want to use right now. Create a custom audience for the people who have visited a specific page of your website and don't forget to exclude the recent buyers.
Your final sales funnel creative needs to have a very clear call to action and a good value proposition. Don't be afraid to highlight any purchase-related benefits like free shipping or a money-back guarantee. You can also mention the scarcity of the product. The buyers need to know that this item won't be available forever. Do you have any promo codes or discounts to offer? Don't be afraid to use that too!
At this stage, you don't need to reintroduce yourself to the potential buys therefore a good static image or a carousel ad could be enough. However, as a top student, you already know that video is always the winner when we talk about Facebook Ads. Video ads can help stir emotion and get a response from viewers. Again, this is a perfect spot to use user-generated content because authenticity sells.
Wrapping Up
By using different Facebook ad objectives and video content, you can move viewers through the entire sales funnel and generate more revenue for your business.
Make sure to track the analytics on your video content to see what's working. You can leverage that data to make more meaningful ads in the future.
Selling online?
Sign up to Billo and get custom made video ads to boost your sales.
Similar posts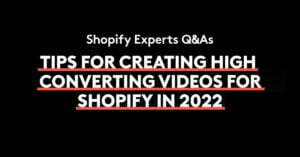 Video Marketing
Shopify Experts Q&As: Tips For Creating High Converting Videos For Shopify In 2022
We teamed up with VideoWise for an exciting Q&A session […]...
Read full article
2 Jun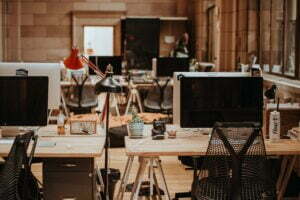 Video Marketing
14 Steps to Create Corporate Videos
By not using this great tool to increase their sales […]...
Read full article
25 Jan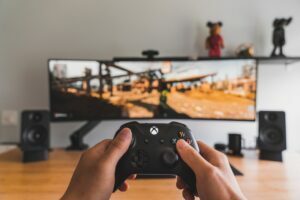 Video Marketing
Video Games Advertisement
If you're looking to reach all new heights for your […]...
Read full article
13 Jan