Back to Billo Creator Masterclass
Billo Creator Masterclass
Go Pro: Create Studio-Level Videos At Home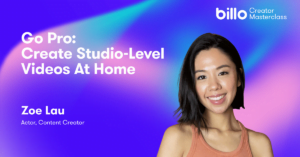 Billo.app recently started offering Product Page videos – studio-level product show-off videos. A better setup and video quality mean there's a bigger reward for you!
Creator and actor Zoe Lau successfully covered everything you need to shoot studio-like videos at home at the Billo Creator Masterclass webinar.
This video's agenda:
Prepare: Let's talk about equipment & skills.
Shoot: Creating that studio-level feel.
Frame: Making the video sharp & engaging.
Finish: Editing & Voice-over for studio-like videos.
About the Speaker:
Zoe Lau is an actor who works both on-screen and on-stage and who has dipped into the content creation world since the pandemic. With a passion to work in front of the camera, she now utilized her knowledge and skills to create engaging content for various brands.
Shooting Studio-Quality Product Videos
How can someone starting as a creator make professional-quality videos? By making sure that you have the right equipment and aesthetic. Follow the tips below by Zoe Lau, and you will be ready to create studio-quality product videos in no time!
Many elements go into shooting studio-quality video. Here are the most important things that you will need to shoot studio-quality video content from anywhere:
The first and most important equipment needed to shoot video is your filming device. Zoe uses her phone as phone camera quality has gotten significantly better over the years. Even older smartphones shoot decent-quality videos.
Next comes lighting. Studio lights are the best. Ring lights, while popular, can cause a ring effect around eyes or products.
The third most important item when shooting is a tripod. A tripod is highly recommended to avoid any unwanted movement in your video. A tripod also allows you to keep your hands free.
Another item is backdrops. Solid colors work best. Avoid any shiny backdrops to avoid reflections. Another option is marbled ones. Any products relating to food or kitchenware will look great with a marbled set.
These are the main items to make your videos look professional and high quality. As far as skills go, basic skills such as focusing on the product and making sure the products are in the frame are required.
How to Create a Studio Like Feel in Your Home
Something to keep in mind – keep the space clean so you do not take the focus away from the product. Make sure that the backdrop is either solid or marbled, depending on the product. The main thing to consider is that you don't want to take the focus away from the product. A product post requires the product to be the main focus of the post as it is what you are trying to promote.
Framing
Use different angles to frame the product. For example, A bird's eye view angle works great for jewelry and highlights the sparkle of the product. Shoot every product from multiple angles to get the best possible shot of your product.
Another example is the 360 shot. A 360 view showcases products from every point of view, giving the consumer a better look at the product and its packaging. Remember, while framing, try not to cut off the product you are showcasing.
360 Plate
A 360 plate automatically turns when you plug it in. It is beneficial for product videos that don't require the model to be in the shot. This allows for the entire video to showcase the product. For example, with a 360 plate, you do not need to shoot from different angles as the turning plate will get all of the product in one continuous video shot. So for a 360 video, all you need is the tripod, AV camera, a 360 plate, and the product!
Editing
While editing your studio-quality video and adding your voice-over, make sure you use all of the keywords and points provided by the company you are working for. Draft out your voice-over and practice it to fit the video. Apps on your iPhone like iMovie are beneficial in editing product videos.
In the end, be creative and add your personality to your videos. Brands are looking for a clean video of the product with your original voice added to it. Fortunately, you can't go wrong with adding a little creativity to your videos!
Similar posts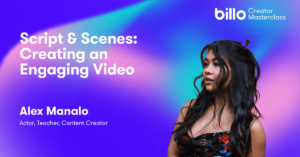 Billo Creator Masterclass
Script & Scenes: Creating an Engaging Video
Alex Manalo is an actor, teacher, and content creator who […]...
Read full article
27 Dec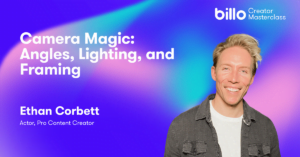 Billo Creator Masterclass
Camera Magic: Angles, Lighting, and Framing
Ethan Corbett was born and raised in Southern California, and from […]...
Read full article
24 Nov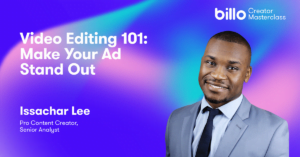 Billo Creator Masterclass
Editing 101: Make Your Video Stand Out
Issachar Lee is a husband and father with a focus […]...
Read full article
4 Nov