Kamil Sattar also known as "The Ecom King" is a British E-commerce entrepreneur. He is the founder & partner in more than 3 companies in various industries, ranging from luxury goods, digital marketing, dropshipping, and e-commerce. 
At Billo Summit 2021 Kamil shared his insights on the Tik Tok ads.
Tik Tok is the newest player in the social media market. As with Facebook and Instagram, Tik Tok is used by brands to market to its consumers. As with all new technology, there are pros and cons that come with marketing on Tik Tok.
Here are the Pros and Cons of Tik Tik Ads:
Pros:
It's completely unsaturated compared to other social media platforms;
Videos tend to go viral easily;
It's very similar to Facebook ads so the transition is very easy;
Managing Ads is more simple than other platforms;
CPAs and CPCs are cheaper than any other platforms;
Engaging content works really well on Tik Tok.
Cons:
More expensive than other platforms so it has a higher barrier to entry;
It's a new platform so there are glitches;
Tik Tok stops the budget if your campaign isn't doing well;
Not everything will do well on Tik Tok – products like fidget spinners and pet gloves do really will – things that show what the product does do well and go viral ;
The budget is higher $50-$100.
Video – The Basis of Tik Tok
Videos are key on Tik Tok. If you post photos, they don't go on Tik Tok, they end up on other platforms the company owns, so this is a strictly video platform.
One major thing to remember is to keep your videos short and to the point as most of the consumers on this platform have short attention spans.  You can order content from companies like Billo, that have in-house influencers that know how to market to the consumers on the platform.
Steps Towards Successful Video Ads:
As with the videos, keep your ad descriptions short. Ad descriptions should be kept at 1 to 3 lines;
The key to copy on Tik Tok is to keep it short and funny. This fits the platform;
Your product name should be the name of the product followed by 'testing' as in you are testing your product out on the platform, when you are getting started on Tik Tok;
There is no need to set budget limits as you will be cut off if the campaign is not successful;
For Tik Tok, your ad groups should be the audience you are targeting and the age of the audience;
You should be using the website as the promotion type;
Never forget to turn on user comments so that you can get feedback;
Turn off video download so that people have to go back to show it to others, and use one ad group for the location;
Look for countries with less chargeback to set your location;
Use 'manual bid' for your place and use $15-$25 spend for this to see how your campaign does. Let the ad run for 4-5 days and check to see if your budget is spending. If it is not, then there is a problem with your budget, campaign, or target.
In conclusion, it is a good idea to play with Tik Tok ads as Google and Facebook may not always be on top in the social media ad game!
Similar posts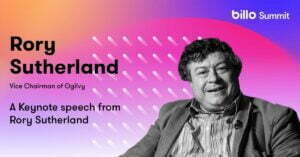 Billo Summit
Billo Summit 2021 Keynote Talk by Rory Sutherland
Rory Sutherland is the Vice Chairman of Ogilvy. Currently, he […]...
Read full article
2 Oct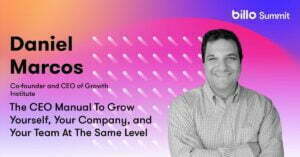 Billo Summit
The CEO Manual: Grow Yourself, Your Company, Team At The Same Level
Daniel Marcos is the Co-founder & CEO at Growth Institute […]...
Read full article
30 Sep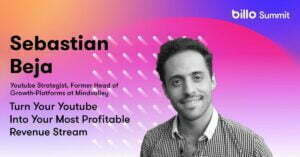 Billo Summit
Turn Your YouTube Into Your Most Profitable Revenue Stream
Sebastian Beja is a Youtube strategist who helps scale and […]...
Read full article
29 Sep