Marcin Hakemer – Fernandez is a video educator at Mailerlite, affordable email marketing software. At Billo Summit 2021 Marcin shared new trends in email marketing.
Email marketing is a tried and true effective online marketing tool. In fact, email marketing may be THE MOST effective online marketing tool.
Subscription-Based Newsletters and Businesses
Last year email subscriptions grew at an outstanding rate, with some months seeing growth up to 32% more than the previous year.
If you are new to email marketing here are a couple of tips:
Have a simple sign-up subscription form in the header or navigation bar.
Link your sign-up form on your Social Media sites.
Subscription-based businesses are popping up all over. Some examples are:
Sinocism – A newsletter site that subscribers pay between $10-20 to get access to papers written by professionals.
Hustle – A newsletter that gives you all your business and tech news in 5 min or less.
Morning Brew – A subscription-based service that gives you your news in an "enjoyable manner".
Industry Dive – Let's you curate what industries you are interested in and keeps you up to date on them.
Daily Skimm – A newsletter aimed at millennial women and their interests.
Axios – A newsletter for your interests that has a lot of options for the user.
Email Personalization at Scale
Email personalization goes a long way. Therefore using dynamic content helps to personalize emails. Depending on where they are located, they will see a different email even though you are sending out the same email.
A few ways to personalize emails for your clients are:
Surveys – Ask your clients what they are interested in.
Website navigation using a pop-up – Ask the customer if they want to read some content later, have them sign up, and send it as an email. Do not overuse pop-ups!
Make sure your pop-ups do not overlap or look cluttered.
The Rise of No Code Tools
It is getting easier to create content without a developer. As a result, there are more people specializing in connecting the dots without coding. Some examples are:
No need for developers with apps that can create marketing transactional emails.
Websites and Apps can be created by no-code tools.
Some examples of companies that use no code tools are :
Bad Unicorn – A newsletter that brings you the worst start up ideas.
Say Thanks – A gifting agency.
UnicornFactory – A hiring agency.
Authentic and Positive Content
Users are craving authentic and positive content. As a result, companies such as Mcdonald's, Shopify, Robinhood, and more are using creative ways to bring authentic content to their consumers. Playful content that is genuine and authentic is appreciated by consumers and keeps the company in the mind of the consumer. Tips for authenticity include:
Personalize with your pic to give the user an image to relate to.
Link videos of you talking.
Use images of your actual team instead of stock images.
The best way to learn the business model is to sign up for some paid newsletters. So remember to experiment and have fun!
Similar posts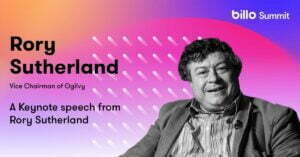 Billo Summit
Billo Summit 2021 Keynote Talk by Rory Sutherland
Rory Sutherland is the Vice Chairman of Ogilvy. Currently, he […]...
Read full article
2 Oct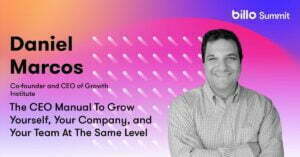 Billo Summit
The CEO Manual: Grow Yourself, Your Company, Team At The Same Level
Daniel Marcos is the Co-founder & CEO at Growth Institute […]...
Read full article
30 Sep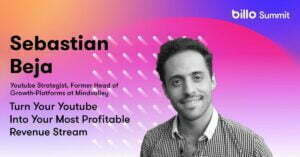 Billo Summit
Turn Your YouTube Into Your Most Profitable Revenue Stream
Sebastian Beja is a Youtube strategist who helps scale and […]...
Read full article
29 Sep