Paid Partnerships
Updated: November 17, 2023
6 min read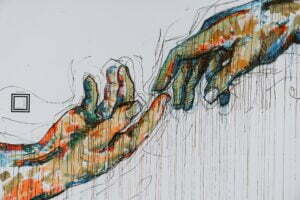 With the paid partnership tool included with Instagram and Facebook, influencers can inform their followers that they are business partners with the brands they promote.
What this means is that everyone can see that it is the influencer who is getting paid for the ad, and not Instagram or Facebook.
This will help Instagram influencers to disclose that they are getting paid for the products that are promoted in their posts. This will allow viewers to see the influencers are getting paid or receive some form of incentive for displaying their brand.
Let's investigate further what this paid partnership feature is about and what is involved in becoming a partner.
What Is a Paid Partnership?
Paid partnerships are simply an agreement between an individual and a business where the person advertises their products or brand. When an influencer post on their Instagram account for other viewers to see, they provide exposure for the brand in their content.
These branded content posts on Instagram or any social media platform make them a business partner, which is what influencer marketing is about.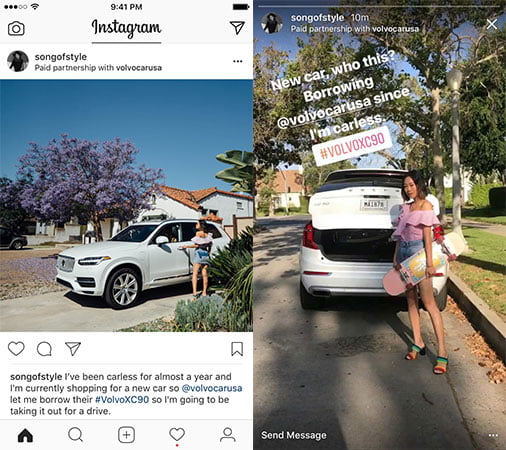 Paid partnership content is basically included in their images or videos and it shows as a tag placed above the post.
When a post or an Instagram story is tagged it will show at the top of the post or story below the user name. The responsibility of disclosing that it is sponsored posts lies with the influencer and the business and not with the media platform.
The benefit of this new paid partnership feature is that businesses can now monitor the success of branded content ads much more easily. This gives them better-paid partnership insights so they can better plan a paid partnership with an influencer marketing campaign with better-quality branded content.
The Instagram app will help the businesses and Instagram Influencer to focus on a more targeted audience with their branded content.
When Should the Paid Partnership Feature Not Be Used?
This feature should not be used when an influencer is not appointed by a certain brand and they still tag that brand in their posts.
If there was no agreement that the influencer is the ambassador of a brand, there is no need to use the paid partnership tag.
Benefits Of Using the New Paid Partnership Feature
When a business provides a sponsored content campaign for influencer marketing there are a number of benefits included with paid sponsored posts. The biggest one of them is the fact that they have much better insights into branded content ads that can be used in the future.
The paid partnership function gives them direct access to data related to the overall performance and user engagement with a branded content ad.
This helps the brand to gather statistics on how the sponsored content is performing on Instagram which can be used for future sponsored content campaigns.
Brands can also see which influencers perform better with their Instagram stories and posts and who gets better engagement from users. They have full access to the total likes and comments, so they can look out for reach and overall performance of sponsored content partnerships.
How Business Partners Are Approved
When an Instagram influencer and a brand become business partners they need to turn on the partner approvals setting for the ad. This can be done in the Instagram app by going to options and finding business settings, Scroll down until you find branded content approvals.
You need to select the On option to approve and all approved accounts will show the paid partnership tag in your posts and Instagram stories.
When the influencer and the brand have become business partners every viewer who tags the post will see it displayed in the post.
Branded Content
This type of content is any content you post in your Instagram stories or posts that contain products of companies.
These companies and brands then pay you either in the form of money or products you may use free of charge.
Branded Content Ads
Posts that are placed on an influencer's Instagram account with a brand's products displayed in them are branded content ads.
As soon as the post goes live, they advertise the brand to all their viewers – this is then known as a paid partnership with the brand.
Create a Branded Content Ad
It is easy to create a branded content ad on Instagram by simply going to Facebook's business manager in the ad manager option. This can all be found in the advanced settings option with easy-to-follow instructions for a quick and easy setup of an account.
If you already have a campaign, select previous campaigns or build one from scratch, select your budget and objective and save it to drafts. You will find that everything you need to add will be given to you in easy instructions, so anyone can do this.
The next step is to select the ad set option, select your target audience then select the placement of your ad, and the level you prefer.
Choose an existing post and select it, then choose the content for your ad, select the creator's post and choose to continue.
You will now see that the creator's post will show up in the preview panel as a branded content ad. You can now scroll through the placements that are available and you can add a URL if needed. Finally, select a call to action.
The final step required now is to publish your branded content campaign by selecting the option to confirm the preview. With that final step completed your branded content ad will be live and can be seen by all your followers and anyone tagging your post.
What Is a Business Partner On Instagram
Looking at all the information, it will not be difficult to come to the conclusion that the influencer is now a business partner of the brand.
That is basically the same as any other type of business agreement where a partner gets paid for doing work for the business.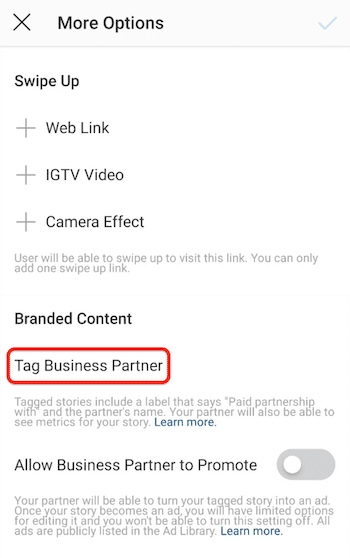 Mistakes To Avoid
When creating sponsored posts there are a number of things you need to avoid that may become very expensive mistakes. For starters, an influencer needs to have a plan when you enter any type of paid partnership with any brand.
You should ask yourself what the end goal of a paid partnership will be and what you want out of it in the long run. By setting up your goal and plan you will prevent many costly mistakes which may cause you to lose interest in the business partner idea.
The paid partnership feature in Instagram can provide many benefits for the brand and also for the influencer with all the available data. Use these features to your advantage to keep track of all engagements by Instagram users so you can adapt your branded content post.
When a brand decides to go into an agreement with Instagram influencers by using a paid partnership option they need to know the Influencer. It will be a costly error for them to use just any influencer for sponsorship opportunities.
First, they need to see how these influencers will perform.
Random influencers that do not align with your brand may not give you the exposure you want, which may cost you money. Paid partnerships are just what it is – you pay the influencer to promote your brand in their Instagram account to be viewed by their followers.
With paid partnerships, you can make use of all the features included with the paid partnership feature of Instagram to keep track of things. You will also have access to Facebook page insights that will help you plan your future campaigns.
Are Paid Partnerships Worth It?
If an influencer has a lot of followers who are basically potential customers, it will be beneficial for the brand.
So you can say that paid partnerships with influencers have the potential to bring in many buying customers to the brand.
Conclusion
You can clearly see that paid partnerships on Instagram have many benefits for the brand and the influencer at the same time.
When most of these users are converted to paying customers, for businesses, it will have reached the goal of more profits.
Update your marketing strategy with Billo's UGC and video ads
Similar posts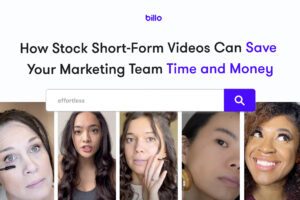 Marketing Strategies
How Stock UGC Saves Marketing Teams Time and Money
​​Short-form videos have taken the marketing world by storm, becoming […]...
Read full article
12 Jul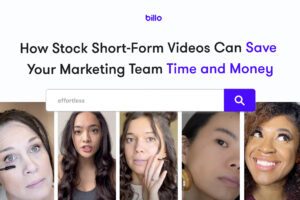 Marketing Strategies
How Stock UGC Saves Marketing Teams Time and Money
Short-form videos have taken the marketing world by storm, becoming […]...
Read full article
12 Jul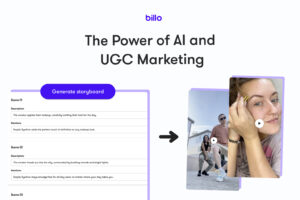 Marketing Strategies
The Power of AI and UGC Marketing: Unleashing Waves of Engagement
While AI has taken over the world and turned humans […]...
Read full article
3 Jul