How Do I Trim a Video on Snapchat
Updated: November 17, 2023
7 min read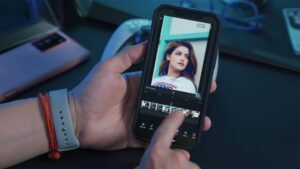 As a Snapchat user, you have probably encountered issues related to video length. It is well-known that this social media platform allows you to post videos between 10 and 60 seconds long which is much shorter than what YouTube allows.
With that in mind, trimming and editing your video content is an essential skill. To help you, we have prepared an article on the options and other effects that can help you create a video. Not only that, but we will also provide a detailed review of a few iOS/Android apps for Snapchat video editing.
Without further ado, let's get started!
How Do I Make Videos on Snapchat? (Tutorial)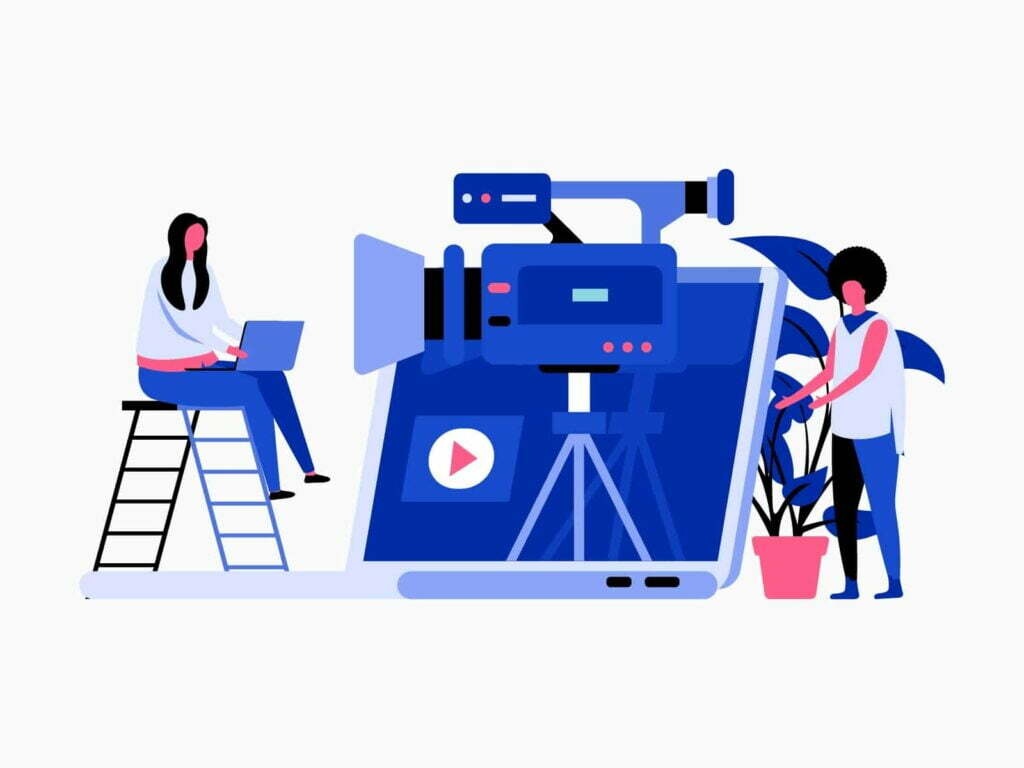 To discuss the Snapchat video editor, we need to start by explaining how to record Snapchat videos in the first place. After pressing the camera button, a photo snap is taken.
You may also capture video by pressing and holding the record button or taking multiple snaps by pressing the same button a few times in a row. To swap, you should double-tap the camera screen.
Allowed Video Size
A single video can be up to 60 seconds long. However, if you want to create a lengthier Snapchat film, you may shoot a series of clips and post them all at once. If you transmit photos or videos from your camera roll to Snapchat, you can only send a single video that is up to 2.5MB in size.
The auto-editing feature compresses your files before sending them to you. It is the main reason why you will want to edit videos before sharing them with your followers.
Can You Trim Snapchat Videos?
There is a simple method to trim a Snapchat video and get the most out of your great content. You may either take a video or cut one that you went to save for video trimming.
The first step is to start the Snapchat app and use the camera to record your videos or tap the screen icon to import videos from your gallery or Snap library.
After you have done that, the second step is to press the symbol of 'three dots' at the top of the screen and enter the "Edit Video" mode.
You are now ready to shorten your video. Depending on the video length and format, you should trim parts of the beginning and the end.
After that, you have all the freedom to export (share) with a tap to 'export' symbol or share it with your Snapchat friends by pressing the blue icon.
Splitting Video on Snapchat
This option isn't available for videos uploaded from your gallery, but it is available for a video clip recorded using the Snapchat camera. The Split tool is used to clip, preserve, and divide the video into chunks that you may edit independently.
Wait for the little scissors to emerge at the right time, and then drag them upward to divide the movie in half at a certain position.
You'll now see two different video previews. If you wish to eliminate a section of the video, divide the video at the point where that section begins and finishes.
How Do You Combine Snapchat Videos Into One?
Open the Snapchat app on your smartphone. When you first start the app, you'll notice the upload option to the left. Select the upload option. Navigate to the Roll folder.
Make a list of all the video components you'll need to merge. To continue, press the Play button. You'll be able to forward the snap to your pals or post it to your story. The last step is to share/export your combined video.
Snapchat Special Effects
This app also comes with a special effect feature that you can add to your videos. It offers a large number of effects that you may apply to your Snapchat video to make it more entertaining. Go to the emoji button and select your preferred effect before you start recording.
Snapchat filters may help you reframe your photos. With the use of fantastic filters, you can make your films look amazing and unique.
Take your footage and swipe through the filters to get the one that most fits your needs. You may also choose from a variety of eye-catching lenses for your video.
In addition to that, you can determine whether you want your friends to see your Snapchat video once or several times using the loop option. Not only that, but you can also fast-forward or edit your video to be played in a slow or fast-motion effect.
Last, but certainly not least, you can add a variety of emojis, stickers, music soundtracks, and text boxes. We consider the built-in editor to be a fine choice if you are on a limited budget and want free software to help you delete and edit certain parts of your video.
Top Snapchat Video Editors for Android
Other than a built-in Snapchat video editor, there is also a variety of video editor apps that you can download for free or for an affordable monthly subscription. Take a look.
Best Free Snapchat Video Editor: Video Snap Editor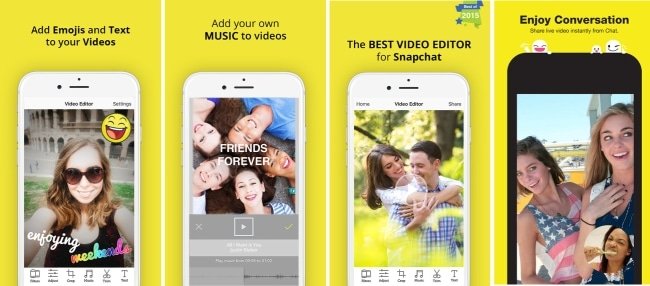 It is one of the most popular free Snapchat video editing software in the Google Play Store. This Snapchat video editor has a variety of customizing effects to give your video a unique style.
It's one of the greatest video editors if you want to create a video for a variety of other platforms such as Facebook, Instagram,, and YouTube.
As an easy-to-use program; you can choose between different background music to make your Snapchat video more intriguing.
Not only that, but you can also use a wide variety of filters and great effects to achieve a professional appeal. You can blur, adjust playback speed, or put your videos in slow motion. The best point about it? It is free to download and use.
Best to Create Engaging Content: InShot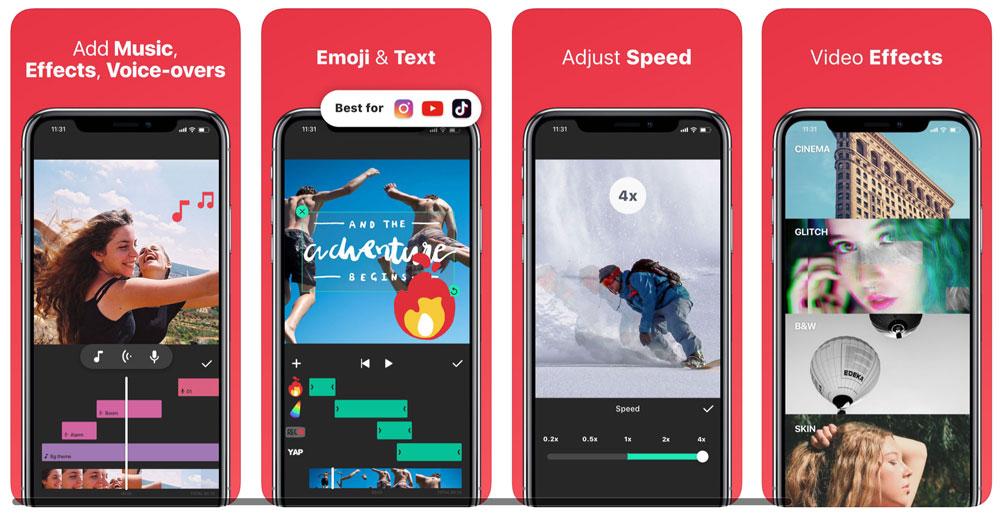 Although it is not free and is set at $2.99 per month, you are looking at a sophisticated and affordable program that you can use to edit and upgrade your content. It is an app that you can use for designing collages or editing your Snapchat videos.
Not only that, but you can change the dynamics and duration of your content, as well as add animated emojis, titles, and stickers to your clip. One of the coolest points? The ability to twist and reverse video.
Most importantly, it is simple to use and features everything that you might need. This app is great for individuals looking for intuitive and reliable editing features. It offers an extensive music library in which you can find a variety of audio files to match your video.
Apart from being suitable for beginners, we found InShot to be a popular video editor among professionals.
Best to Edit Videos with High Resolution: FilmoraGo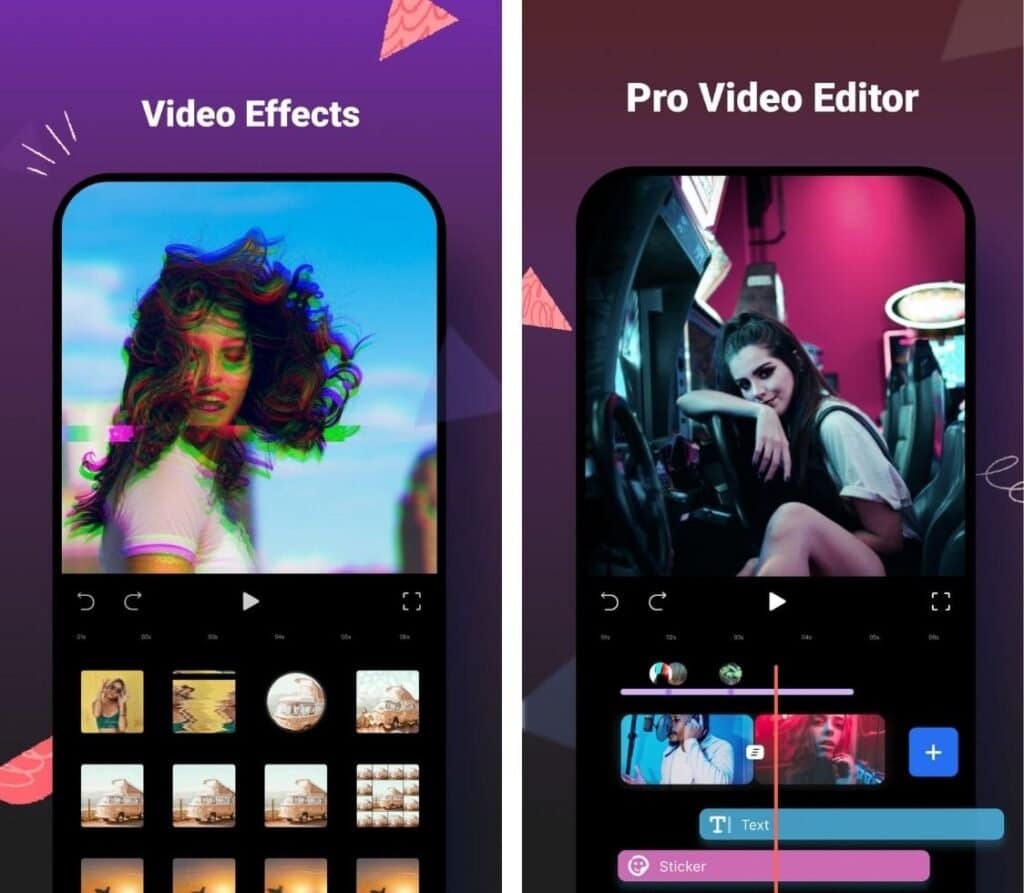 When it comes to a Snapchat video editor, FilmoraGo is without a doubt one of the greatest and most capable video editing apps.
With the basic Filmora video editor, you choose between a variety of filters and stickers, captions, colors, music, and Snapchat-inspired layouts.
Although some of the features in this Snapchat video editor are charged, you can still get most of the potential out of the free version.
Top Snapchat Video Editors for iOS
Best Video Editing Software for Beginners: Apple Clips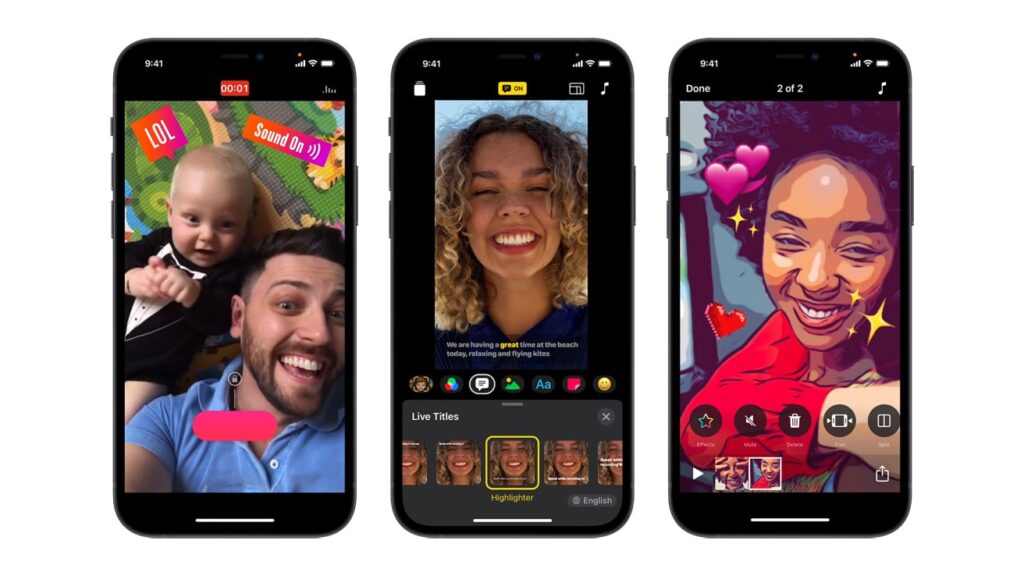 One of the finest Snapchat video editing software for iOS devices is Apple Clips, which allows you to produce great Snapchat videos for your friends. You may add stickers, colored emojis, and audio files that will match the length of your tape.
Additionally, you can adjust speed, reverse your video, and set an automatic identification of the items and people featured in your video. The coolest part? You won't have to pay a single penny to edit video clips with a variety of premium tools.
Designed by some of the technological titan's brightest minds behind it, this video editing tool includes a variety of fantastic features that you will appreciate.
Take a look at their title settings that can be used to produce dynamic titles that appear with animated interaction on your videos.
You don't need to have any previous video editing experience to work your way around this video editing software.
Most importantly, we didn't detect any lags or sudden crashes while using the featured tools to edit our videos. With that in mind, it is one of the most reliable software for iPhone users.
Best to Merge Video Clips: Splice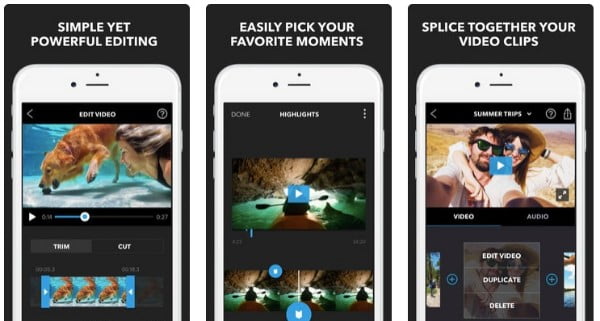 This iPhone-friendly software is simple to use because of its user-friendly design, offering an extensive music library and a variety of premium features for video editing.
As the title suggests, you may merge or trim various videos together with only a few easy clicks to create a compelling result.
With this program, you edit various areas of your film, as well as enjoy a variety of simple-to-use features such as reversing your video, adding audio files, and making your video more appealing to other users by adding great effects such as emojis and animated stickers.
It is one of the finest Snapchat video editor apps because of these capabilities. While you have to pay $2.99 per month to use this Snapchat video editor, it is a worthy choice that is suitable for Snapchat users running on iPhone.
Best Software for eCommerce Videos
Similar to Instagram and TikTok, Snapchat is a platform that can be used for marketing your content or advertising the products of a brand that you are collaborating with. The best app to create a video for marketing purposes is the Billo.
Similar to the aforementioned apps, it allows you to add popular music or audio that you have created to make the ad more enjoyable for different users.
It is an intuitive software that comes at an affordable pricing range and can be used for a variety of purposes including digital marketing and boosting your followers through creating videos.
Wrap Up
Since the premiere of the built-in Snapchat video editor, trimming video clips became much easier. Still, the iOS/Android apps that we have highlighted in this article exist for a reason.
These come with a variety of user-friendly tools, soundtracks, emojis, and premium features that will help you edit and create a great video.
Update your marketing strategy with Billo's UGC and video ads
Similar posts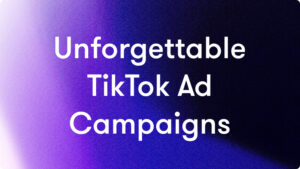 Social Media Marketing
Unforgettable TikTok Video Ad Campaigns That Can Help You (Maybe) Go Viral
TikTok is king! Short-form videos, and TikTok in particular, have […]...
Read full article
7 Dec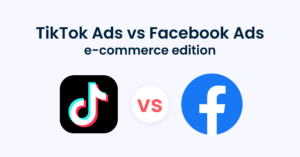 Social Media Marketing
TikTok Ads vs. Facebook Ads: What Should e-Commerce Choose?
Ever since TikTok came around, it instantly started stealing the […]...
Read full article
26 Oct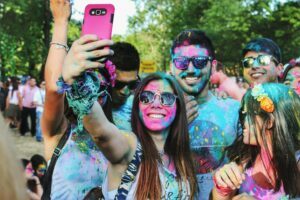 Social Media Marketing
How to Get More Views on TikTok (Hack)
In the last couple of years, lockdown measures across the […]...
Read full article
25 Jan