The 3 Biggest UGC Creative Mistakes When Making Ads
Updated: November 17, 2023
2 min read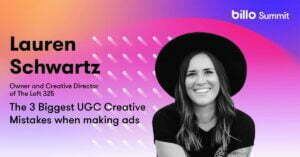 Lauren Schwartz is the owner and creative director of The Loft 325. With over 15 years of eCommerce experience, Lauren has led the creative strategy and design execution for many top-named eCommerce brands. Her ability to design creatives that convert for paid social has led her to grow and scale brands to millions of dollars. She thrives on creative data and creative testing to help brands learn faster and scale quicker. 
The 3 biggest UGC mistakes are discussed in this video. These mistakes are:
Captions are not being added to user-generated content;
Framing of your content and not showing your product in the first 3 seconds;
Sending scripts to your creators.
User-Generated Content with No Captions
This is the biggest mistake in user-generated content! Even if you have sound in your video, most users scroll through content with sound off. So, while your video may be great, the user won't know as they scroll through if it doesn't have a caption. Always design for sound off, which means use captions!! A great way to do this is to make the caption look native to the platform. Some ways to do this are:
Add in colorful callouts using different fonts and sizing to grab attention while the user is scrolling;
Show fun transitions in your user-generated content;
Make captions and text look native to the feed. People want to see content in their feed, not ads. Check #tiktokmademebuyit for examples of how people add captions to their product videos.
Frame Your Product and Show It in The First 3 Seconds
People consume content so fast as there is so much of it that if they do not see the product within the first 3 seconds, they will miss it and keep scrolling. Ensure showing the product in the first 3 seconds and make sure it is in the frame for more user-generated content engagement. A couple of ways to show products immediately are:
Use influencers that know how to shoot content and show a product. This is an investment that every company should make;
If you do not want to pay an influencer or show your face, an unboxing experience is a way to show the product right away while avoiding showing your face or hiring an influencer.
Not Sending Scripts
If you are spending the time and money to invest in user-generated content creators, give them a script to refer to. They do not own your brand or work with you. Likely, they will not understand your messaging or product by just receiving a package. Give them some talking points, examples, and transitions you'd like them to try.
The fix for this is to send scripts! Try sending bulleted talking points, some examples, and transitions.
Take the time to invest in your user-generated content, and you will see the return on your investment!
Update your marketing strategy with Billo's UGC and video ads
Similar posts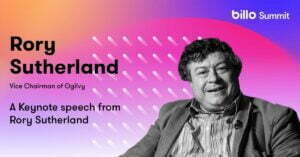 Billo Summit
Billo Summit 2021 Keynote Talk by Rory Sutherland
Rory Sutherland is the Vice Chairman of Ogilvy. Currently, he […]...
Read full article
2 Oct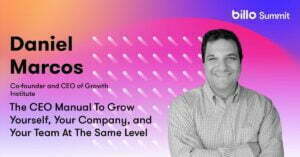 Billo Summit
The CEO Manual: Grow Yourself, Your Company, Team At The Same Level
Daniel Marcos is the Co-founder & CEO at Growth Institute […]...
Read full article
30 Sep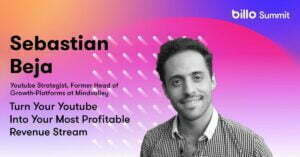 Billo Summit
Turn Your YouTube Into Your Most Profitable Revenue Stream
Sebastian Beja is a Youtube strategist who helps scale and […]...
Read full article
29 Sep