Tiktok Automation: 10 Best Tools
Updated: November 17, 2023
11 min read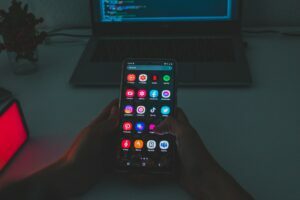 Are you thinking of how to optimize your TikTok growth strategy?
Learning to utilize automation tools will help you increase your followers and social media growth faster. There's only so much time in the day, and with more people influencing than ever before, it has become increasingly difficult for people to reach their target audience.
The competition is steep, and in order to stay relevant, many people are turning to automation tools to gain TikTok followers.
Fortunately, there are some excellent and affordable tools, services, and bots to help you with TikTok automation. You can keep track of your content, expand your reach and keep your TikTok account running at maximum efficiency.
One of the tricks to growing any business is outsourcing. TikTok automation removes many of your worries when it comes to growing accounts.
Each automation tool and service has its strengths and weaknesses, so it's important to pick the right service for your needs.
But before we get into details, let's explain exactly what we mean by automating TikTok, and then we will move on from there.
What Is TikTok Automation?
TikTok automation allows you to scale up the network of interaction associated with your TikTok account. As with other platforms, TikTok accounts benefit hugely from the timing, the reach, and the volume of their output.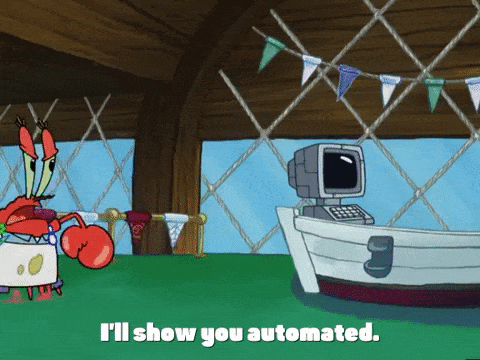 Automation companies have been scrambling to provide safe, reliable services to help TikTok users with their growth strategy.
Using the TikTok algorithm to your advantage, you can automatically boost the visibility of your content, connect with more users and still free up time to produce more high-quality videos to post.
TikTok Automation takes on a foundational aspect of social media – interaction between users – and addresses it on your behalf. Using automation tools, you can set up your account to follow, like, and even comment on posts.
You can even communicate via direct messaging to other users – based on parameters you set. These actions can be scheduled for any time of day to any number of users and will vastly increase your potential reach across the platform. The more interactions you have, the more attention you'll receive.
Automation companies have a range of bots, tools, and services, and many offer really good customer support. Since TikTok bans fake accounts, there's a strong demand for account security.
This means it's important for TikTok bots to help increase reach to only real accounts (no fake followers) and for service providers to offer a free trial of their packages.
However, automation is not a catch-all service that you can leave running in the background. Much like the current self-driving cars, there should still be a driver behind the wheel. Think of automation as a supplement to your content; it cannot think for you.
Without strong appeal, no amount of automation is going to make your content popular. You still need to produce high-quality videos to make the best use of the advantages that automation can give you.
Types of TikTok Automation Service
TikTok automation refers to any number of automated applications or services that are essential to maximizing your TikTok output.
Combining growth services and TikTok bots allows you to run your account at TikTok like clockwork. It's advisable to consider using both types of automated software in TikTok business development.
TikTok automation can be broken down into three categories: bots, services and tools. All of these classes of automation go hand-in-hand, but it's essential to know the difference and where – and when – to use each.
Take a look at some of the examples below, but be aware that there are constantly new and better services and bots popping up, so by no means take these as an exhaustive list!
Bots are TikTok automation software that works on a simple principle of automated task execution. The right TikTok automation bots can take a huge amount of work off your hands and other TikTok users on your behalf.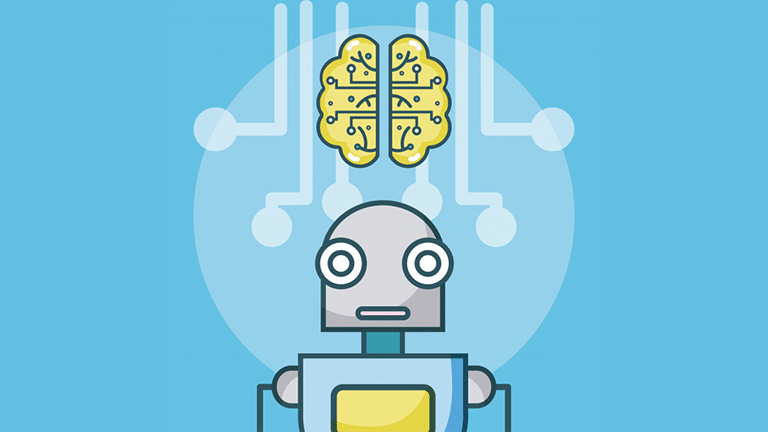 Once given your parameters, a bot can automatically like, follow, or comment on a post or communicate directly with a user. The best TikTok automation software allows users to branch out rapidly and increase engagement without lifting a finger.
To make a TikTok bot work for you, you'll need to know your target audience, schedule, and desired social network. Give it the relevant information and set it off! When used correctly, bots are one of the best TikTok automation tools and can immediately stimulate TikTok engagement on your account.
How many followers you've got is determined by how many people you interact with, and if you have a bot doing the interacting for you, you'll have plenty more time to polish off your next high-quality video.
Automation services work more organically with the TikTok algorithm and will have real people behind the job, working in a dedicated account manager capacity. This can be a form of outsourcing, whereby a company creates content on your behalf or networks for you.
These methods work within the TikTok ToS and often offer good customer support. These organic growth services are a good choice of automation service to achieve growth without the use of bots associated with your account or can be used very effectively in conjunction with a TikTok bot.
Tiktok growth services offer a range of automation from hands-off management of your account to help with analytics and semi-controlled social media automation.
The strength of a TikTok growth service lies in its human element. Customer care, expert advice, and a network of active users (including an account manager) help your TikTok profile pop and get your content riding the algorithm to peak visibility.
Automation tools are add-ons or third-party apps installed alongside TikTok to aid engagement or popularity. An example of a TikTok automation tool could be a search engine or results filter that allows you to find users specifically relevant to your needs.
The best TikTok automation tool is lightweight and powerful and aids you in cutting through the noise to find exactly the information relevant to your needs.
Tools can also be used to infer trends from other users. Analytical tools are not automation in themselves but can be important guides to automating your own processes, especially when used in conjunction with bots.
Part of a good automation strategy requires good research into where and when and who, so don't sleep on analytics when planning your growth strategy!
Is TikTok Using Bots?
As mentioned, among other TikTok automation tools, bots are used to develop your reach. However, there are some drawbacks to the use of bots, especially if they work by setting up fake accounts, which is against TikTok's ToS.
Bots that flood TikTok with fake accounts can implicate genuine users in a prohibited activity. Therefore, it's crucial to use bots for the right reasons and to make sure you're getting real TikTok followers.
Most popular bots will be savvy about how to work with the TikTok algorithm without setting off any red flags. Just do a bit of research and read some reviews before setting them loose on your account.
Bots are a very common strategy for successful TikTok influencers and marketers, so don't be afraid to try them out; just make sure to find a reputable supplier.
Examples of popular bots are as follows:
TikTok Automation Bot Instaazood is a low-cost bot that allows you to automate several elements to grow your TikTok profile.
One key feature is targeted hashtag automation, which makes intelligent use of hashtags to maximize your engagement and target accounts useful to you. There are, however, limitations to hashtag targeting.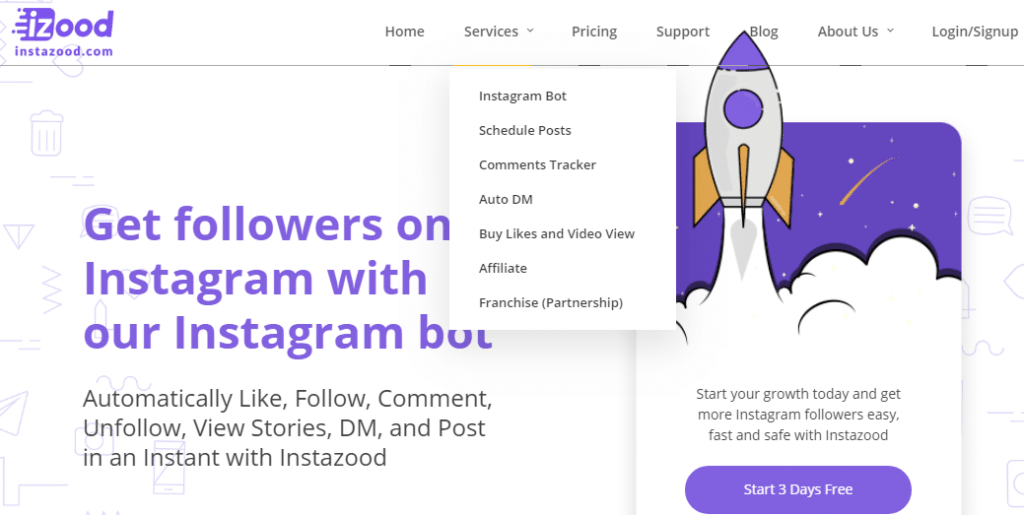 Like other automated tools, AutoTokker cannot work with fake accounts. Autotokker claims you can gain up to 100 followers per day based on how you configure the automation and the market in which you're looking.
It aims to do this organically by following and unfollowing accounts, leaving comments, and automating engagement.
FuelTok is a growth company for TikTok from Moscow, Russia. Like the others, it uses automated software to increase engagement organically to not be picked up on TikTok's spam filter.
However, their reputation perhaps doesn't live up to their claims.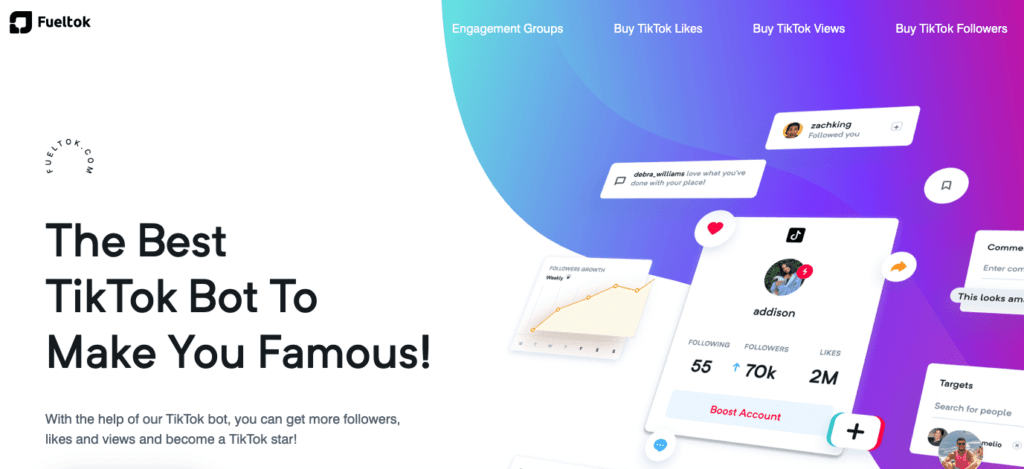 Is FuelTok real?
As with many growth services, there are some very mixed reviews for FuelTok. The reviews on their site seem suspect at best, and there are a handful of reputable reports that FuelTok is nothing more than a dangerous bot that could risk having your account banned.
However, other independent reviews have found no real issues with the service, other than the price and its limitations when it comes to the lack of scheduling posts.
The jury appears to be still out on the legitimacy of FuelTok, though it might be interesting to note that the company is a rebrand of FuelGram, which Instagram shut down for breaching its copyright laws.
Whether or not this has played a part in FuelTok's bad publicity remains to be seen.
Regardless of the media attention, Fueltok offers a free trial for seven days, so doubters can find out for themselves whether to trust the service.
Services
If you've done your research and you've picked a bot, or if you think you'd be better off with a human touch, it's time to look at the growth services available.
A decent growth service can make all the difference to your account, and they come in many forms, with a range of capabilities and interventions on offer, from totally hands-off to more of a helping hand.
In no particular order or preference, here are some of the trending services to help you outsource your growth.
Services are powerful TikTok automation tools with a human element, and picking the right one can be critical to your engagement growth.
TokSocial
TokSocial makes it very clear that they don't waste time with fake accounts or views. They provide a dedicated account manager to your account and offer easy subscription services.
The aim is to help your videos go viral.
With a strategy of targeted growth, TokSocial aims to reach the people you're looking for directly. This service, like many others, also provides a manager for your account.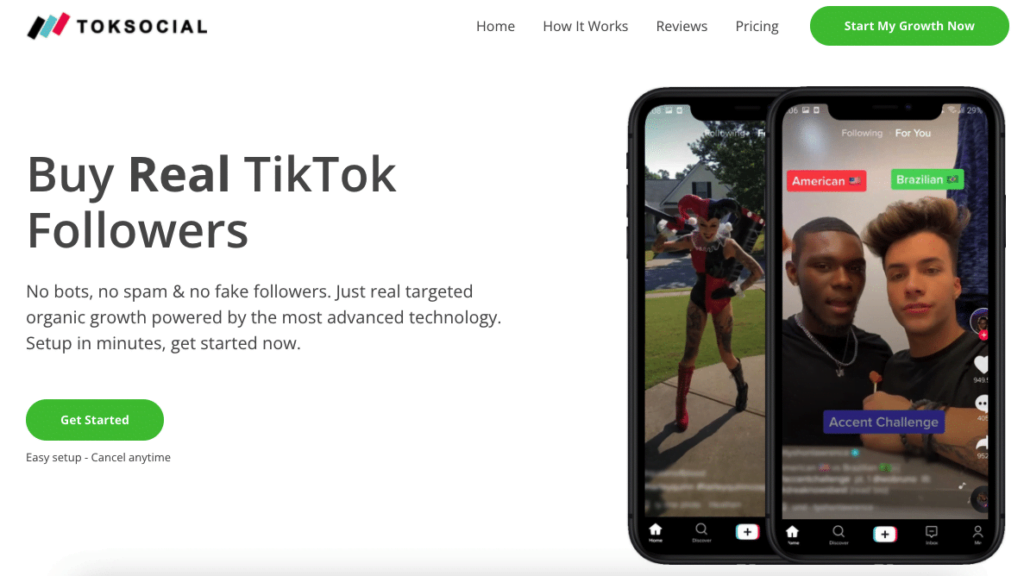 HypeTok
Hypetok is one of the most popular growth tools for gaining more followers in TikTok accounts.
Simple and customized services are particularly attractive if they are aiming towards a more hands-off way of growing business without breaking the bank, and this comprehensive service offers big promises when it comes to increasing the visibility of your videos on TikTok.
HypeTok uses real people to promote your content while you sleep and reach the audience you need.
TokUpgrade
TokUpgrade is one of the best-known growth services. Using their own algorithm to select the right users for you, this service will find you real followers and help you get more engagement and reach for your brand.
The idea behind this service is that the company will get to know your niche and form an intelligent game plan to help you grow. They provide authentic TikTok engagement and maintain a genuine-looking account on your behalf.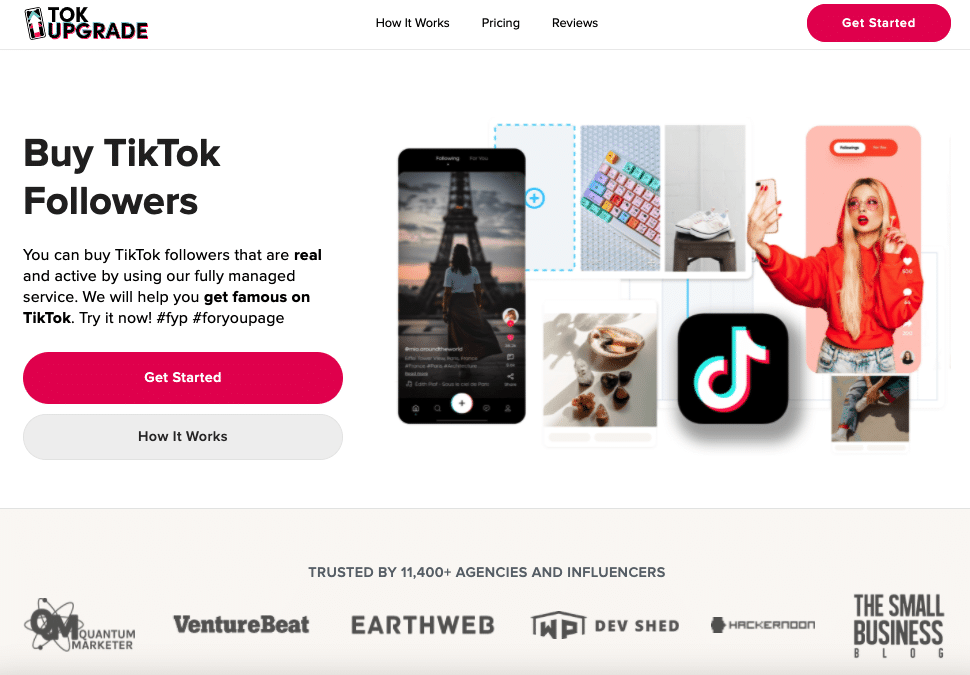 Jeffery – Real Followers
Jeffery states that they only offer their clients genuine followers, citing that TikTok will remove fake profiles. This algorithm is not as precise as Tokupgrade, but you'll get a wider range of followers matching your broader requirements.
While they offer good quality customer support, Jefferey is more suitable for advanced automation.
Jeffery is a cheaper alternative to some other services, but you are not given a dedicated manager for the account. This means you will still have to take a role in the growth part of your account.
Billo.app
For a service that helps with the video creation itself, billo.app provides a connection between brands and content creators.
If you have a product to sell, they can help you find the right artist to produce your marketing material that's compatible with all social media platforms.
Tools
Finally, there are some handy tools that streamline your experience and are particularly useful for gathering data to calibrate your bots.
Many of these are free and will become invaluable to your automation efforts.
Note that these tools are not necessarily automation devices but play a role in calibrating your automated bots and services.
Tik Analytics
This powerful tool allows you to enter a username and see a plethora of valuable data such as fans, hearts, and engagement rate. Use it to analyze hashtags and trends and to study how other users become successful.
Tik Analytics is free, so it's a great place to start your automation research. Pay attention to what popular users are doing, and see if it's possible to copy their good habits.
With the right level of understanding, you'll figure out exactly where and how to program your bot; the correct use of hashtags, the right target audience, and the timing of posts.
Analisa
For more in-depth analytics (with a hefty price tag behind it), there are tools like Analisa. This is an AI-based analytics solution that provides raw data on likes, engagement, etc.
This one is for professionals in the field but offers substantially more than its free counterparts.
Whether it's worth the price depends on how in-depth you need your analytics to be, but considering that most good growth service providers will have their own analytics, it may not be necessary if you're thinking of taking on a service package as well as a bot.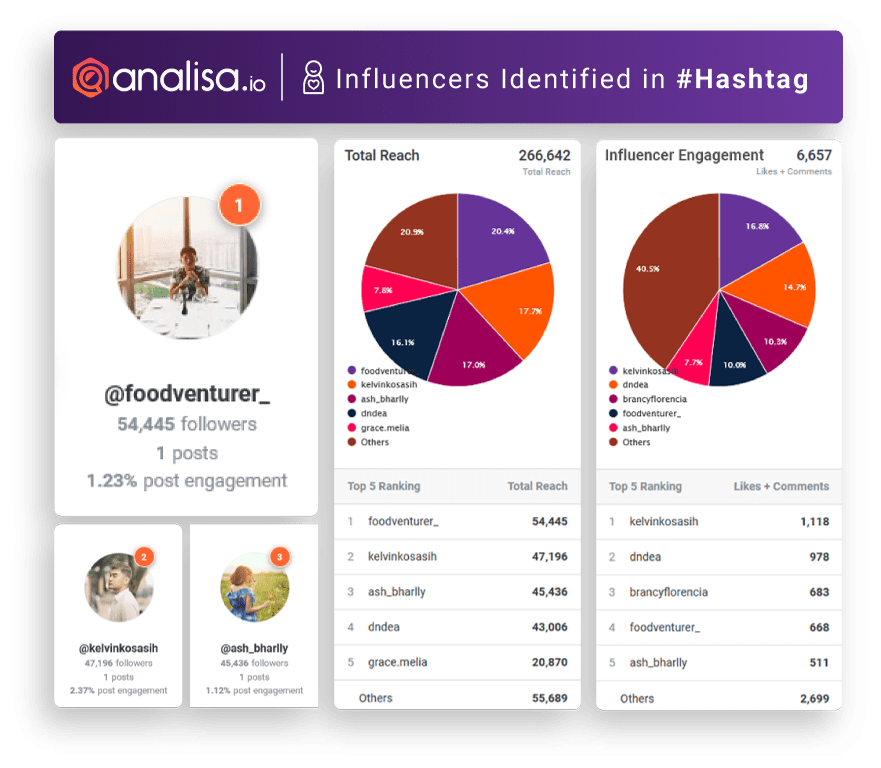 Final Thoughts
If you have a product or cause that needs to be seen, or if your success on TikTok is in any other way important, automation is the only way to go. The competitive nature of the market is such that a casual user simply cannot keep up.
Social media is a 24/7 industry, and with intelligent choices in your automation services, you can be available to all your audiences all of the time.
With a range of options, it's worth sitting down to figure out what you need before committing to a service plan or a specific bot and making use of free trials will certainly help there.
If your goal is to increase followers, a simple engagement bot is a good place to start.
If you need help creating amazing content, rather than simply distributing it, there are services for that too. Marketing your brand is not a job that's best done alone, and TikTok is a powerful tool when used correctly by the right people.
If you are ready to take the next steps to get your content out there, then a dedicated account manager can help you really boost your status.
Choose the right service for your needs. Growing your base doesn't have to be a full-time job; Automation can help you achieve your goals without the need for inefficient practices and burn-out.
Use Tiktok automation to increase real followers, interact with other TikTok users, create consistency and get your message out there. Even while you sleep.
Update your marketing strategy with Billo's UGC and video ads
Similar posts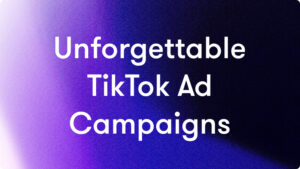 Social Media Marketing
Unforgettable TikTok Video Ad Campaigns That Can Help You (Maybe) Go Viral
TikTok is king! Short-form videos, and TikTok in particular, have […]...
Read full article
7 Dec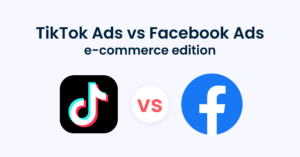 Social Media Marketing
TikTok Ads vs. Facebook Ads: What Should e-Commerce Choose?
Ever since TikTok came around, it instantly started stealing the […]...
Read full article
26 Oct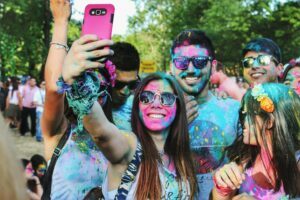 Social Media Marketing
How to Get More Views on TikTok (Hack)
In the last couple of years, lockdown measures across the […]...
Read full article
25 Jan