How do you get your brand's message and services out to the most amount of people in the most effective way? Like anything else, it is all about marketing and using the right ad campaign and platform.
Nowadays, the second part of the equation is simple you have to go where the people are, and that is social media.
Depending on your target audience and demographic, you will most likely be choosing between using Facebook ads or executing an Instagram ad.
About Your Target Audience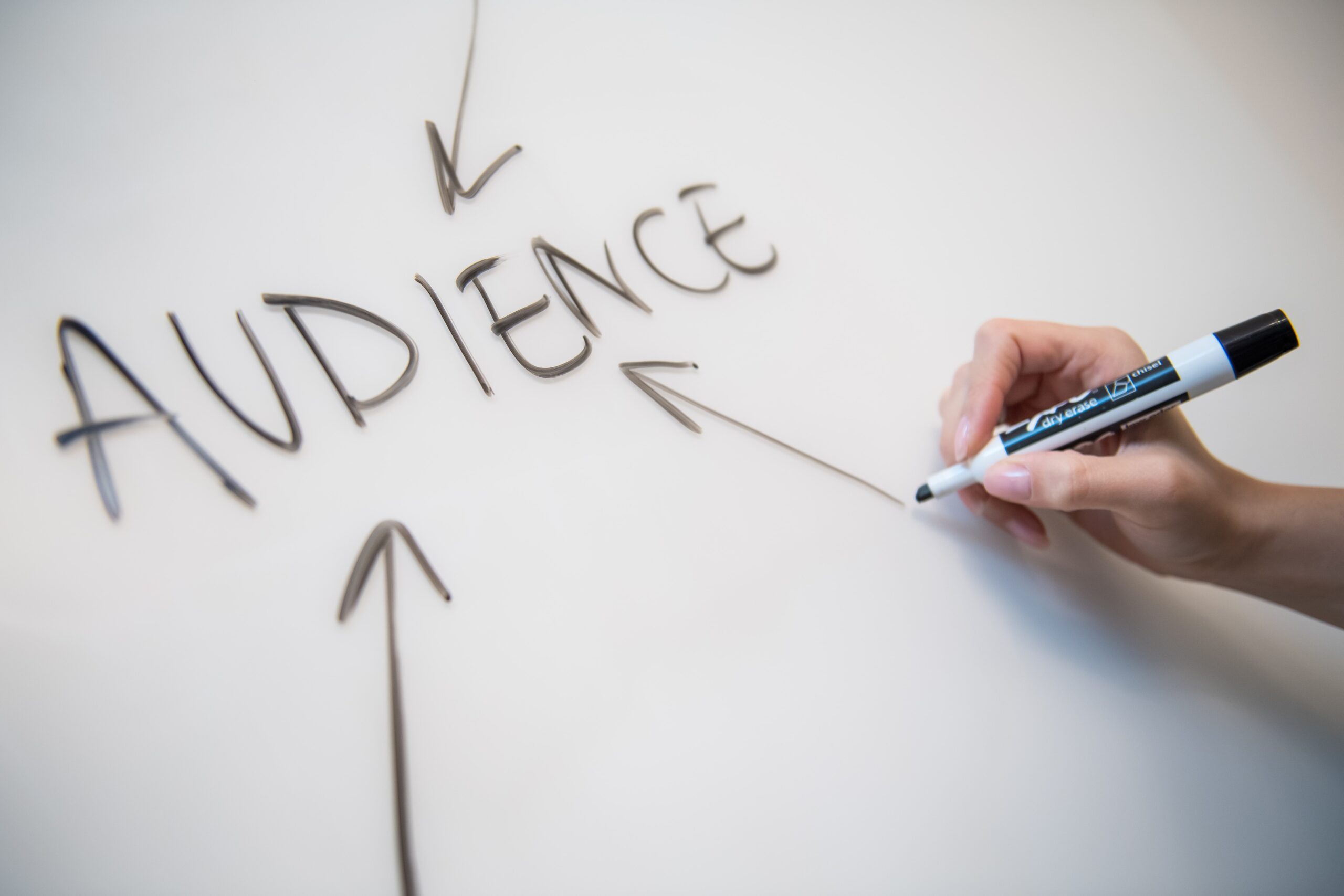 The truth is you have to figure out precisely what and where your target audience lives and craft a high-quality ad campaign that will be able to stop your audience from scrolling right on past your message, and that means creating an engaging ad.
You can utilize many different types of Instagram ads to get your brand's message out there, but one of the most impactful is the video ad.
So how do you deliver a creative ad that grabs your viewer's attention? Let's take a look at some tips and examples that might help you with that.
Instagram Video Ads – Why Should You Use Them?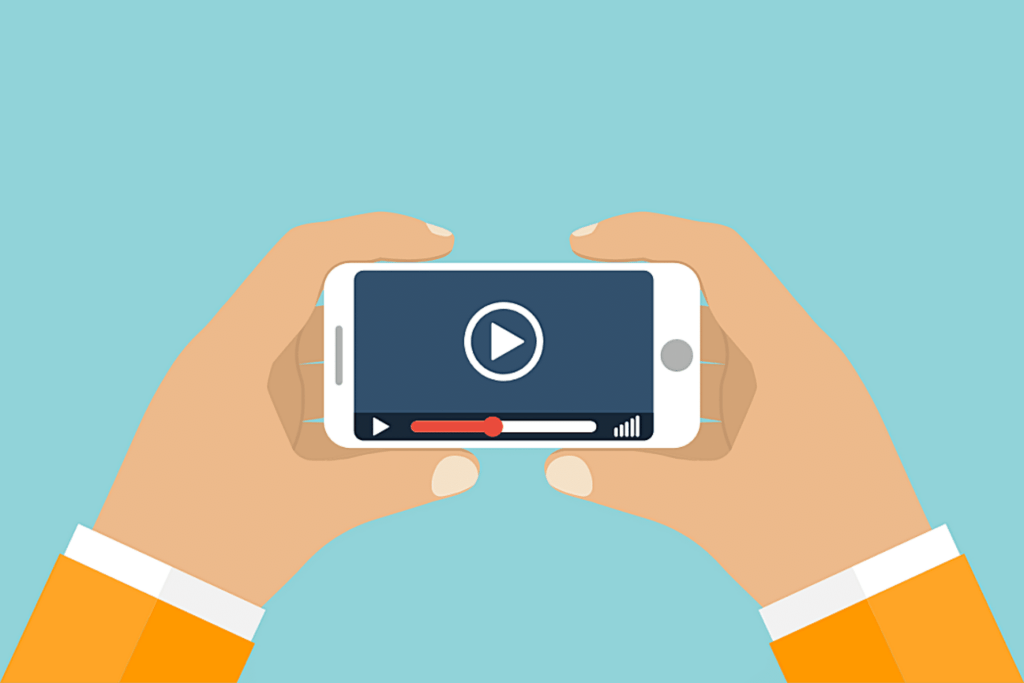 The Instagram platform has a lot going for it. First off, it is one of the most active markets on social media, with only Facebook being even close to its activity when it comes to marketing.
The two social media platforms are both owned by the same company but have two very distinct audiences.
When it comes to why you should choose to use Instagram and video for your marketing campaign, there are some very compelling reasons. Let's start with why Instagram and not Facebook ads.
Instagram is rife with unique features that appeal to its markedly younger market.
What Is The Usership Split?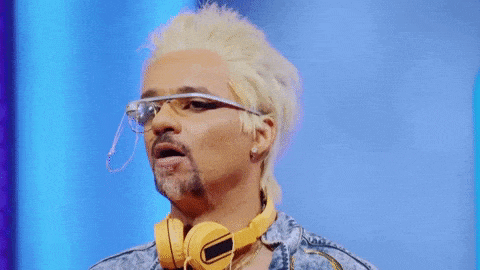 With almost three-quarters of the Instagram users under the age of 35, your Instagram ad will be reaching one of the most active online customer bases – Millenials.
Millennials, however, are not the only market that is utilizing the platform to shop. Most teenagers across the globe are also pretty active on the platform, which gives you an extensive market for the younger members of the populace.
Features
Aside from the audience, Instagram is also designed with specific features that open up the marketing avenues you have available to you.
With features like Instagram stories and now Reels, you have a ton more options for content creation to market your brand or services.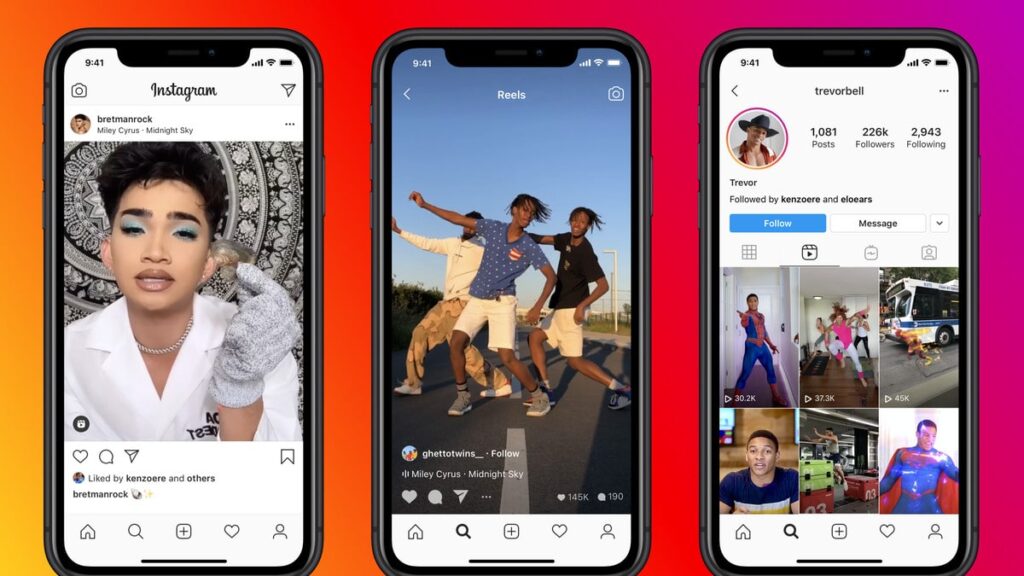 Instagram has several different options when it comes to the format of your ads. Video content has been proven to be more engaging, and that means it will be less likely for your potential audience to scroll past your ads.
Video content on any platform has been shown to deliver a better ROI and create more impressions than any other form of marketing content.
That means that your message will reach more people and be more engaged if you choose to go with a video ad.
This information has prompted Instagram, which was known as a photograph-based platform, to move its content focus to video over the last few years.
It seems videos are the future of marketing, and that is why so many big brands are going all-in with video creation when it comes to marketing.
Instagram Video Ad Type
The platform also gives you multiple places for ad placement. With these various features, including stories, reels, and carousel ads, you can utilize one ad to get more engagement.
Not to mention you can tie these into your Instagram feeds and extend the reach even further, making sure to get your brand's message out to as many people as possible.
Instagram Story Ads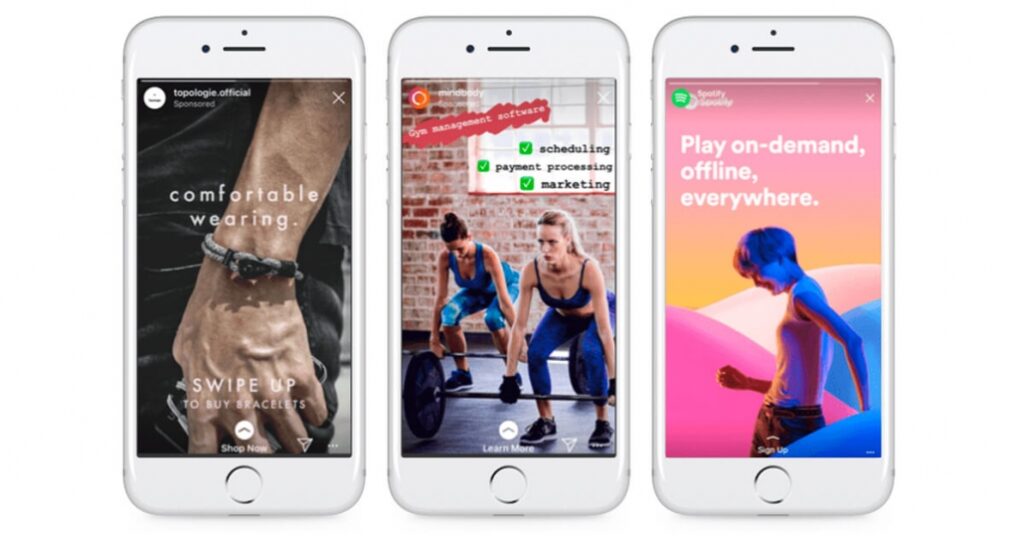 With this type of video ad, the mobile app does not clutter your user's feeds with unnecessary posts. You can upload your vertical videos to your stories and get your word out to a broad audience.
If you have enough followers utilizing Instagram stories, you can drive traffic more accessible to your website through the swipe-up feature.
On top of this, research has shown that Instagram story ads are more effective than other ads regarding branded content.
Instagram Feed Ads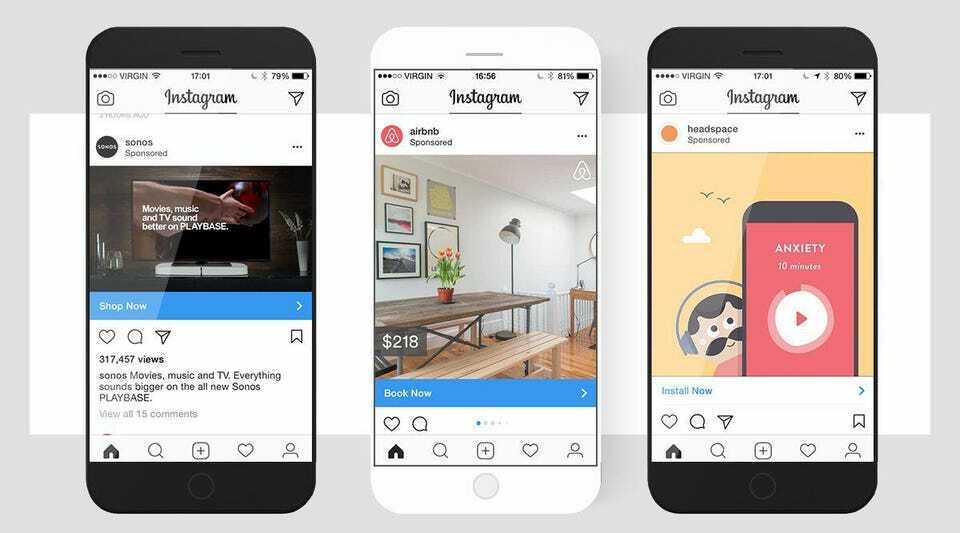 Adding a video ad to your feed can be pretty beneficial as well.
Giving your users and those that are interested in your niche (through suggestions and the explore page) a visually exciting piece of content that causes a pause in their scrolling will elevate your content and potentially convert your followers to buyers.
Instagram Carousel Ads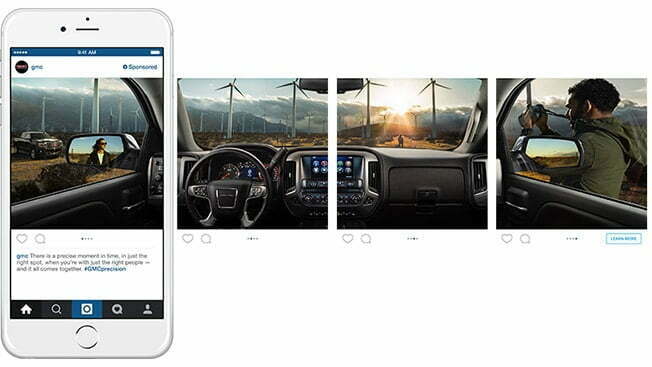 A carousel ad can be a multimedia format that combines video ads and still image graphics to expound upon your brand message and create a compelling call to action that converts at higher rates.
Some Tips For Successful Instagram Ads
Just choosing to utilize Instagram video ads is not enough. Your Instagram ad design has to be engaging and crafted for the right audience.
To ensure this, here are some tips to doing just that:
Movement captures attention more than any other type of marketing, which is why videos or even IG stories that utilize motion graphics are more engaging.
You will want to take that one ad and test where it will gain the most engagement. Start with IG stories, and if you don't get the engagement you were looking for, move the ad to your feed.
Testing where to post the ad and if you are using a short video or a more extended format is essential to ensure that your next campaign is successful.
If you are a B2C business, don't forget to utilize the Instagram shopping feature.
Make sure you create videos that are optimized for where you are looking to upload them. For instance, if you are posting to your feed, a square video may be best. However, if you are looking to start with stories, then you will want to choose a vertical format.
No matter which of the different styles of video ads you choose, you have to pay close attention to your ad copy and your ad placement. This will be just as important to bring your potential followers and customers to your landing page.
You want to format your video ad with conversion in mind. This means you need to have a hook somewhere in the first quarter of the ad. Make sure that you include captions, and the CTA should end the video.
You want to make sure that you choose the right thumbnail. With Instagram, you cannot upload one; instead, the platform allows you to select a still from the video.
Choose a visually appealing and captivating one, so your audience is more inclined to tap on it.
Examples of the Best Instagram Ads That Hit The Mark
One of the best ways to gain inspiration for your video ads is to look at Instagram ad examples that were successful at getting the brand's entire message across.
This can be done through copy and the video production aspects like the use of complementary colors.
Here are some of the best ad examples:
Burger King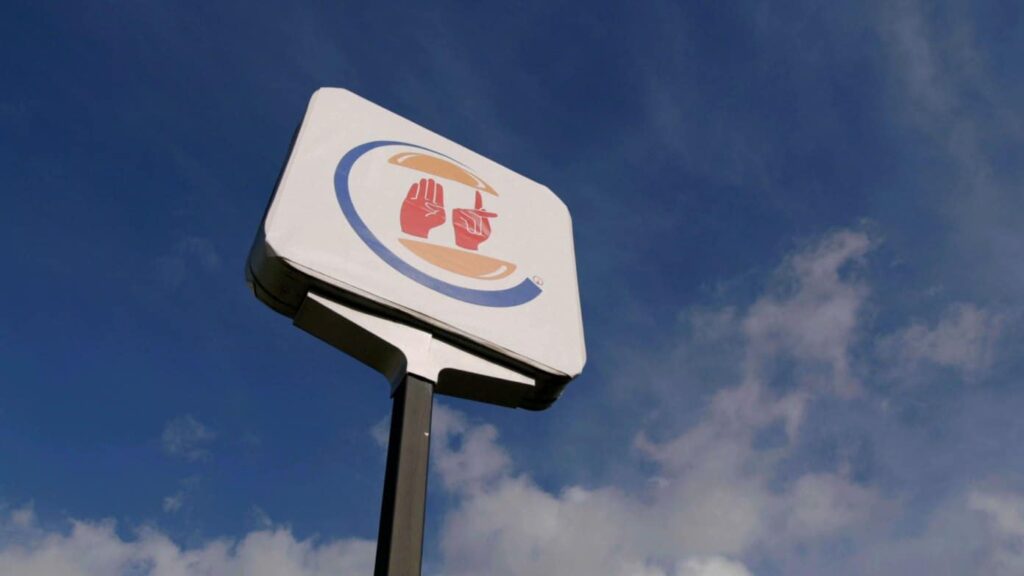 One of the best Instagram ads comes from the fast-food giant. The trend of looking to obscure holidays and events to make engaging content has been going for years now.
Taking advantage of this, Burger King wanted to celebrate ASL day. Utilizing the language to sell their product brought in a new audience of clients.
This ad shows that tapping into a specific portion of your client base can elevate your engagement and bring more attention to your brand.
This ad would have been successful anywhere, but the company's choice of Instagram the video ad cleverly took advantage of the fact that most IG users look at their videos with the sound off.
Adobe Photoshop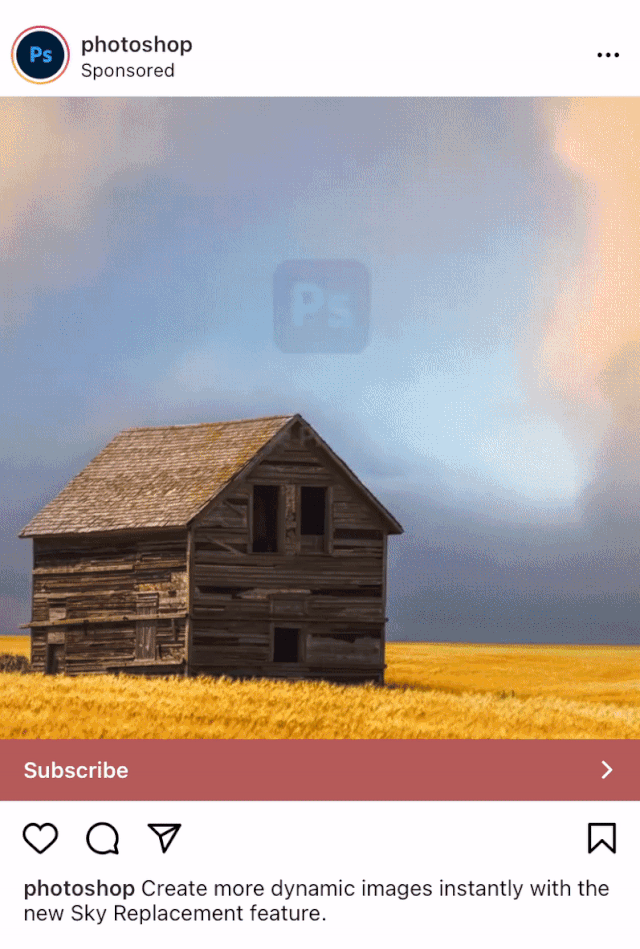 Another great example is the Instagram ads run by Adobe Photoshop. When the ads manager of Adobe was looking for a unique idea, they went for a screen share motif that emulates the last array of tutorials online.
Because there is no dialogue, the background music was vital, and so they chose a lo-fi style of music that played well with the ad concept.
This video shows that focusing on singular features and doing it with a minimalist design well can make your video ad so much more engaging and easily digested.
Blinkist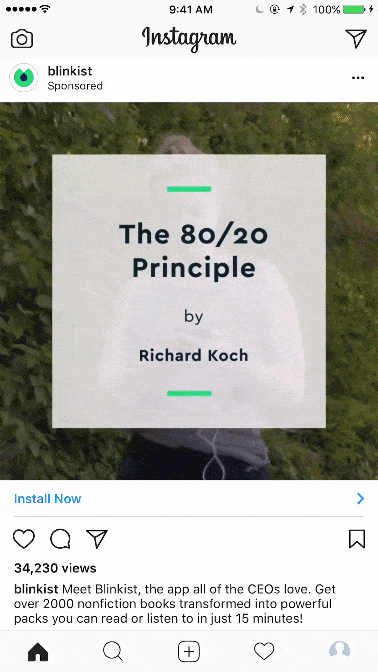 When you are a brand that is utilizing Instagram ads to sell a brand that delivers its customer's cliff notes for a wide range of books, you want an ad that will increase the post-shared quotient.
Blinkist did a great job with their Instagram ad.
This ad features a stunning video that uses a video in video format that is one of the best Instagram video ad examples that communicates the brand's message with style.
ContentFly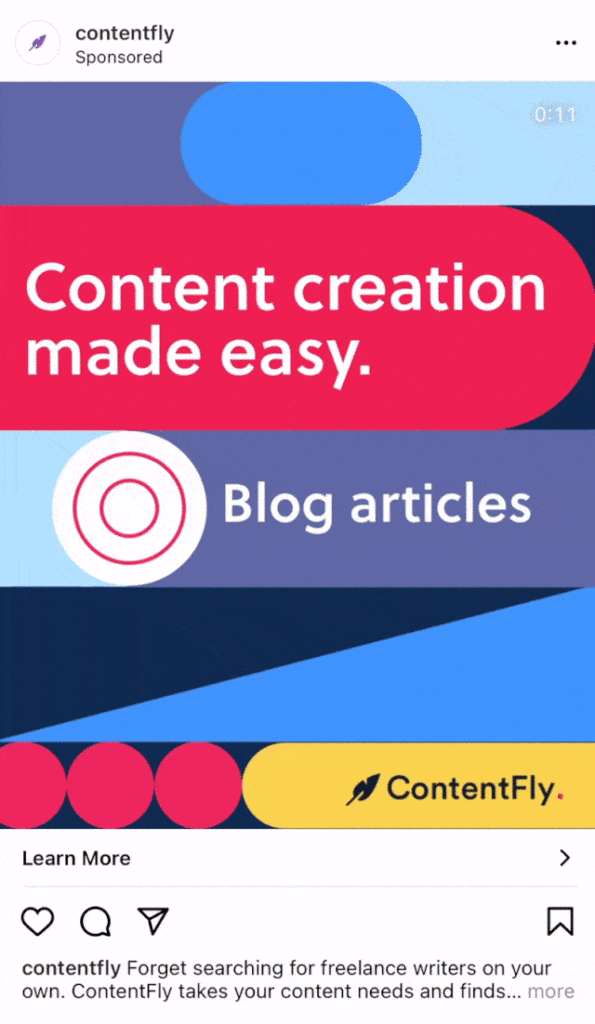 Like with any content, you want to create a video that grabs the attention of those scrolling by. One of the ways you can do that is by utilizing colors.
ContentFly does this really well in their Instagram ad. The freelance writer job board used rich and deeply saturated colors combined with shapes and engaging motion graphics.
On top of this, their copy is focused on their value proposition, and at the end of the video, they chose a simple CTA.
IKEA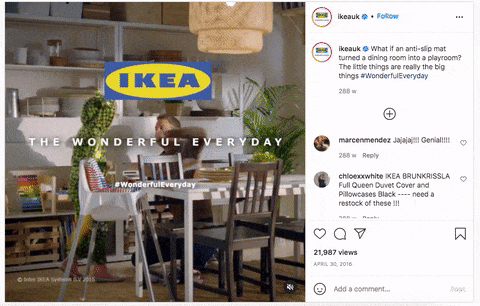 Though the product may not be the most exciting, the video creators over at IKEA could make this ad super fun.
Taking a cue from those funny home video shows, IKEA took a non-slip mat and made an engaging Instagram video ad.
They made the hook in 3 seconds and ended the video with a great call to action.
Swiggy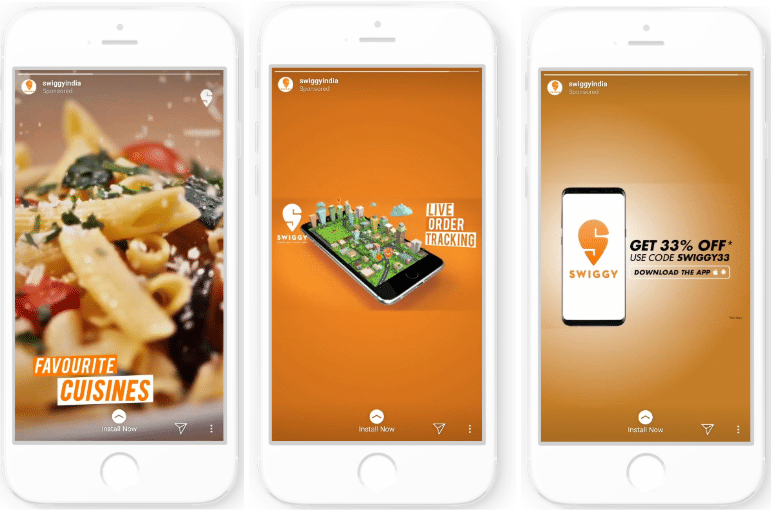 Food delivery companies have sprung up across the globe. Some of these, including this one from India, have optimized their reach by using an Instagram story video ad campaign their story used hi-def food images and a CTA that instructs them to download the app.
Instagram Video Ad FAQs
Do video ads perform better on Instagram?
Whether you are selling a service that helps people eat healthily or helps increase a person's business acumen, video ads are the way to go.
If you want a post shared, you will want to utilize videos in your IG story ads.
Videos tend to go viral more often, and that helps elevate your Instagram story engagement. The more engagement you get on your ad, the more the algorithm will push your ad out to your followers and those interested in what you are selling.
Which Instagram ads are most effective?
Instagram story ad examples that will get you the most engagement are typically one of four styles – photo, video, carousel, and slideshow.
Photo ads are suitable to use if you are selling clothing or goods. You can do a product layout and shoot them from above, which will give your potential customers a look at what you are selling.
Video ads are a perfect example of utilizing movement to grab your follower's attention. This type of ad is great to get your brand story and message across to your audience.
Because of the high level of interaction with your posts, you will be able to increase your ROI.
How do you make an Instagram video ad?
If you are someone who is not familiar with making ad creative, then you can always reach out to professionals for help.
Final Thoughts
Marketing in this day and age requires a diverse plan that has to include using social media. Of all the platforms, Instagram is maybe the best platform when it comes to video marketing.
The tips and examples we went over above should be helpful to you and your brand to create engaging content that gets your brand's name and message out to your audience.
Similar posts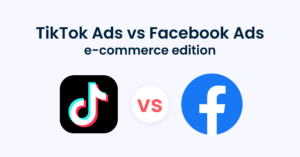 Social Media Marketing
TikTok Ads vs. Facebook Ads: What Should e-Commerce Choose?
Ever since TikTok came around, it instantly started stealing the […]...
Read full article
26 Oct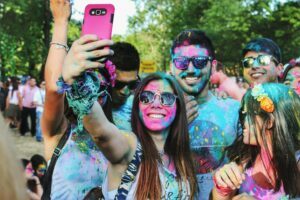 Social Media Marketing
How to Get More Views on TikTok (Hack)
In the last couple of years, lockdown measures across the […]...
Read full article
25 Jan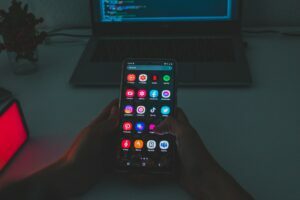 Social Media Marketing
Tiktok Automation: 10 Best Tools
Are you thinking of how to optimize your TikTok growth […]...
Read full article
24 Jan