Best Practices For Profiting Off Amazon Video Ads
Updated: November 17, 2023
4 min read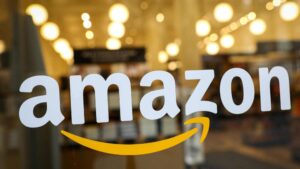 There's no argument; Amazon is the #1 most visited online retailer in the world. If you sell any product, the place to sell is Amazon. With over 12 million different products in competition, how do you stand out in the crowd? The answer is with Amazon video ads, specifically called Amazon Sponsored Brand Videos.
While these ads are the latest and greatest, there are already marketers flocking to them. You will need to have a few best practice tricks up your sleeve in order to make these video ads profitable.
What Are Amazon Sponsored Brand Videos?
Customers who land on the Amazon website are there to shop; their intent to buy is very high, and it's easy to impulsively throw an extra item or two in your cart when a great ad catches your eye. Purchases can be made with a single click, so on-page ads are clearly the way to go.
Sponsored brand videos appear on both laptops and mobile devices and are seen as a user scrolls through items organically. The ads use keyword targeting so that they are related to what the consumer is already shopping for. Marketers are charged per-click, and each click goes right to a page with product details and a buy now button. 
5 Tips For Perfect Amazon Video Ads
To get the most out of your Amazon marketing budget, you'll want to learn some technical details of video production as well as develop solid video content or ad creative strategy. Here are some tips that will help you produce perfect Amazon Sponsored Brand videos.
#1. Nail The Video Asset Requirements
Each ad platform has its own rules for aspect ratio and other factors that include how an ad shows up in their feed. Here are some specifics you need to know for Amazon video ads.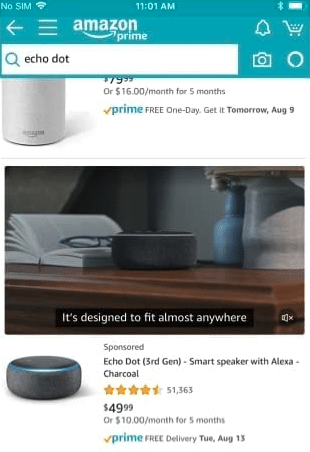 Video Dimensions: 1920 x 1080px, 1280 x 720px or 3840 x 2160px
Video File Size: Less than 500MB
File Format: .MP4 or . MOV
Aspect Ratio: 16:9
Video Length: 15-30 seconds; brief is better. The ads will loop.
#2. Follow Amazon Guidelines
Videos must be suitable for all audiences and be filmed in the marketplace's primary language you are submitting the ad to. Therefore, the ad content should be straightforward and be an accurate depiction or representation of your product. The video ad doesn't have to be studio-produced but should be clear, not blurry. Only use high-resolution video.
#3. Provide Subtitles
Most users are scrolling with the sound turned off, especially for ads. Adding a few titles or subtitling your entire video can significantly help with conversion. Make sure the text is clear and readable. There is specifically a mute button on Amazon video ads, so the text is extremely useful.
#4. Use User-Generated Content
The video ad must be product-focused. However, this doesn't mean that you need to limit yourself to plain, boring-looking studio ads. Lifestyle videos and customer reviews usually get people's attention and help earn their trust. You can quickly commission authentic custom videos from real users on Billo. Showing the product in use, highlighting how it can solve a problem, or providing a tutorial are all great examples of UGC. Reviews and unboxing videos are also great examples of authentic videos that convert well. 
#5. Include A Clear Call To Action
Don't forget that this type of ad's primary reason is to close the deal and sell your product on the spot. Amazon will reject a video that uses pushy sales language, but that doesn't mean you should not include a clear call to action at the end.
Beyond The Video. Additional Tips For Optimizing Your Amazon Ads
Optimizing your video ad will require a keyword strategy and keyword research. Amazon ads use the broad, exact, phrase, and negative keywords. With the right research, you can take advantage of what your competition is getting clicks on.
You'll also want to do split testing with low budgets to get started. Try a $1 bid to get started and test different keyword strategies. You can try using different ad creatives and different keyword combinations.
Examples Of Amazon Video Ads At Work
One marketing firm reported that immediate results for their client, a Sports & Outdoor brand, were as high as 2.5% ROI. Within seven days, their test ad had spent $66 and generated sales of $163. This was a small test with a $1 bid.
Another marketer who was in on beta testing for Amazon Sponsored Brand ads reported a conversion rate 21% higher than their other accounts. Video ads brought in more qualified clicks than other ad types, per their experience.
Finally, Amazon Sponsored Brand Video Ads helped a sustainable kitchenware company called Bee's Wrap have a successful launch. They were facing a very competitive niche and had the added disadvantage of being a new face. They were able to use video to highlight their value proposition and gain consumer confidence.
Wrapping Up
The bottom line is that Amazon allows you an affordable ad space that takes full advantage of authentic video that is low in cost to produce using UGC. Combining authentic user-based testimonials and tutorials in video form with a solid keyword strategy can yield high results on Amazon.
Update your marketing strategy with Billo's UGC and video ads
Similar posts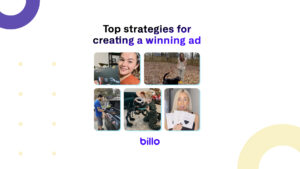 eCommerce marketing
Unlock the Power of Persuasion: Master the TOP3 Ad Script Writing Formulas (With Examples!)
Are you struggling to craft ad messages that truly resonate […]...
Read full article
24 Jan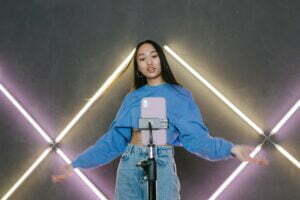 eCommerce marketing
Weekly eCom UGC Examples #1
Lack of inspiration, creatively drained, or writer's block. Whatever you […]...
Read full article
7 Oct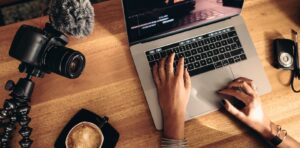 eCommerce marketing
How To Create Sales Increasing Product Videos In 5 Steps
Introduction  There are several ways to increase sales for a […]...
Read full article
8 Jul