Camera Magic: Angles, Lighting, and Framing
Updated: November 17, 2023
4 min read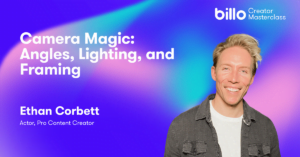 Ethan Corbett was born and raised in Southern California, and from early on, he knew that he had a love for being in front of people and performing. Ethan is known for his cheerful personality and supportive attitude. When his career as an actor started, he wanted to find a day job that was flexible, fun, and creative. That's when he discovered Billo. Ethan has been a content creator for Billo for 6 months.
To become a successful and well-paid content creator, you will need new skills. In this webinar, Pro Content Creator Ethan Corbett will share his insights on the best ways to capture product videos.
The following topics are discussed during Ethan's workshop:
Shooting: winning angles & lighting: How to set up your camera and lighting to have the best possible shot?
Product: striking placement & framing: The best ways to place your product and frame the video.
Preparation: aspect ratios & shooting in the dark: With these tricks, your products will always fit the frame, no matter the aspect ratio, and your videos won't be foggy even if you are shooting in the dark.
Shooting: Winning Angles & Lighting
Shooting is surely the most important part of video creation. If your camera isn't set correctly, people won't be engaged with your video, and the customer won't be able to see you or your product very clearly. Here you can see what we need to pay attention to have the best possible shot:
Steady shot – When setting up your camera, it is crucial to have a steady shot. You can quickly achieve this by using a tripod, but if you don't have it or you don't have the budget for it, the stack of boxes and books can help you out.
Lenses – Knowing where the lenses are is crucial for having a perfect shot. If you are talking to the camera, the lenses have to be at eye level.
Lightning – Start out with simply light hitting your face, nothing too fancy, just enough light to be able to see you and your product. Keep in mind not to have the light too high or too low.
Product: Striking Placement & Framing
The key to making the perfect product video is getting the right shots. It can be achieved in many ways, but we will discuss the three most exciting ways of shooting:
P.O.V. / Point of view – Choose a clean background. Make sure that there is plenty of light so you can perfectly showcase your product. Set up your camera facing up in the background and simply place your hands on the ether side of the camera. Hold the product in your hand and record. This way of shooting is perfect for small products, and it's great if you want to show all the detail of the product.
The Unboxing Shot – Choose the clean flat service, like a table, desk, or floor. Position a tripod next to your setting and angle the camera down, set up your lights, and then set up your product to your frame, and you are ready to go. You can choose the surface that fits with a product to give extra spice. This is great to showcase products like subscription boxes.
The Big Feeling – This shot works best with the vertical format video. Choose a clean background and set up the lights. Take your phone and flip it to be upside-down. Angle it up toward your product. The Big Feeling shot really grabs the attention of the viewers; it gives a subconscious grandiose feeling. The product feels bigger, and the viewers feel it too. It's perfect for tall and slender products.
Preparation: Aspect Ratios & Shooting in the Dark
Aspect ratios are different for each platform. In this section, we will be focusing more on vertical videos. Let's see some tricks on making sure that you or your product always fit the frame.
Turn on the grade option on your phone, and you will have the grid over the interface on your camera. That way, you can make sure that the product is centered or positioned well.
Make sure your camera is shooting in 4K and set the camera a little further back than usual. This helps you to crop and edit your videos without losing quality and frame.
Shooting in the dark – This problem can always be fixed with good lights. But if you only have one light, the advice is to invest in the backdrop. Or you can film your shots in front of an entire wall that you can fill with something to avoid having a dimmed background or completely dark.
Ethan Corbett has given intriguing tips and tricks to follow when shooting your product videos at this workshop. Follow these steps, and shooting won't be a problem for you anymore!
Update your marketing strategy with Billo's UGC and video ads
Similar posts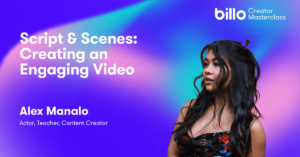 Billo Creator Masterclass
Script & Scenes: Creating an Engaging Video
Alex Manalo is an actor, teacher, and content creator who […]...
Read full article
27 Dec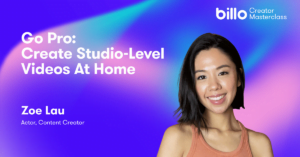 Billo Creator Masterclass
Go Pro: Create Studio-Level Videos At Home
Billo.app recently started offering Product Page videos – studio-level product […]...
Read full article
7 Dec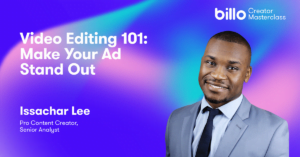 Billo Creator Masterclass
Editing 101: Make Your Video Stand Out
Issachar Lee is a husband and father with a focus […]...
Read full article
4 Nov