Emma Schermer Tamir is the CEO & co-founder at Marketing by Emma. She is a passionate word weaver seeking an engaging environment to create verbal textiles. Whether it be website content, PPC campaigns, promotional materials, social media, or any other task is thrown her way, she will tailor compelling stories for your target audience. After all, words are this girl's best friend.
Differentiating your brand from others is a necessary action needed in today's crowded market. How do you differentiate from others to dominate your market and send your sales through the roof? The steps below will help you understand the key ways to stand out from the crowd with your copy.
#1 Imagine You are the Customer
We do not do this enough, and it is a critical part of success in pretty much anything we are doing, especially in business. How can you sell effectively if you don't know your customers' needs? Look at how you are presenting your product from the customer's point of view.
Copying forces customers to choose from price, reviews, superficial differences, or not to choose at all, which is called analysis paralysis. Analysis paralysis is when the customer is overwhelmed by the choices presented and decides not to purchase.
#2 For You, Copy is a Constant Fight
Your daily battle requires you to have lower profit margins, to have expensive launch and rank campaigns, aggressive and costly PPC and ad strategies, and a never-ending struggle to defend your turf. There is nothing that keeps someone else from spending more, fighting harder, and playing dirty to unseat you. It's not about making every sale but for making the sale with the right kind of customer. Make sure your description is clear and precise and look for the thing people are googling for your product and put that info in your product description.
#3 Copy Fundamentals:
Thoughtful well-researched keyword strategy for anything you put online;
Focused ideas organized for max skimmability;
Make every word count;
Benefit forward, support with details;
Build trust;
Impeccable grammar and spelling;
Customer-centric;
Clear differentiation, bold branding;
Elevate with imagery.
#4 Clearly Definition of Brand
Clearly defining your brand and creating a community will help your sales and your price. Brand loyalty occurs when customers feel a connection to the brand.
#5 Identification Through Copy
Your brand may be your only differentiator. Identify through copy what messages you are sending to your customers, to your partners, and your team. Identify what makes you different and highlight that. Check your platforms to see if you are consistent and cohesive in your branding. Clearly define why people should choose you. Always control the message you are sending.
#6 Build Excitement to Buy
Identify who your customers are, identify what they care about/what gets them excited, find the benefit, keep asking why and use your features to support your claims.
Key Takeaway
Creating copy to fit your brand and differentiate yourself from competitors is key to raising your sales and revenue. Following these steps allows you to create the best copy for your products, leading to differentiation from your competitors and higher sales for your brand.
Similar posts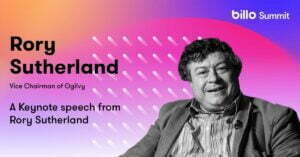 Billo Summit
Billo Summit 2021 Keynote Talk by Rory Sutherland
Rory Sutherland is the Vice Chairman of Ogilvy. Currently, he […]...
Read full article
2 Oct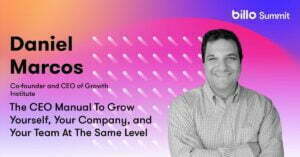 Billo Summit
The CEO Manual: Grow Yourself, Your Company, Team At The Same Level
Daniel Marcos is the Co-founder & CEO at Growth Institute […]...
Read full article
30 Sep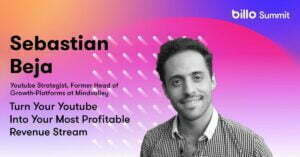 Billo Summit
Turn Your YouTube Into Your Most Profitable Revenue Stream
Sebastian Beja is a Youtube strategist who helps scale and […]...
Read full article
29 Sep