Back to Billo Creator Masterclass
Billo Creator Masterclass
Script & Scenes: Creating an Engaging Video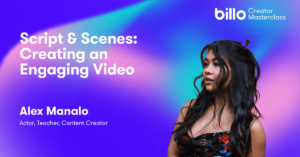 Alex Manalo is an actor, teacher, and content creator who performs and teaches dance and theater and choreographs musicals for a living. She is also a content creator for Billo.  
Alex will be discussing what goes into the prep work and the steps involved in creating successful content. This event is a part of the Billo Creator Masterclass webinar series, which focuses on content creation topics, including technical aspects and soft skills like creativity.
During the workshop, Alex shared insights on such topics as:
Prepararation: Reading & Planning.
Creation: Script & Scene Writing.
Acting: Bringing Your Scenes To Life.
Steps for Scripts and Scenes: 
Planning
Open and assess. Open your package and see what you have to work with. Make sure to look for any additional instructions in your package. 
Read and Reread
Make sure to read all the instructions to avoid missing anything. Read the synopsis, pronunciation, rewards, and requirements thoroughly. Then reread them to ensure there wasn't anything important that you missed. Mark through the requirements so you can easily reference what you need! 
Following this comes the meat of the content – scenarios, and mentions.
Scenarios are written outlines giving details of the plot and individual scenes. This is extremely important as the brand wants in their content.
Mentions are the specific things the brand would like you to say in your video. For example, it could be a person, product, or anything else referring to the product you are showcasing. For reference, if you are making a 15-second video, make 1-2 mentions; 30-second video, make 3-4 mentions, and for a 60-second video, 5-6+ mentions. Then, choose the mentions that stand out to you. Finally, always check the product site to see how they present their product.
Write Your Script 
There should be three parts to your script – the beginning, middle, and end. In the beginning, include a hook statement, which catches the viewers' interest. In the middle are the mentions and should be the call for action at the end. For reference, for a 15-second video, write 3-5 sentences; for a 30-second video, write 6-8 sentences, and for a 60-second video, write 10-12 sentences.
Shooting the Video
Before you even press "play," the first things required are location, wardrobe, hair and makeup, lights, and camera. Your location should be clean, your wardrobe should be presentable with no logos, and your hair and makeup should be presentable.
Make sure you have good, bright lighting and a good camera for shooting quality content.  At the beginning of the shoot, say the hook statement to keep viewers watching. Talk in small parts; things can be edited together later. If you decide to do one take, use a teleprompter to make your script available to you. Make sure that you are conversational, like talking to a friend or a family member. Finally, have fun!
Acting Tips
Colors equal acting. Your colors should make the product you are showcasing pop. Reference the product website to get an idea of the brand's color scheme for their product. You should look into the camera straight ahead and use your hands to show the product or just while you are talking. If you are only given a couple of mentions, you need to make a longer video, research the product and pull words from the website. 
Edit and Finish
Edit your video to polish your finished content!
Content creation isn't just shooting a video with a product. Make sure to include everything the brand asks for and add your personal touch to your videos. Content videos require planning and research, so make sure to get as much information on your product as you can. Finally, have fun creating your content; it shows in the final product!
Similar posts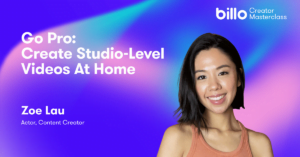 Billo Creator Masterclass
Go Pro: Create Studio-Level Videos At Home
Billo.app recently started offering Product Page videos – studio-level product […]...
Read full article
7 Dec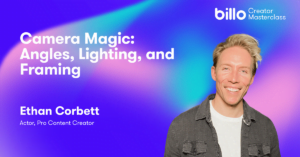 Billo Creator Masterclass
Camera Magic: Angles, Lighting, and Framing
Ethan Corbett was born and raised in Southern California, and from […]...
Read full article
24 Nov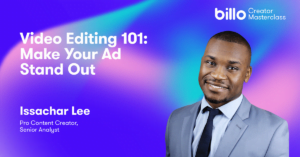 Billo Creator Masterclass
Editing 101: Make Your Video Stand Out
Issachar Lee is a husband and father with a focus […]...
Read full article
4 Nov