Superstar Skills For The On-Camera Creative
Updated: November 17, 2023
4 min read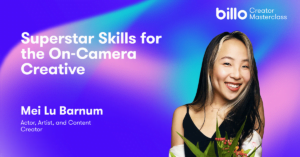 Mei Lu is a New York City-based actor and content creator. In between working on the stage and screen, she loves running her side-hustle, turned main-hustle, creating digital content. She was introduced into the world of content creation through Billo and has now grown her skills into an entire business for herself. She loves creating content because it allows her to utilize and express her creativity and marketing skills through exciting and upcoming digital platforms.
In this Billo Masterclass, Mei Lu goes over her way of making the perfect brand ad and all the elements involved in shooting the best possible video. She gives us her tips for creating a successful brand video every time!
The Fundamentals of Video Shooting:
Lighting – you want to be well lit, you want to be seen, and to make sure that you are not in the dark. You want to make sure that the audience can see you and the product you are showing.
Sound – Make sure that the audio is clear. Phone audio works fine; just make sure nothing covers the mic, so the sound is clear and not muffled. Also, make sure there is no background noise while you are filming.
Pronunciation – Make sure you know the correct pronunciation of the product you are showing. Brands are getting creative with their names, so find out exactly how to pronounce the name!
Read the task description – Read the task description thoroughly and all the way through, don't just assume there is a lot of information there. Think of it as your technical blueprint, the aspect ratio, things the brand wants to be said in the video, and video length. These are the must-haves for each video. Everything else can be filled in with your creativity and personality.
Create a script for yourself – Type out a document of what you are going to say behind the camera, what you will do in the video and what the final shots in the video will look like.
Yourself – Make sure you are appropriate for the product you are showing. For example, if you are doing an ad for a necklace, take off all your other jewelry. There should not be any jewelry from other brands on you to highlight the necklace you are selling. Make sure your appearance is appropriate as well. Try to look clean and put together.
How to Set the Right Mood in Your Videos:
Backgrounds – Neutral backgrounds are the best. Blank walls are great, but the most essential part is to have a tidy and clean background. Some brands may specify where they want you to shoot as well. If you are shooting in a personal space, like your bedroom or bathroom, make sure to put away any items you may not want to see on the internet. Natural light is king, so if you can use it, do it! If you have to use artificial light, make sure it isn't too harsh.
Frame – Give yourself more space rather than less space so you can edit.
Location – Locations and environments are a fun way to create the mood for a video.
Best Ways to Show off a Product in an Ad:
You, on camera, speaking about the product. Don't use a voice-over for this, and you would just talk directly about the product.
You, off camera, holding the product. You can speak on camera or use a voice-over for this option.
Just the product. You would use voice-over for this option.
Movement is always a great element to add to your video, as long as the brand hasn't given specific instructions on how to show the product. It gives your video visual texture. If you are off-camera, giving the product a little movement to attract the light gives the video a little texture. If you are on camera, opening and unboxing a product is a great way to add movement. Transitions are also a great way to add visual texture to your video.
How to Stay Unique While Shooting Videos
Relax. Stiffness or extra movement comes off as unnatural and unconfident in your video.
Confidence is key. Make sure you seem sure about the product you are selling. If you seem unsure, the viewer will be sure.
Make sure your movement is natural, not too much, and not too little. Use facial expressions to convey your feelings about the product; this is a natural way to convey your feelings.
Try to talk to the audience as you would to a friend or family member.
Watch the footage to see if it looks natural.
Listen to feedback and use it!
Key Takeaway
To sum up, preparation is key! Plan what you are going to do, including a script and the shots you would like to take. Practice what you are going to shoot. Be as natural as you can by trying to visualize explaining the product to a friend or family member. Finally, don't forget the most important tip of all, have fun! Follow the above tips by Mei Lu and create a successful brand video each and every time.
Update your marketing strategy with Billo's UGC and video ads
Similar posts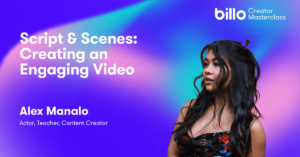 Billo Creator Masterclass
Script & Scenes: Creating an Engaging Video
Alex Manalo is an actor, teacher, and content creator who […]...
Read full article
27 Dec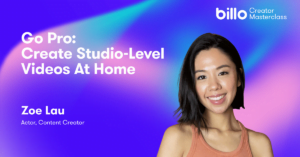 Billo Creator Masterclass
Go Pro: Create Studio-Level Videos At Home
Billo.app recently started offering Product Page videos – studio-level product […]...
Read full article
7 Dec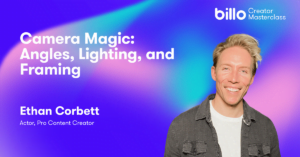 Billo Creator Masterclass
Camera Magic: Angles, Lighting, and Framing
Ethan Corbett was born and raised in Southern California, and from […]...
Read full article
24 Nov