TikTok is a social media platform used to make short videos for entertaining the public, used mainly by young people. It is the most downloaded social media app in 2021.
You are stuck in a place where you can't think of any new TikToks to make? Or maybe you're just tired of watching those old TikTok videos from last year and haven't discovered any recent trends. Well, you're in luck because we've listed 20 of the latest TikTok trends for you to try and watch from 2021! (P.S – all these were viral trends)
Viral TikTok Trends
Squid Game Honey Comb Challenge
The Honey Comb challenge is currently one of the biggest TikTok trends, which includes crafting shapes from a thin layer of Honey Comb candy that is prepared using just sugar and baking soda.
The sugar is stirred on low heat until it melts completely, then baking soda is added, and the stirring process is carried on until a creamy texture and color are obtained, the creamy residue is then left to harden, and a cookie-cutter is pressed on it to leave an impression of its shape. A needle is then used to cut the shape out of the Honey Comb candy while trying not to break the shape, as breaking the shape results in losing the challenge.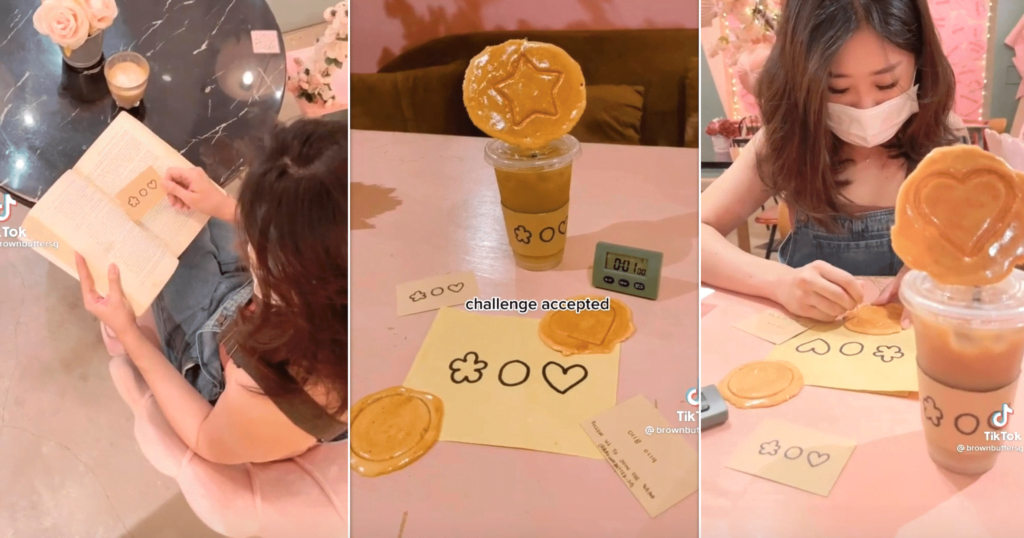 Squid Game Green Light Red Light challenge
The Green Light Red Light challenge is another one of the biggest trends. It is based on a classic children's game. The commander stands at the finish line, while the competitors start at the starting line. Everybody moves towards the finish line when the commander says "Green Light", those who move after the commander says "Red Light" are eliminated from the game. Elimination in the Television Series "Squid Game" results in death, but that's obviously not how things go in real life.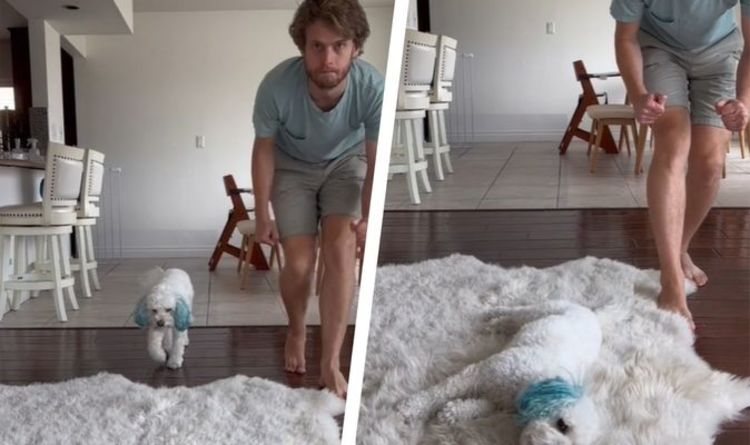 Yup, it's another TikTok food trend, and it is quite obvious that this one has Honey too. The freezing honey TikTok trend is one of the easiest trends to follow, everybody has honey at home and a freezer of course. 100% pure honey is recommended for this challenge, as honey that is not pure may crystallize at low temperatures. If you have honey that comes in a plastic bottle then you're good to toss it in the freezer, but if your honey is inside a jar you will need to pour it into a plastic bottle and don't forget to remove any lids or bottle caps before placing the bottle in the freezer, as it might make the lid/cap difficult to remove after freezing. After removing the bottle from the freezing simply press the bottle, you will notice that the honey has changed to a jelly-like state as it squeezes through the bottle, this is completely normal so just take a bite of the refreshing frozen honey.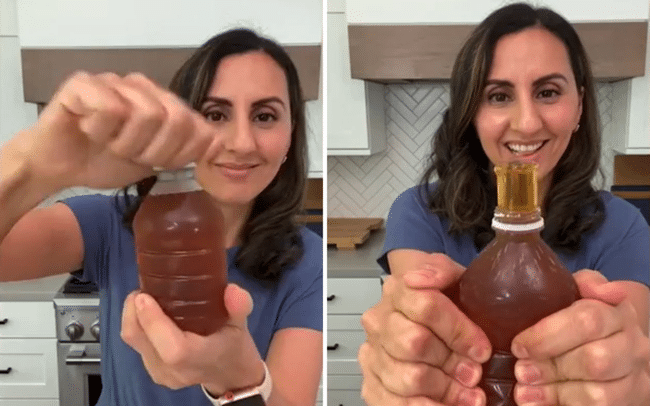 More popular with young people, this is one of those TikTok trends where content creators flash their moves by dancing to trending music or songs, which in this case is a song called "Love Nwantiti", so if you're into dancing and music, then you should definitely consider making a TikTok dance video on this trend. The phrase "Nwantiti" is Igbo for "small love", Love Nwantiti is a song by a Nigerian singer and songwriter who is known to the public by the name CKay.
This TikTok trend is about people sharing their creative ideas and life hacks on altering or tailoring different types of clothes, Thrift Flipping actually means to turn old or used clothes and accessories into something new and more appealing, not only is this an opportunity to create something that may catch on, but it's also better for the environment as lesser products are wasted. So if you want to express your inner fashion designer, you too can follow this trend and share your creative ideas with others.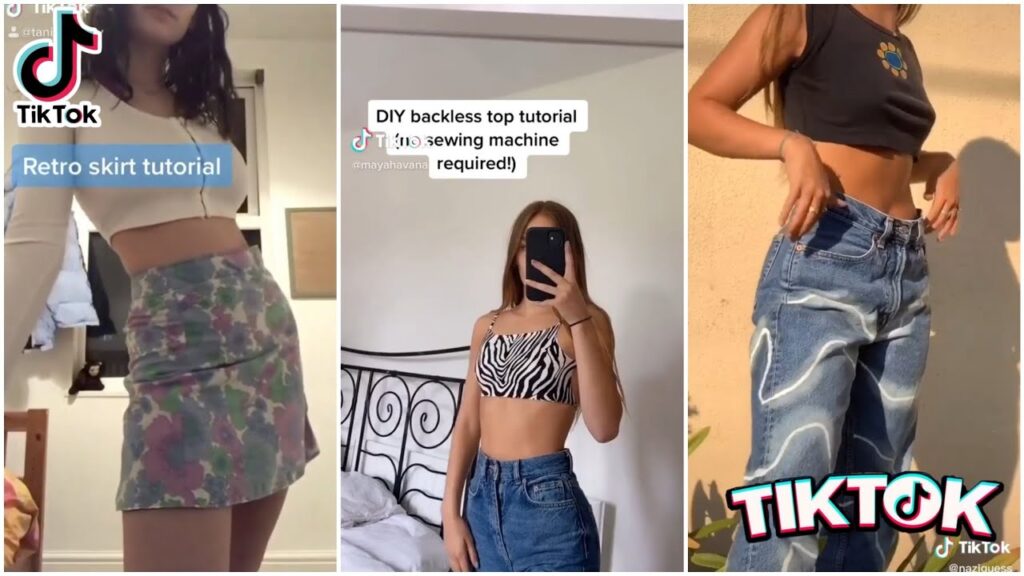 Everybody has done something in their lives that other people might disagree with, this TikTok trend is to show the "nay-sayers" that you or anyone can do whatever they like. This trend features the song "Mama Said" by an artist called Lukas Graham, how this trend works is by playing the song in the background starting from the lyrics "Out to play ball so we could ruin them" while simultaneously showing the certain thing that people disagree with, when the lyrics "When mama said that it was okay, mama said that it was quite alright" play, the creator shows the motive behind why it's alright to do what they like.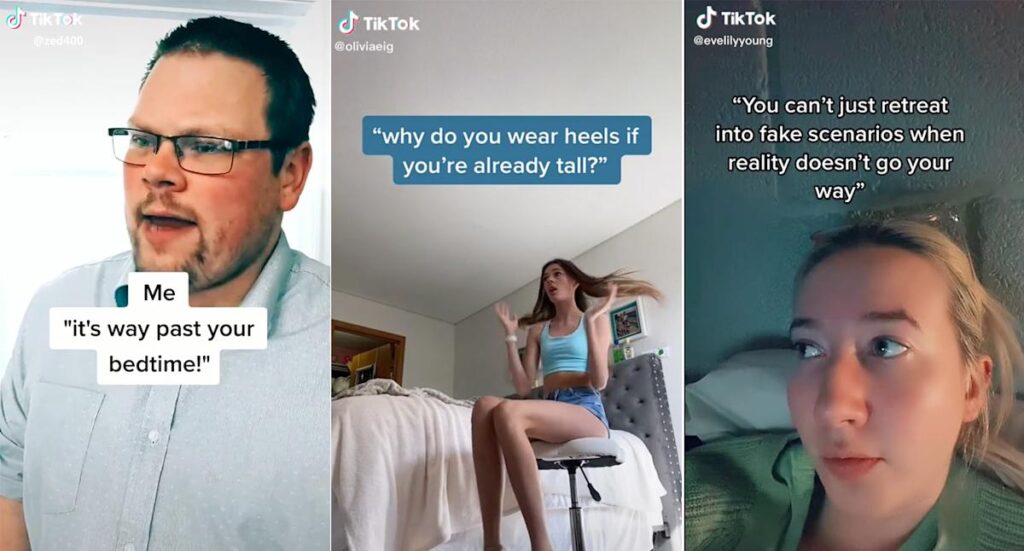 Tell me without telling me
This TikTok trend is a fun way to indirectly tell your viewers what you're trying to say or to explain certain scenarios using simple, but indirect elaboration. Here's an example to understand how this trend actually works, the creator starts by saying "Tell me you drive a fast car without telling me you drive a fast car" and say "I'll go first" to initiate a streak for other users to follow and proceed to show the engine layout of their vehicle or the exhaust note, or maybe a flyby, so following this trend is a good way to make your TikToks pop out. This trend originated on May 28th in 2019 from Twitter user @myjinseuphoria who tweeted, "If you see this, you are obligated to tell me your bias without telling me their names", and people gradually began to use this way to share their thoughts and beliefs until it eventually became a trend.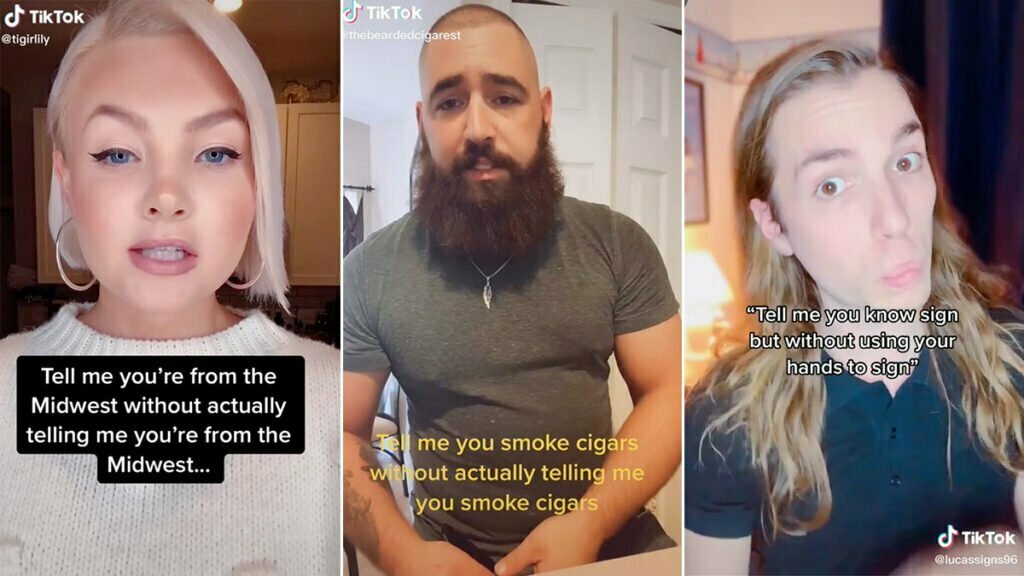 This TikTok trend is a stunning way for creators to share their ideas, skills, and life hacks and an opportunity for viewers to increase their knowledge on certain things and learn new stuff that may help them in their day-to-day lives. The best part is that this trend is for everyone because the list of ideas that can be implied here is literally never-ending, there could be someone who's good at cooking, someone whose combat skills are good, someone who's good at math, or maybe someone who's good at fixing vehicles. Everybody including yourself has a certain set of skills that other people may struggle with, so if you want to teach people something you're good at then definitely consider following this trend.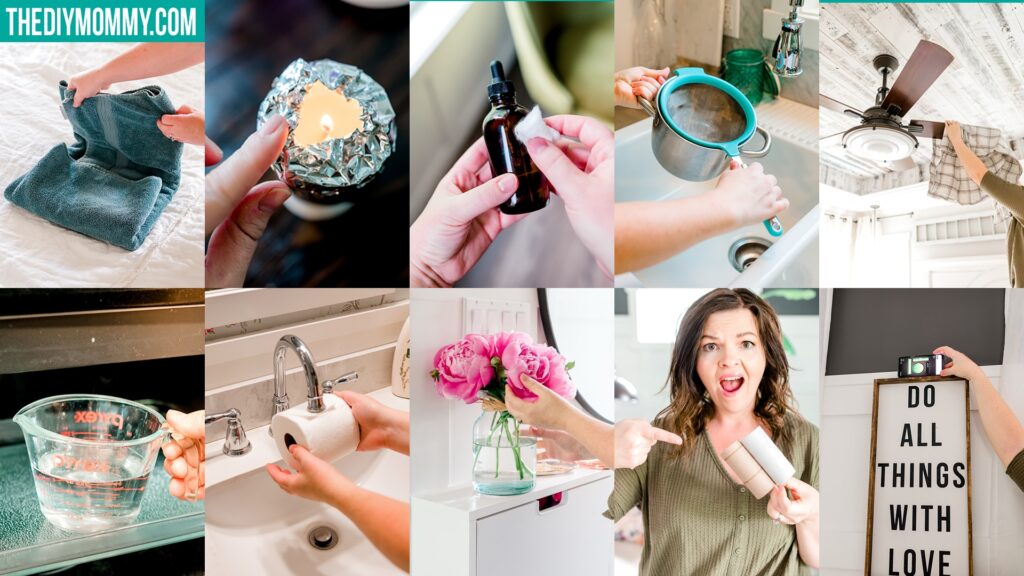 Hello Peggy (The Addams Family 2)
This TikTok trend is based on a scene from an animated movie released in 2021 called "The Addams Family 2". This TikTok trend is merely for entertainment purposes, in which the creator is lip-syncing to the audio of a scene from this movie, where a character called "Wednesday Addams" is having a conversation with another character in the movie called "Peggy".
This is another one of those TikTok trends where people show off their moves by dancing to trending songs or music, which in this case is a song called "Lets Groove" by an American band called "Earth Wind & Fire". This trend started when TikToker @absolutesnacc used a remix of Lets Groove to make a fan edit montage featuring clips of actor Jason Segel from the TV show called "Freaks and Geeks".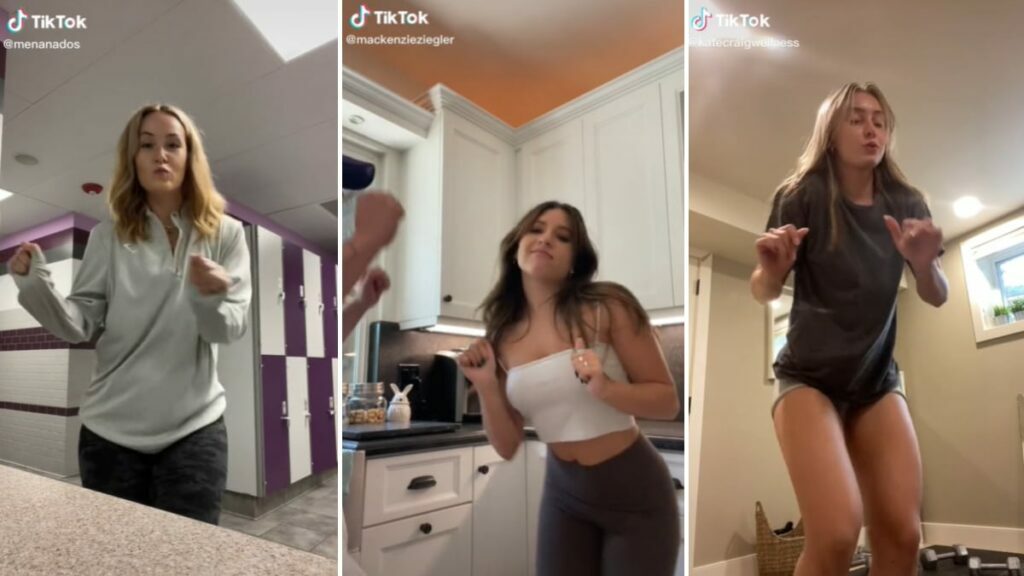 This TikTok trend is specific to the wealthier part of the community, as creators participate in this challenge to flash their expensive clothes whilst rocking a 600$ Prada Bucket hat, hence the name "Prada Bucket challenge". Participants start by pretending to be "upset" about something, so they put their Prada Bucket hats on, and with some video editing magic, their clothes turn into more expensive clothes.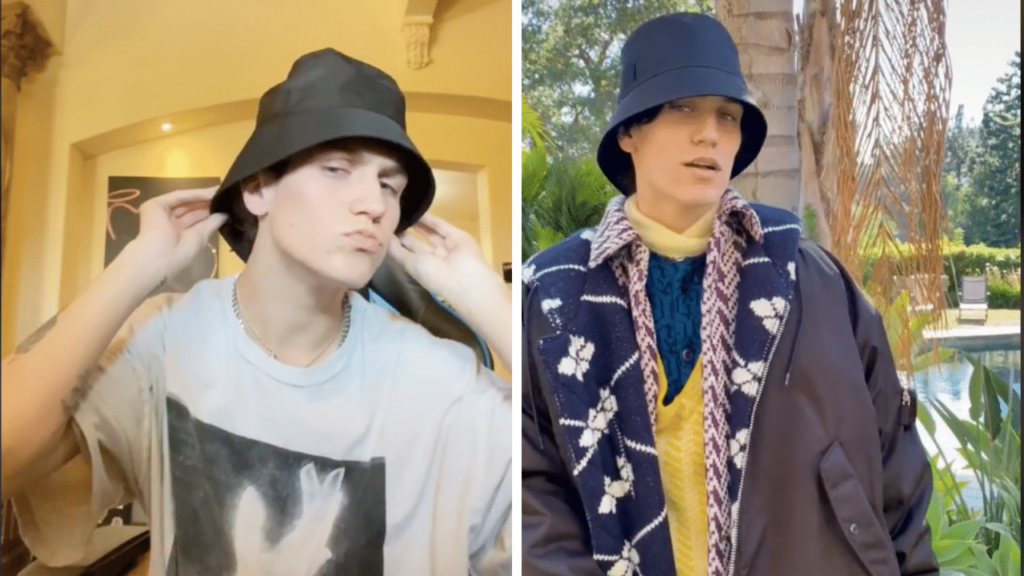 If you're an anime freak you've probably already heard about this trend, where creators make a montage using clips from their favorite anime series, and add some background music just to spice things up. Although this trend has been going on for a while now, it still doesn't feel dated because the anime fans have been keeping it alive. So it doesn't matter if you like Initial D or Naruto, this trend is applicable to all anime fans.
This TikTok trend is a fun way to prank or confuse your friends and family members. How this trend works is you video call or facetime someone and tell them you're busy when they pick up and enjoy the surprised/confused look on their faces. Although you should be prepared as doing so may result in making people frustrated or mad at you. This trend was originally started by a celebrity from the reality TV series "Jersey Shore", the man was no other than "Vinny Guadagnino". Vinny called some of his cast members from the show and told them he's busy, you can see their reactions by clicking on this Youtube link.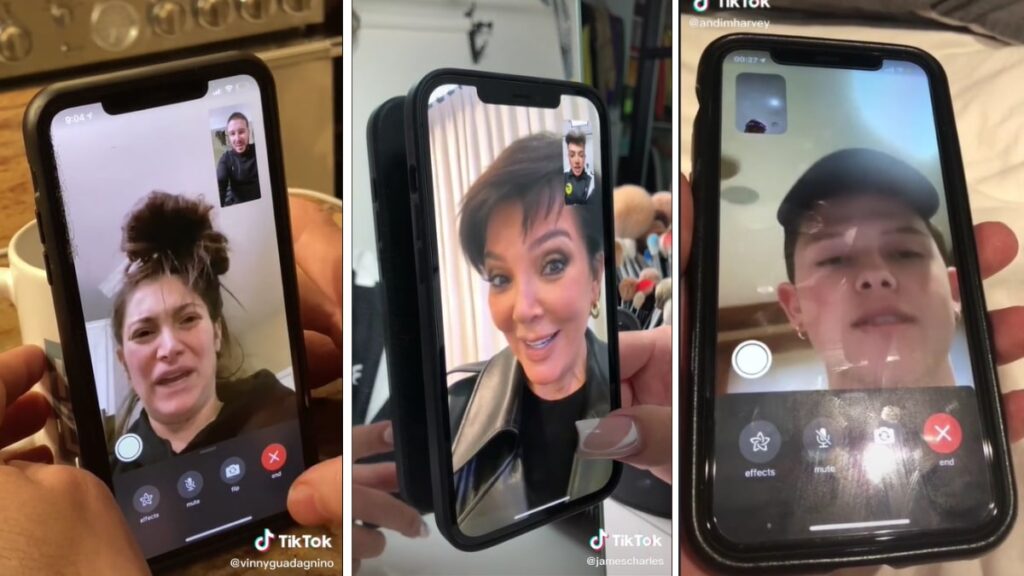 This is a TikTok trend for all those foodies out there who love good pasta with some cheese. This trend went so viral that the grocery stores in Finland faced a shortage of feta cheese. The procedure of preparing this pasta is simple, start by placing some cherry tomatoes and garlic in an oven-safe dish, sprinkling some salt, pepper, and Italian seasoning, and pouring some olive oil before mixing the contents. Place a block of Feta cheese in the center and bake in the oven until soft, squish the contents to form a paste, and mix with your favorite Pasta, that's it! Your Baked Feta Pasta is ready to be served.
You guessed it! It's another trend for the foodies, to prepare this appetizing meal you will need, potatoes, olive oil, garlic powder, seasoning you like, and wooden skewers. Start by cutting the ends of the potato to form a cuboid, cut the potato in half longitudinally, place chopsticks on both longitudinal sides of the potato and cut straight across the chopsticks, flip the potato and cut diagonally. Fan out the potato by pushing it on a wooden skewer. Mix olive oil with the seasoning and brush it on the potato, toss it in the oven to bake, and voila, your Accordion Potatoes are ready to be served.
This TikTok trend is a fun way to get your fuzzy friend featured in one of your videos. No, you don't paint a picture of your pet, your pet does the painting part, How you may ask? it's quite simple actually, all you need is a canvas, some liquid colors of your choice, a large plastic bag, and a pet of course, you will also need a paste-like treat that your pet likes, peanut butter for instance. Start by covering the canvas with the plastic bag and smear peanut butter on the part covering the canvas, carefully remove the canvas from the bag and keep the plastic aside. Pour liquid colors on the canvas in any pattern you like and carefully reinsert the canvas into the plastic bag making sure the position of the canvas inside the bag is the same as before. Keep the covered canvas in front of your pet and wait for it to finish licking the peanut butter. Carefully remove the canvas from the bag and your "Pet Painting" is ready.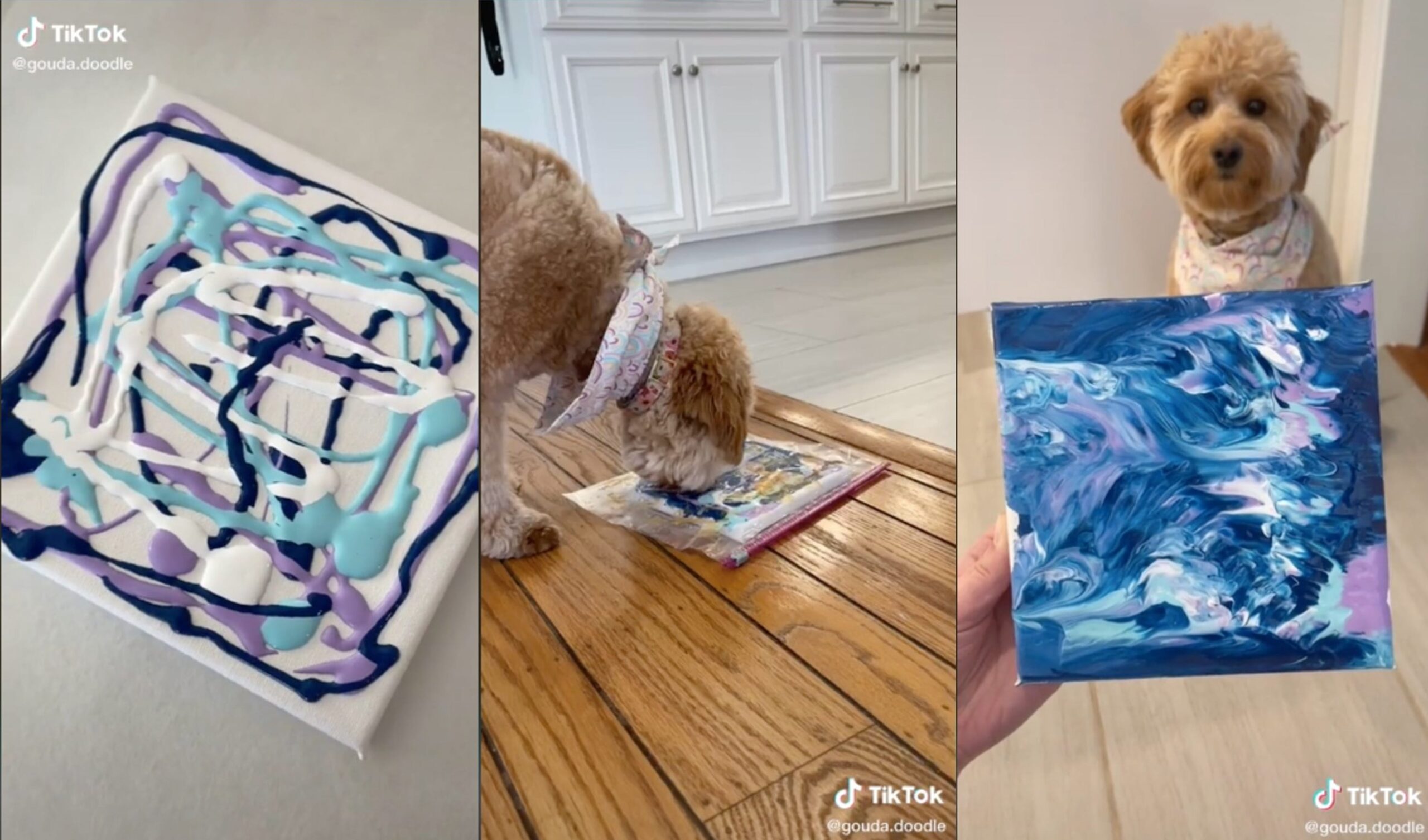 It's another TikTok trend for dancers! Although this trend is more popular with girls and young women, participants dance to a remix of the song "Do it to it" by Arcaze, the song was originally created by the "Cherish" group. The part of the lyrics they dance to is "Bounce wit it, Drop wit it, Lean wit it, Rock wit it, Snap wit it, All my ladies pop yo backs wit it". So if you like to dance, it's your turn to attempt this challenge.
Another one for the foodies! But there's a twist in this TikTok trend, you can probably tell from the name "Food Dance", that there's a dancing part in it. What most creators do is, make some finishing touches to a plate of food, take a bite and dance to a Russian song called "Я буду ебать" when the beat drops. This trend was started by a Canadian TikToker John McGinnis @JohnMcGinnis36 when in his first Food dance video, he takes a bite out of a sub and does his signature dance.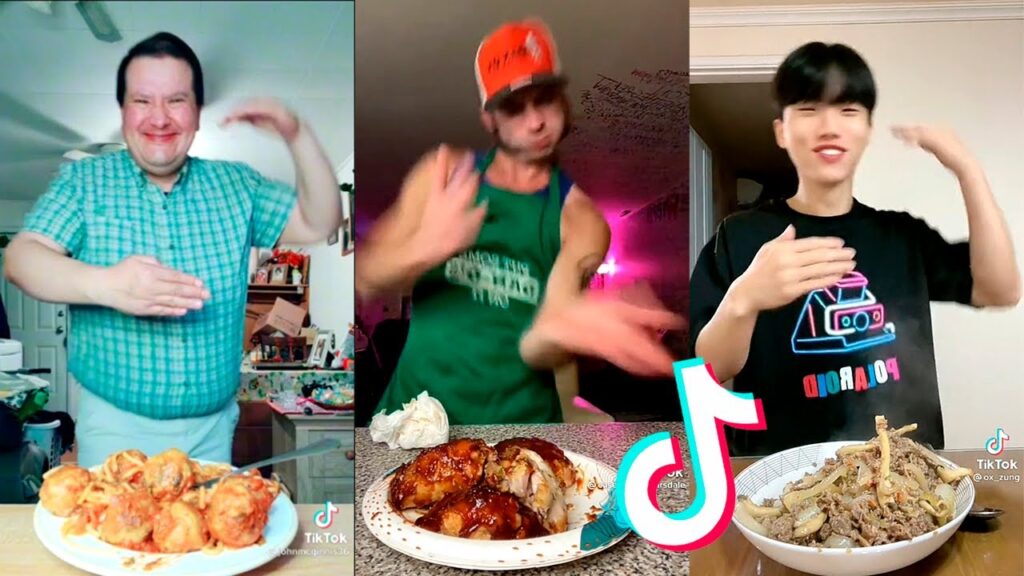 Questions I get asked a lot
We've all been asked certain questions frequently, it could be because of our personality, our accent, our clothes, looks, or maybe because of certain habits we possess. In this TikTok trend, people share the questions they get asked a lot and also answer most of them via captions, whilst doing a special dance to a beat called "Magic Bomb" by an artist called "Hoàng Read". You too can follow this trend by sharing the questions people ask you the most.
We're topping things up with another TikTok trend, this trend is a fun way of roasting your friends or family members and getting them involved in your TikToks of course, the way this trend works is really simple, you just call out your friend by making funny comments about certain bad habits they have or certain characteristics of them and pass the phone to them because it's their turn to do the same, so it's just a series of taking turns to roast your friends and the best part is that there is no limit to how many people can participate.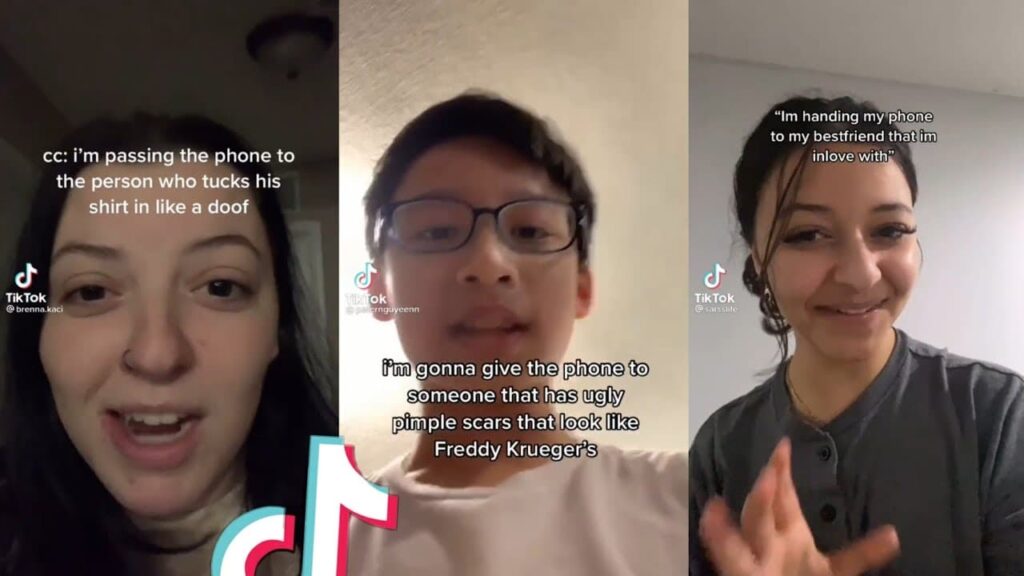 Now you can get back that TikTok hype back and push the boredom away by trying these super cool TikTok trends.
Similar posts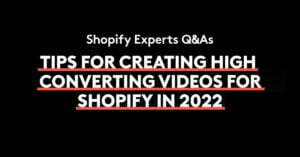 Video Marketing
Shopify Experts Q&As: Tips For Creating High Converting Videos For Shopify In 2022
We teamed up with VideoWise for an exciting Q&A session […]...
Read full article
2 Jun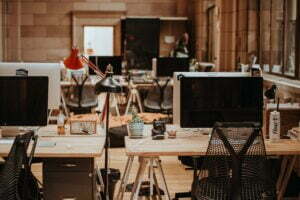 Video Marketing
14 Steps to Create Corporate Videos
By not using this great tool to increase their sales […]...
Read full article
25 Jan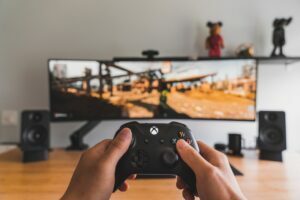 Video Marketing
Video Games Advertisement
If you're looking to reach all new heights for your […]...
Read full article
13 Jan