Editing 101: Make Your Video Stand Out
Updated: November 17, 2023
4 min read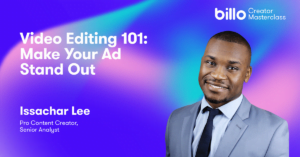 Issachar Lee is a husband and father with a focus on all things content. With over 5 years of experience in social media marketing and video production, he worked for companies CBS News, HBO and created his own social media marketing agency. Issachar excelled at conveying a message that connects a brand to a customer on a deep and grounded level. At the end of the day, his business is people. 
There is a lot that goes into creating the best content as a creator. The hardware, software footage, and editing – all play an essential role in your final content. Issachar Lee shares his hardware and software picks and tips on getting the best footage and editing that footage to create stand-out content.
The following topics are discussed in the video:
Hardware: Does what you use beat how you use it?
Software: Trends in the creatives community with hands-on examples.
Footage: How to shoot videos for an efficient editing process?
Editing: Making transitions seamless and the voice-over sounding just right.
Hardware
Using a tier list, the essentials of hardware are:
S tier (top tier) – Your phone. Phones are extremely powerful. Phones have trumped every other form of hardware.
A tier (2nd tier) – Hard Drives/Laptops/lighting – always have hard drives available to store all the video you shoot. Laptops are key for editing your video. Lighting is essential for shooting great video content; while natural light is the best, it is not always available. A tripod is a useful tool when shooting video to get clear and accurate shots.
B tier – Microphones/Cameras- Microphones are used for clear sound; however, you can use your phone as a microphone. A camera is great if you make complicated content and experiment with lenses, but a phone will work for most content.
C tier – Headphones/Green screens – Headphones are nice to have to cancel out noise but are not essential, and neither are green screens as you can shoot in the environment you are in.
To go further into detail about the above tier list, let's start with cameras. Your smartphone camera will be your best option, but if you are going a bit more into detail and a complicated content shoot, the Canon EOS 90 D or the Nikon D3500 are the best.
The iPhone tops the list for smartphones, especially the iPhone 13, but anything above the iPhone 8 will work just fine. Following the iPhone is the Samsung 21, Google Pixel 5, and the Samsung Galaxy Note 20.
For Laptops, the essential element is specs. You should have at least 8-32 GB RAM, a multi-core Intel i5/i7/i9 processor, preferably with 4 processor cores, at least 256 MB hard drive, and a graphics card. The graphics card is dependent on your editing software. Premiere Pro and Resolve work with AMD and NVIDIA. A minimum 2GB memory card is optimal.
For lighting, NEEWER and RELLENO are great. You can get softbox lights or ring lights on Amazon for below $50. Get creative with clamp lights if you don't have room for softbox lights or can't afford ring lights.
Lavalier microphones are great for stand-ups (in front of the camera). Boom or Condenser mics are great for voice-over and can be used for stand-ups. You can also use your smartphone as a mic.
For Tripods, get something that can extend at least afoot. For memory, 1TB is recommended for serious creators. And finally, for green screens, try to get something easy to maneuver and put away.
Software
The next topic is software. For software, you need something fast, reliable, reviewable, and something that can render quickly.
For Desktop, Davinci Resolve, Final Cut, and Adobe Premiere are the best. Recommended editing software – Inshot, Ru, and LumaFusion are top-tier products. For data transferring, the best products are Dropbox and We-Transfer. The best voice-over software is Audacity; it has a simple user interface, comes with many features, and is free!
Footage
Getting the best footage is the key to creating great content.
To begin, make sure that your background is clean and fits the content.
Ensure that you are getting lighting from 3 points, one from the left, one from the right, and one from the ring light in front. If you have only one option, pick the ring light.
Camera positioning can change the scene. If filming from above makes the subject shorter and gives a more innocent, softer feel. If shooting from below makes the subject taller and gives a more dominant, assertive sense.
The best advice for cuts is to pause. Pausing in between sections of your script helps you stay on track and makes editing easier. Find creative ways to improve scenes so you can get the best out of them.
When doing voice-overs, make the focus of your video the product you are showcasing. Show it from all different angles. Try to perform with the product, if possible.
Editing
Do a thorough cut and trim, then do any voice-overwork.
Record the voice-over from a script.
Then add in the editing timeline.
Cut and trim that up just like before, then add it where it needs to go.
The best way to make your voice-over sound natural is to act it out as if you were in front of the camera.
Once you've done the above steps, render it down, and you are done!
Issachar Lee has given his best tips to follow for content creation in this video. Follow these steps to create great, well-edited content each and every time! Happy creating!
Update your marketing strategy with Billo's UGC and video ads
Similar posts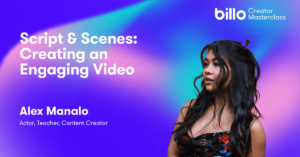 Billo Creator Masterclass
Script & Scenes: Creating an Engaging Video
Alex Manalo is an actor, teacher, and content creator who […]...
Read full article
27 Dec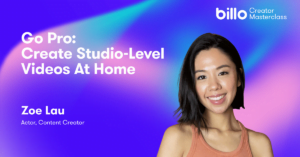 Billo Creator Masterclass
Go Pro: Create Studio-Level Videos At Home
Billo.app recently started offering Product Page videos – studio-level product […]...
Read full article
7 Dec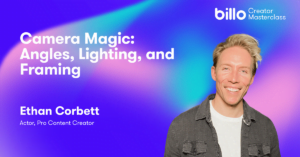 Billo Creator Masterclass
Camera Magic: Angles, Lighting, and Framing
Ethan Corbett was born and raised in Southern California, and from […]...
Read full article
24 Nov