How to Create an Eye-Catching Media Kit and Get Valuable Insight About Your Audience
Updated: November 17, 2023
2 min read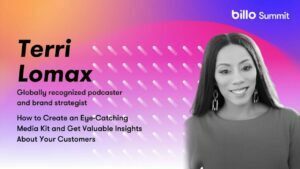 Terri Lomax is a globally recognized podcaster, speaker, and brand strategist, who empowers entrepreneurs to leverage personal branding to grow their audience, impact, and bank accounts.
One of the hardest things for a brand to do is to monetize your audience. The key questions to ask yourself are what type of brand are you – a service or product and how can you effectively monetize your audience for the service or product you provide?
The money is in the data. To effectively sell to your customers, you need to have the correct data. How can you sell to your audience if you don't know them or what they value?
Gather the data from your audience and measure what matters to them. You do not need a large audience to monetize, and this is a common myth. What you need is quality data and what matters to them.
Some Survey Questions to Ask Your Audience:
1. Dream big – If money were no object, what would you do?
This question gives you a deeper understanding of what your customer values at their core. It gives you insight into what their dreams and goals are.
2. What is your age range?
This data allows you to figure out which platforms to use to reach your core customers. If you have a younger audience, say 25 or younger, you may want to use Snapchat. If your primary audience group is 25-35, you may want to use Linkedin instead to maximize your reach.
3. What do you do for fun?
This question also gives you powerful insight into what your audience values in their free time. Using this data to partner with brands that meet their interests can go a long way toward monetizing your audience.
4. How would you describe yourself best?
This gives you insight into their ethnic makeup. This information allows you to then partner with brands that meet the specific needs of your audience based on their ethnicity and provide solutions that are meaningful to them.
5. Where do you live?
This allows you to partner with a local business that is important to your audience.
6. What obstacle are you facing right now?
This question is a gold mine. Knowing what your audience is facing allows you to swoop in and fix their obstacles.
7. What is the highest level of education/ degree you have completed?
This allows you to know how much disposable income your customers has so you can find products in their price range.
Key Takeaway
Constantly personalize your survey to fit your brand. You can create your surveys on Google surveys or any other free platform. Images can be created and edited on free sites like Canva. You can link to your study in your Linkedin profile, your Instagram bio, your website, or anywhere it seems relevant for you to collect audience data. Collecting data helps you provide a better product or service for your audience.
Update your marketing strategy with Billo's UGC and video ads
Similar posts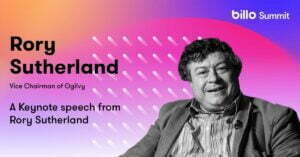 Billo Summit
Billo Summit 2021 Keynote Talk by Rory Sutherland
Rory Sutherland is the Vice Chairman of Ogilvy. Currently, he […]...
Read full article
2 Oct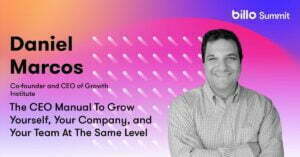 Billo Summit
The CEO Manual: Grow Yourself, Your Company, Team At The Same Level
Daniel Marcos is the Co-founder & CEO at Growth Institute […]...
Read full article
30 Sep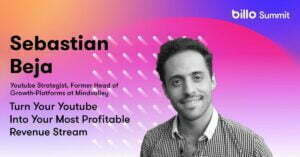 Billo Summit
Turn Your YouTube Into Your Most Profitable Revenue Stream
Sebastian Beja is a Youtube strategist who helps scale and […]...
Read full article
29 Sep