Back to Social Media Marketing
Social Media Marketing
How To Create Effective Video Ads Across All Social Media Platforms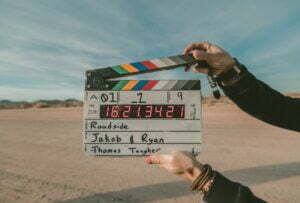 Video ads on social media platforms use powerful imagery to attract customers and drive purchases. In the past year, 84% of people surveyed said they made a purchase after seeing a video ad online. Since 2019, the number of minutes per day average users consume has gone from 84 minutes to over 100 minutes. At the same time, video production has become more authentic with less reliance on overly produced studio-quality content.
While it's clear that video ads will continue to funnel traffic to the e-commerce market in 2021, keeping up an increasing number of social media platforms can be difficult. Just as you were getting the hang of Facebook and YouTube ads, newer, more trendy platforms like TikTok pop up and start the learning curve all over again.
While you can repurpose some types of content across social media platforms, you can't simply take one video ad and apply it to all the platforms as-is. Each social media platform is unique in its preferred aspect ratio and the type of audience it attracts. You'll want to apply some best practices for each of the major social media networks you plan to advertise on.
Facebook
Facebook is still the dominant social media platform, despite losing some younger audience members to other competitors. It has an audience of over 1 billion users. Facebook has incorporated ads into the newsfeed, stories, messenger, and their partner network.
Depending on where your ad will be displayed, it can be vertical or square. Your ad content should be fun and authentic with bright colors. Keep in mind many video ads are viewed on mobile devices with the sound turned off.
The most popular Facebook ad format is the newsfeed ads, which support aspect ratios such as 16:9 (full landscape), 1:1 (square), 4:5 (vertical). In the mobile-first era, you want to cover as much screen space as possible, therefore the 4:5 ratio is considered the best for single newsfeed video ads.
Another great option for e-commerce businesses is carousel ads. The only video format this type of ad supports is 1:1.
Facebook stories ads best work if they are done in the native 9:16 format. You can also use your 1:1 and 4:5 ads in stories, however they will look less natural and will have text descriptions underneath them.
While some of the formats allow super long videos, it's best to keep your ads short. The attention span is short – you have to get people's attention in the first 3 seconds. You should keep your ad within 15 to 90 seconds long at most.
Instagram
Since Facebook purchased Instagram, they have integrated their ad service platforms, making it easy for you to manage both platforms under one business profile. However, the type of content that performs best will differ between the two.
Instagram is a trendy place for highly visual brands that want to reach a slightly younger crowd. If you're hitting the millennial audience, then this is one place you surely want to be. User-generated content (UGC) is extremely popular on Instagram. This audience is looking for authentic people they can relate to and will take buying advice from them.
In-feed Instagram ads support aspect ratios of 1:1 (square), 16:9 (horizontal), and 4:5 (vertical). Storie ads should be 9:16 (you can also create Instagram story ads from other aspect ration video ads, but they won't look as natural). Short ads work best, between 15 and 60 seconds. Instagram audiences are expecting visually stunning content that is emotionally driven or user-generated.
YouTube
YouTube is the reigning champion of online video, and content creators that want to monetize will allow ads to be shown before and during their videos.
The supported aspect ratios on YouTube ads are 16:9 and 4:3. There are a few different types, and each has a different length requirement, such as:
Skippable Video Ads: Maximum length 12 hours, skippable after 5 seconds
Unskippable Video Ads: Maximum length of 15, 20, or 30 seconds
Mid-Roll Video Ads: Minimum length of 30 seconds
Bumper Video Ads: Maximum length of 6 seconds
Ad copy is a bit of a mash-up on YouTube. Both animated and non-animated videos work well here. These ads aren't shareable like they are on Facebook and Instagram, so you don't have to focus on a viral-video for your ad content. If you're selling a product, focus on what your target audience would most like to see, including UGC reviews, product displays, unboxing videos and brand introduction.
Opposite to Facebook and Instagram ads, the sound cannot be ignored when creating e-commerce video ads for Youtube. Make sure that your ads have good quality voice recordings, soundtracks or voiceovers.
Snapchat
Snapchat ads include a swipe feature that allows viewers to go right to your website if they are interested in your product. App users are generally teens and young adults, so make sure your product is relatable to this demographic.
With Snapchat ads, you have to be really quick to grab viewers' attention. Videos are typically very short, as short as 10 seconds, most of the time you have as little as 2 seconds to introduce your brand. However, you can do longer format ads that users can choose to continue to watch by swiping.
UGC is the officially recommended type of video content for Snapchat ads.
Snapchat Ad Specs:
Width: 1080 pixels.
Height: 1920 pixels.
Aspect Ratio: 9:16.
Twitter
Twitter has an adult audience that uses the platform to share news, ideas, opinions, and humor. It's a great place to make product announcements and talk about special promotions.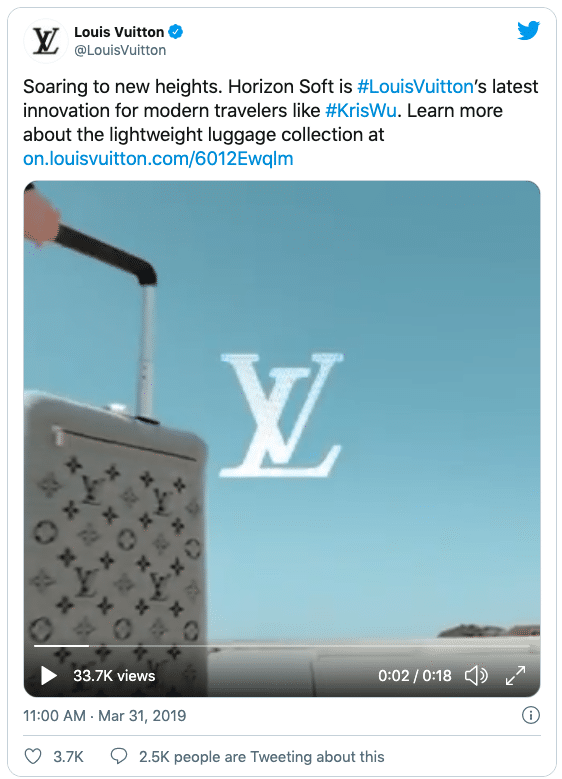 Twitter Promoted Video Specs:
Size: 1280 x 720 px (horizontal), 720 x 1280 px (vertical), 720 x 720 px (square)
Minimum Size: 32 x 32 px
Maximum Size: 1920 x 1200 px
Supported Aspect Ratios: 1:2.39 to 2.39:1
15 to 30 seconds
Twitter audiences have a notoriously short attention span, so make your video ads short and impactful with a strong call to action. According to Twitter executives, video content has the best ROI on their platform, with users three times as likely to engage with video content. Up to 41% of Twitter users say they have purchased a product or service due to a video ad.  
TikTok
TikTok was already blowing up pre-COVID among Gen Z users, but quarantine made it grow exponentially. People of all ages who were stuck in the house bored started jumping on board with TikTok. It's already a short-form video social media platform, so e-commerce video ads fit right in.
TikTok doesn't flood their feed with ads, so ad space is at more of a premium there, but video ads work well and convert.
Your ad can be 5 to 60 seconds, but the short, the better. Your video can be horizontal (16:9), square (1:1), or vertical (9:16). TikTok ads need to look like native TikTok videos, so cash in on current trends and use real people or UGC in your ads.
Pinterest
Pinterest is a trendy platform for young to middle-aged women who are creative and looking to shop.
Pinterest Ad Specs:
Size: 600 x 600 px (square), 600 x 900 px (vertical)
Minimum Resolution: 240 PPI
Supported Aspect Ratios: 1:1 (square), 9:16 (vertical)
Recommended length is 6-15 seconds
As for the creative content, keep the focus on the usage of your product. People come to this platform to learn how to do things, therefore the ads need to be informative too. Ads with people in them do fairly well. A great example of a Pinterest ad would be user-generated content of your products in use. Most people view Pinterest with no sound, so make sure to optimize for mobile with no sound.
LinkedIn
Are you selling B2B? If you're looking for business leaders who make purchasing decisions, LinkedIn is an excellent platform for your e-commerce video ads.
Video ads are especially great to use in LinkedIn advertising because LinkedIn gives the option to retarget people, who have previously watched your video. This drastically improves your chances to get conversions. LinkedIn video ads that appear in the feed can have a maximum size of 480×360 and can use aspect ratios of 4:3 (horizontal), 16:9 (horizontal), 1:1 (square).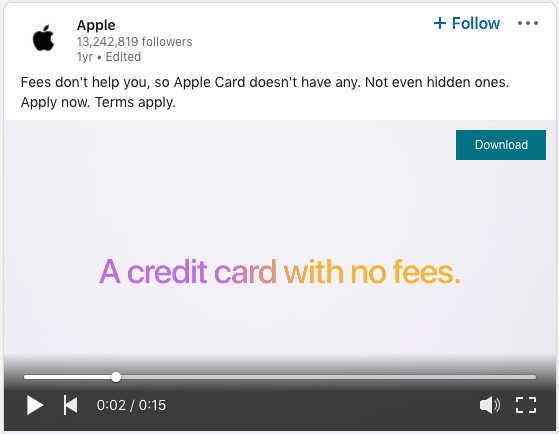 Your video ad can be anywhere from 15 to 90 seconds, but keep in mind the rule of thumb that says you'll lose your audience after about 30 seconds. LinkedIn is a more professional audience that will value product-specific details and industry knowledge. That doesn't mean your ads have to be impersonal, just a touch more professional than on other social media platforms.
Marketers for e-commerce don't always think about LinkedIn first when creating a marketing strategy. If your e-commerce business caters to other companies, you have a higher-end product and aren't afraid to pay a bit more per lead, then don't let this opportunity pass you by.
Main Things To Know When Creating E-Commerce Video Ads
The easiest content to repurpose is vertical shot video because it can be used in story ads on Instagram, Facebook, Twitter, Pinterest and soon will be included in LinkedIn as well. Make sure your ads appear where your target audience likes to hangout. You certainly don't have to be posting ads on all of these platforms at once.
When focusing on video ads for your e-commerce business, the most important thing to keep in mind is how authentic your content is. These ads will be slipped in between the native content, so you don't want them to look too jarringly out of place.
User-generated content (UGC) can help you achieve the preferred aesthetic and engage your audience more. Many buyers like to see products in use or watch product reviews before making a purchase online.
Need User-Generated Videos For Your Ads?
Join Billo platform. We help businesses and creative people, who love your product, connect to get that content that drives sales.
Similar posts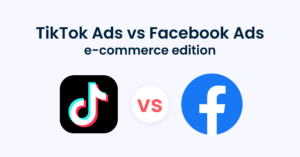 Social Media Marketing
TikTok Ads vs. Facebook Ads: What Should e-Commerce Choose?
Ever since TikTok came around, it instantly started stealing the […]...
Read full article
26 Oct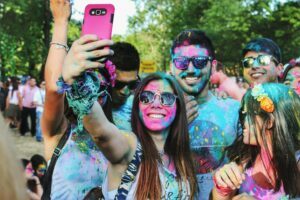 Social Media Marketing
How to Get More Views on TikTok (Hack)
In the last couple of years, lockdown measures across the […]...
Read full article
25 Jan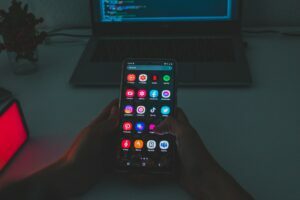 Social Media Marketing
Tiktok Automation: 10 Best Tools
Are you thinking of how to optimize your TikTok growth […]...
Read full article
24 Jan