Smart Marketer's Highest Converting Facebook Campaigns of 2021
Updated: November 17, 2023
2 min read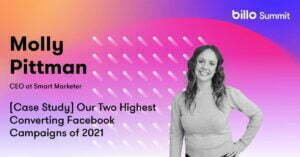 Molly Pittman is the CEO of Smart Marketer. She is a leading digital marketing strategist, educator, and entrepreneur who has trained more than 10,000 people across the globe.
If you are selling a service or a product, there is little difference in the marketing behind brands. During Billo Summit 2021 Molly Pittman went over the marketing of 2 brands, one a favor and one a product.
What matters most in marketing is the offer. Spend the most time on what matters most – the offer creation process. The market should want to do what you are asking to do. Ensure that the offer is valuable and positioned as clearly as possible so there is no confusion of what you are asking from the consumer. Knowing your brand voice and what you stand for makes this much easier and allows you to be more apparent in your marketing.
#1 Boom Facebook Campaign
The first campaign is for Boom, a makeup company for an older demographic. The key points for the campaign are as follows:
Who – Boom! By Cindy Joseph
Business Objective – Customer Acquisition
Platform – Facebook Ads
Offer – 5 Makeup Tips for Older Women (Pre-sell article)
Results – 13,003 Customers Acquired at $45.87 per Acquisition
596k spent
1,013,000 in Revenue
Length – This campaign ran for one month
Objective – Conversions/Purchases
Budget – CBO
Attribute – 1 Day Click
8 Ad Sets
8 Ads within Each Ad Set
All in all, this is a very successful Facebook campaign. Sending traffic to an informative article helps to make the campaign more successful.
Using different targeting for each ad set will allow you to reach a broader audience, which will increase your chance of a successful campaign.
The first ad set should be extensive. The next two ad sets are look-alikes; we add all the look-alikes here, including buyers with the same value sets, all buyers in the last 90 days, and more. Next is interest targeting. For example, for Boom "Hollywood Silver Hair" means women in Hollywood are powerful and famous and have silver hair.
The ads for Boom include an ambassador program, which allows for testimonials from actual customers, creating trust in the brand. There are three sections in Boom's UGC ads – Love, Demo, Love – meaning testimonial, a demonstration of the product, and finishing with another testimonial.
#2 Smart Marketer Case
The second reviewed Facebook campaign is for Smart Marketer. Here are some campaign key points and numbers first:
Who – Smart Marketer
Business Objective – Leads/ Selling of Non-Physical Product
Offer – 10 Day Facebook Ad Bootcamp
Results – 15,123 Leads at $3.42
400k+ in Revenue
Length – 2 Weeks
Smart Marketer's campaign was optimized for opt-in customers. This Facebook campaign used many cold targetings, such as the countries where we sold most of Smart Marketer's product, to get a larger audience and many marketing interests. Native style ads performed the best for this campaign.
Be creative with your ads and spend the most time on the offer process. Targeting your ads correctly for your market matters the most and impacts success in Facebook Ads. Remember that the objective is to get the audience to want "to do" what you ask them.
Update your marketing strategy with Billo's UGC and video ads
Similar posts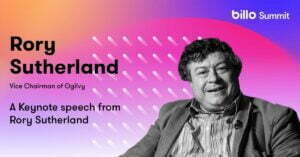 Billo Summit
Billo Summit 2021 Keynote Talk by Rory Sutherland
Rory Sutherland is the Vice Chairman of Ogilvy. Currently, he […]...
Read full article
2 Oct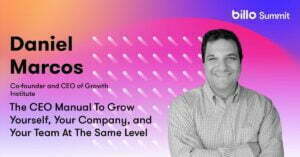 Billo Summit
The CEO Manual: Grow Yourself, Your Company, Team At The Same Level
Daniel Marcos is the Co-founder & CEO at Growth Institute […]...
Read full article
30 Sep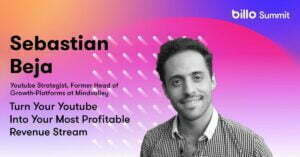 Billo Summit
Turn Your YouTube Into Your Most Profitable Revenue Stream
Sebastian Beja is a Youtube strategist who helps scale and […]...
Read full article
29 Sep