Back to Social Media Marketing
Social Media Marketing
TikTok Ads vs. Facebook Ads: What Should e-Commerce Choose?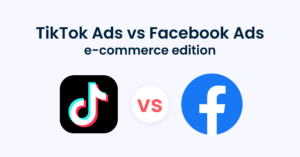 Ever since TikTok came around, it instantly started stealing the show. When TikTok Ads appeared, that was a new stage of development for the marketing front line. But then came quite a reasonable question: should you choose Facebook Ads or TikTok Ads for your business? Even though good old Facebook Ads never fail (except post-iOS 😄), could TikTok Ads substitute it? 
So let's reveal which marketing channel you should choose for your e-commerce business with this guide created by our partner — RedTrack. 
Benefits of TikTok ads 
In 2019 TikTok released its ad platform, which instantly made so much buzz around the marketers' community. It had better performance, much lower cost, and seemed to convert e-commerce like crazy. But what's the current situation? And what are the main benefits of TikTok Ads? 
TikTok Ads is a highly converting marketing channel

(if done right, to learn more about how to do it right, keep reading!). It's a super native way to advertise your e-commerce products, and most of the time it's hard to understand whether it's an ad or just a TikTok post thanks to the design of the FYP (For You Page).

TikTok has amazing algorithms

, therefore, amazing targeting. Many marketers report that it seems to work much better when it comes to targeting since TikTok algorithms know all the little details about the TikTok audience thanks to monitoring time on each video.

TikTok has lower costs

.

TikTok Ads costs

are around $6 CPM (cost-per-mille), which is about twice less than Facebook. But the disadvantage is that the minimum required budget per campaign is higher than for Facebook. 
How to do TikTok ads for higher ROAS in e-commerce
If you want to make real results with TikTok Ads, you have to know the rules. TikTok is a platform that is run by UGC, and very formal ads won't show you the results you expect. Instead of creating a classic Facebook ad banners or top-notch animation, invest in UGC (user-generated content) made by real creators. 
The examples of the ads you can do are:
How to's:

ask the influencer or creator to show how your products can be used. Implement some tips, tricks, or best practices. If it's lipstick — make a makeup tutorial with it, if it's a piece of clothing — show how to style it. 

Product reviews:

people want to see real and authentic content. And people want to see honest reviews, not just a picture of a review. UGC content is a great way to show what people think about your product. 

Unboxing:

show the process of unpacking of your product once delivered. No legal or logical explanation exists, but it's a magnetizing action. People love watching unboxing. 
If you are looking for a partner in crime with TikTok Ads and UGC, make sure to check Billo for quality UGC content for a fraction of the price that agency-based production usually costs.
Benefits of Facebook Ads
But what about good old Facebook Ads? While TikTok Ads is trying to steal the show, Facebook Ads is still the largest advertising platform. With a much bigger audience to reach. Besides that, with a wider variety of audiences. So, what are the benefits of using Facebook Ads as a marketing channel? 
Facebook has the largest audience base.

Any age, any interest — Facebook has a bit of data on everyone. This is the unarguable benefit of the Facebook platform. 

Facebook has detailed targeting option

s, including remarketing. Although TikTok Ads has implemented very smart algorithms to find the right audience, Facebook has been in this business for a while, giving a competitive advantage of owning data about users. 

Facebook has a low-cost entry level for your marketing campaign.

You can start as easy as 1$/day ad spend. For some businesses, it can be crucial to have the ability to start small to test and experiment. 

Facebook gives you the ability to advertise on Instagram

, which is another largest social networks, giving you access to billions of potential buyers. 
Tips for e-commerce Facebook Ads and Instagram Ads 
If you are in e-commerce, you won't avoid using Facebook Ads. It works great for your brand awareness and for direct purchases of your products. But if you wanna succeed with Facebook Ads, don't forget about these little tricks: 
Implement more video advertising.
 Videos have much bigger coverage and impression rates on Facebook (just like on any other platform). Make sure to insert video ads to your campaigns to show your product better. 
UGC also works on Facebook, even though the quantity is much lower in comparison with TikTok Ads. Throw some authentic content In your Facebook Ads for a better result! 

Use the power of LAL (lookalike audience) and remarketing. These are the great features of Facebook, so why not use them more? In order to implement those features in action, you will have to become friends with Facebook Events Manager and read a

detailed guide on how to use Facebook Events Manager from RedTrack. 
Which is better for e-com: Facebook Ads or TikTok Ads 
Well, we are not fans of choosing. To define the best-working marketing channels for your business, you will have to look at the performance data, as well as analyze your target audience and unique value proposition. 
TikTok Ads will work better for the younger audience and if you are selling e-commerce goods. TikTok manages to captivate users and make it easy to convert. If you are in e-commerce, it's a must-try channel. Facebook Ads serve great for a more mature audience and usually perform better for higher AOV products. 
The best option would be to optimize performance across every channel and make the most of it. Let's see how you can do it. 
How to scale multiple marketing channels
1. Analyze your target audience. 
What do they need? Which social media do they usual use? To who is your product appealing?

2. Check which marketing channels your competition are using.

Most of the time, you can save time on testing by looking at evergreen neighbours' gardens. It might be that your competitors already know what works great for your niche! 
3. Use marketing analytics solution. 
It can be Google Analytics or more advanced marketing analytics tools. But you have to look at the performance data and compare the results behind each channel, campaign, or ad.
You can easily do it with RedTrack — analytics & automation solution offering a unified view of performance behind all marketing activities and helping scale revenue. Book a strategy call with RedTrack to unlock the benefits of precise marketing data toward your increased ROAS. 
4. Compare the performance of each channel, make a breakdown per each campaign and analyze.
 Maybe one campaign and offer work better on one platform, while another offer has a great CR (conversion rate) on the other. Look at the performance stats to identify the value of each marketing channel. 
5. Look at the KPI metrics for each channel. 
It can be that the the CTR of TikTok Ads is higher, but actual conversions happen through Facebook Ads. Or it might be that TikTok Ads have much higher AOV (average order value) than Facebook. Calculate the the exact ROAS for each marketing channel (even better if your marketing tool helps you see this data in real-time).
Testing & scaling for Facebook and TikTok Ads
Choosing your power marketing channel comes with a lot of testing. Different creatives, different messages, videos or photos, decks, or animations. But before you decide to order another batch of creatives, take a look at the data from your marketing analytics tool and scale only those campaigns and ads that really bring you results. 
If you want to unlock the power of scaling the revenue with RedTrack, consider using a special 50% discount for 1st month of subscription — use promo code BILLO50.
Similar posts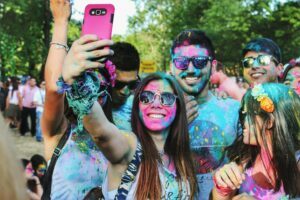 Social Media Marketing
How to Get More Views on TikTok (Hack)
In the last couple of years, lockdown measures across the […]...
Read full article
25 Jan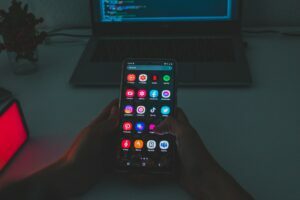 Social Media Marketing
Tiktok Automation: 10 Best Tools
Are you thinking of how to optimize your TikTok growth […]...
Read full article
24 Jan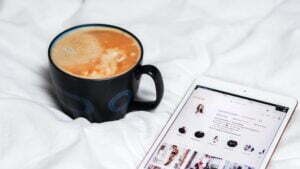 Social Media Marketing
Instagram Guides
Have you ever wished you had a way to easily […]...
Read full article
13 Jan