Top 10 Attributes Best Performing Video Ads Have
Updated: November 17, 2023
3 min read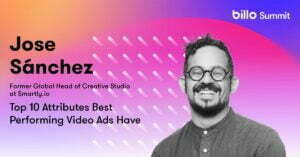 Jose Manuel Sanchez is a creative leader and diversity advocate with 15 years of experience working in creative production. Most recently, Jose was leading a global team of 18 creative minds at Smartly.io's Creative Studio as Global Head of Creative Studio. He's based in New York but born in Cadiz, Spain.
Video production is essential for your brand's video content. During Billo Summit 2021 Jose spoke about the three necessary topics of video production and the ten crucial attributes for successful video ads. Data shows that following these attributes will create the best-performing ads, and considering them will allow your content creator to create the best content and successful videos for your brand.
A New Paradigm for Video Production Includes 3 Topics:
Think of the Digital Canvas – Most brands shoot vertically for internet and social ads. The reality of the digital canvas is more complicated. Videos can be shot vertically, square or rectangle depending on where they are being posted. It is better to have every aspect ratio produced.
Rules of Engagement – There are 2 ways people consume content. Either they choose the content, or an algorithm selects their content. Produce content based on the idea that people have the attention span of a goldfish. These 3-5 seconds are where the consumer decides to engage further with your content or to move on.
Online Shopping Behavior – In the last 10 years, people have been looking for the 'best of' instead of the cheapest. Use video to help people with this comparison. Show them why your product is the best of the category your product falls into.
Top 10 Attributes of Best Performing Video Ads:
People and Places – Consumers pay more attention to people than places, especially on mobile devices. You should open your video with people and focus on faces to grasp attention.
Angled or Direct – When using people, have them look directly at the camera. Consumers react better to creators facing the camera directly.
Text Overlays or Clean – Text overlays perform better than a clean video with no text. Users may have sound off. Give clear and concise information in your text overlay.
Short vs. Long – The industry widely accepts that short videos perform better, but the truth is either short or long videos can work for your brand. Both have proven to perform well on digital.
Color – For mobile, saturated color performs better. On the phone, people usually have a brightness set lower, so saturation works better. However, on the desktop, both types of content work.
Generic vs. Personalized – Personalized ads perform better than generalized ads. This means you may have to spend more to represent different groups, but the return on investment will be worth it.
Fast Pace vs. Slow Pace – The internet is a place for fast-paced content. Don't assume that traditional storytelling rules will apply here. Younger audiences expect faster-paced content.
UGC vs. Professional – Both of these perform very well on digital content. Try a mix of both.
Product in use vs. Unboxing – A variety of both will get the most engagement as the internet is a place for comparison.
Brand Elements vs. Clean – Brand elements win out here. Have your brand elements and logo placed in your video to engage consumers.
Key Takeaway
When producing video, the key topics to consider are thinking of your video content as a digital canvas, considering the rules of engagement with your content, and the changes in consumer online behavior.
To create the best performing ads for your brand, consider the 10 key attributes for video ads. Even with these attributes, always allow for creativity, which makes your content unique to your brand!
Update your marketing strategy with Billo's UGC and video ads
Similar posts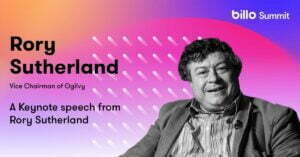 Billo Summit
Billo Summit 2021 Keynote Talk by Rory Sutherland
Rory Sutherland is the Vice Chairman of Ogilvy. Currently, he […]...
Read full article
2 Oct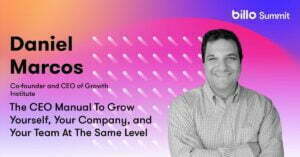 Billo Summit
The CEO Manual: Grow Yourself, Your Company, Team At The Same Level
Daniel Marcos is the Co-founder & CEO at Growth Institute […]...
Read full article
30 Sep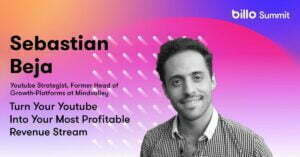 Billo Summit
Turn Your YouTube Into Your Most Profitable Revenue Stream
Sebastian Beja is a Youtube strategist who helps scale and […]...
Read full article
29 Sep